I have been silent of late, watching in awe at the complete shift in sentiment from the professional investment community. Not that it should be a surprise, but to me it proves for the umpteenth time that very few investors actually have a view, rather for most, the most recent stock movement is what dictates bullish or bearish posture. Reasoning is saved as a post-mortem rather than a pre-trade exercise.
I would ask anybody reading, what has fundamentally changed in the last few weeks? I am well aware of the "bullish" arguments being thrown about, the most prevalent being that the ECB and the bearded sage (Ben Bernanke) will bail us out. Even though the outcomes of the last QEs have showed marginal benefit at best, somehow the hedge fund manager liquidity crack addicts think more would finally get us in that "self sustaining" recovery.
So putting aside Spain and Italy, which I have no idea how to analyze and rely on others to do so for me; and putting aside Gentle Ben, whose actions have not meaningfully altered the long-term dynamics of debt deleveraging or the economic cycle, I can only posit on the macro fundamental picture and associated technicals. On that front, I conclude that current prices may provide the last and best opportunity to be short for the current economic (4 year) cycle.
In the past few weeks, you would think Economic releases have gotten better? Nope, in fact Economists continue to underappreciate the magnitude of the global slowdown based on the Citigroup Economic Surprise Index. Seminal bottoms such as March 2009, September 2010, October 2011, were all exemplified by improving macro fundamentals.
Click to enlarge.
Source: Bloomberg.
Coupled with the above high frequency data, let's not forget, Global PMIs are below historical median and should provide a fundamental ceiling as to how high stocks can go here. Likewise, the nastiest market shocks of the past 20 years have all started within this vicinity of PMI results.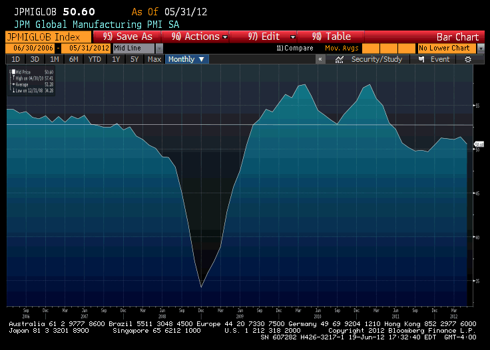 Source: Bloomberg.
Bonds have been stubbornly strong and while equities have been bid as of late, some important metrics which have described the past major market bottoms have not yet turned. For instance, the weekly MACD Histrogram of SPY:AGG remains negative, while 13 week ROC is below 0.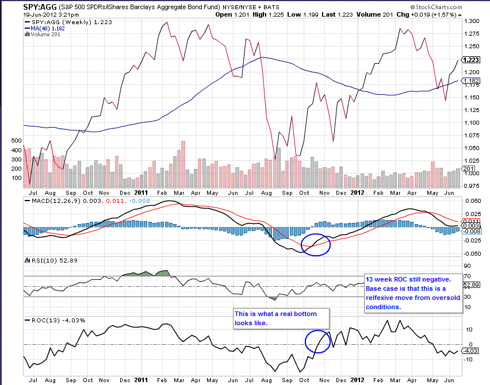 Source: Stockcharts.com.
It would also be nice if market breadth oscillators would pick up. But they haven't.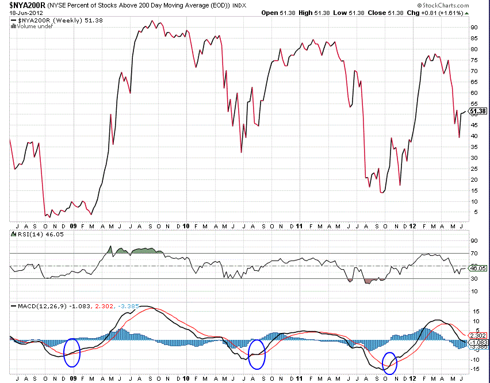 Source: Stockcharts.com.
Since none of the indicators I look at have shifted meaningfully and we are now quite overbought on a short-term basis, engaging on a short-entry at a downward sloping 50 day moving average, at the upper end of the Bollinger Band, with a 3 month negative ROC would present itself as a good risk/reward trade at the very least. I have used EEM since it typically is one of the best trending securities during the incipient stages of global hard landings.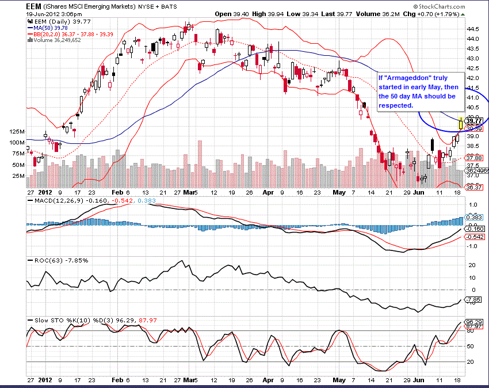 Perhaps these indicators will turn at much shallower levels than I originally expected. Is it possible that the global recovery may see another leg up and that authorities have orchestrated the perfect soft landing - indeed. But while I cannot handicap the outcome of Europe, what I can say is that the fundamentals and technicals as of late have not meaningfully improved so I can only take current levels as once again being a fantastic and perhaps the final short opportunity.