We are initiating coverage on Digital Ally (NASDAQ:DGLY) with a buy rating and a 12 month price target of $10, reflecting ~40% upside from the current price. Our investment thesis is driven on Digital Ally's explosive top line story that has barely begun to scratch the surface of its market potential. In addition, we expect Digital Ally, which was just listed on the NASDAQ, to capture the attention of boutique research shops as its run rate expands and the company begins to sign higher volume contracts. DGLY is one of our top microcap ideas for 2008. Investors who remember the "out of nowhere" explosive appeal of Taser (NASDAQ:TASR) would be wise to investigate DGLY a bit further.
Business Overview
Kansas-based Digital Ally produces digital video imaging and storage products for use in law enforcement and security applications. The Company's products are a digital video flashlight and an in-car digital video rear view mirror. These products allow self-contained video and audio recording onto flash memory cards that are incorporated in the body of the flashlight, the digital video rear view mirror or the digital video security camera. These products all incorporate the Company's own digital compression capability that allows the recording of video over significant time periods on a chip and circuit board that can be designed into a small form. Digital Ally sells its products to law enforcement agencies and other security organizations and for consumer and commercial applications through direct sales and third-party distributors. DGLY was founded in 2003 and was recently listed on the NASDAQ.
images

Addressable Markets
DWI Conviction rates increase substantially when there is video evidence. Currently, motor cycle vehicles used by law enforcement agencies lack video, for the most part, and car units possess inadequate video technology. There are about 400,000 law enforcement vehicles out there. About 40 to 50% have some type of video equipment - only 20% are digital with the rest being analog, which is very poor in comparison. There are over 15M arrests made yearly, with 10% of them (at least) counting as DWI arrests. When DWI cases get to court, it is typically the officer's word vs. the offender's. With 18,000 law enforcement agencies in the US and the plethora of unequipped vehicles, the police vehicle/DVM-500 segment strikes us as Digital Ally's largest market opportunity.
Private Security There are 10,000 private security agencies in the US who employ over 2 million guards. DGLY's flashlight product is a viable way for agencies to monitor security officer conduct and the timing of their rounds. Capturing just 1% of this market would entail 20K units (assuming one light per guard), or ~$20M in incremental sales.
Homeland Security 9/11 sent many local state agencies scrambling to improve lacking security measures. The federal government is spending over $40B on antiterrorism measures every year, with local agencies spending upwards of $5B.
Takeaway: Police actions are constantly being monitored via the recorder so it reduces favoritism and creates a more professional environment as a result; the DVM-500 improves the court system's inability to objectively deal with DWI cases and provides – for police departments - an affordable solution to the analog infrastructure currently out there.
Investment Thesis
DGLY is a small company looking at a massive market opportunity. Currently, the DVM 500 rear view mirror product carries a $3995 price tag – it is their best seller and is priced ~$1,000 below their competitors. Currently, most police departments are running analog/VHS video systems in patrol cars; our checks indicate that they are looking for digital solutions, but have not yet made the full scale transition to digital.
1) Sales have really taken off since the company added a wireless file transfer capability. The product's wireless option allows the vehicle to automatically download all recorded files directly to the police station once the patrol car enters a hotspot area.
2) The rear view mirror product has a constant 60 second recording, as well. The device automatically goes into full record mode when the police car sirens are turned on. The product has the ability to go back 60 seconds (pre event) prior to the sirens being flipped on to see the event leading up to turning on the sirens - such as running a red light, etc.
3) Lastly, there is a feature that is called 'Mark' so that when a police vehicle is following a car and something is thrown out the car, for instance, the officer just hits the 'Mark' button. That feature makes it much easer to search for the material later as the geographic coordinates are established during the chase. If you've ever watched something like America's Wildest Car Chases on TV, you can emphasize and understand what a vexing issue this has become for police officers trying to do a million things at once.
DGLY's flashlight, which is also based on video capture technology, differs from that of its competitors because it is based on non-volatile memory, which simply means that if the batteries go dead, the recordings won't be lost. It is run on LED technology and DGLY is targeting the private security market as well as trying to cross sell the flashlight to law enforcement segment, to which is already successfully selling the DVM-500.
As a result of these products, DGLY's sales have catapulted out of nowhere and because of their exceptional gross margins, most revenues falls straight to the bottom line. Digital Ally just turned profitable and because it has a short history as a public company, it has not yet seen any sell side coverage: we expect that to change in 2008 as the company continues its exceptional revenue growth and begins to enter new markets. Besides the flashlight product – which is just about to begin ramping – DGLY is targeting the mass transit and school bus markets – these should go into production Q2/Q3. Lastly, John Ashcroft sits on Digital Ally's advisory board – although no detailed mention of addressing the military and homeland security markets has been mentioned, it is on management's mind and having Ashcroft on its board would certainly help Digital Ally close business opportunities were the company go that route. The $100M company only trades 60K a day and only has just over 10M shares in the float -- a sudden pickup in analyst coverage would drive the stock materially higher in a matter of days.
Valuation
Because DGLY is a tiny company with nascent profitability, we believe the best way to think of its valuation is in terms of sales multiples. Given our modeled 2008 operating margins of 25%, DGLY should trade anywhere from to 3 to 3.5x forward sales. A 3.5x sales multiple would suggest a $140M market value for DGLY, or approximately $10/share – 40% upside from current levels. Digital Ally is currently only fetching 2.6x sales, and that's after a watershed year that saw the stock soared over 300%. DGLY is virtually debt-free and has over $4M in cash.
Risks
DGLY is dependent on a small number of customers (law enforcement agencies), products (2), and suppliers (Texas Instrument, for the chips that go into the flashlight). Additionally, management owns a large percentage of the stock and float is tiny – in so many words, we would not recommend DGLY for investors inexperienced with the microcap category. Our last microcap pick (Life Partners Holdings (NASDAQ:LPHI)) was a monster call on our behalf (doubling in a matter of months), but there is no guarantee we'll be as lucky with Digital Ally.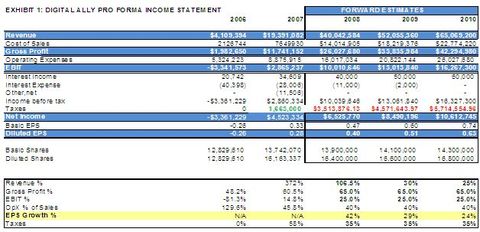 Disclosure: At the time of publication, the author was not long DGLY, but that could change at any time.