Thesis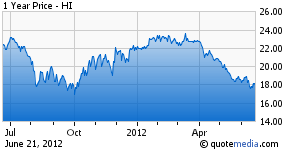 Hillenbrand (NYSE:HI), the North American leader in funeral products (mainly burial caskets), is in decline. Over the years, deaths have been declining as healthcare improvements extend life expectancy. Cremations are increasing at an upward trend of approximately 120-140 basis points per year and, as a result, demand for burial caskets has been slowly declining. To offset this loss, HI entered the cremation business, but margins are significantly lower.
The funeral products business resembles the early stages of the decline in telcos' land-line business, showing a high return on equity and free cash flow but with deteriorating margins. Unlike the telephone land-line business, you can't unplug the death watch (but you can postpone it). Therefore, we believe this business might slow down but it will not "die."
Hillenbrand's response has been to expand into other lines of business or namely "platforms." In April 2010, it acquired K-Tron and in August 2011, it acquired Rotex. Together, these represent the process equipment portion of the company and a growing business unit (currently 37% of HI's revenues). While growth has picked up in the last year, the stock has languished. Backlog for the process equipment unit continues to expand (6% for Q2 2012 vs. Q1 2012).
The main reason for its decline is that consensus earnings estimates have declined over the last three months due to a deterioration in the revenues and margins for Hillenbrand's funeral unit. EPS is expected to be lower this fiscal year than last year. We believe that the consensus estimates will continue to decline progressively by another 5 cents for the current year. During that time, we anticipate that the stock will continue to underperform the S&P 500.
However, over the medium to long run (next 3-15 years), we believe that revenue and earnings will outperform analysts' expectations and thus we will have a revaluation of the earning's multiple.
The company is in an acquisition period expanding into new business units and consolidating its leadership in the process equipment unit. Management has been shrewd in its acquisitions, which gives us confidence in their capabilities of managing capital.
Valuation
Current valuation based on earnings:
| | | |
| --- | --- | --- |
| Current Price: $18.18 | Current Fiscal Year | Next Fiscal Year |
| P/E | 10.7x | 10.0x |
| EPS (Consensus Est.) | $1.70 | $1.81 |
Dividends
| | |
| --- | --- |
| Dividend Yield | 4.24% |
| Payout Ratio | 44% |
| Historical Payout Ratio | 43% to 50% |
Dividend Growth ~ 1% annually (LOW)
Source: Zacks Website
Disclosure: I am long HI.