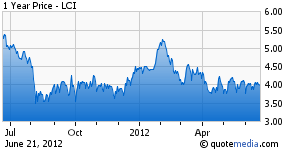 Lannett (NYSEMKT:LCI) is a small-cap generic and specialty pharmaceutical company which reported its third quarter (3Q) fiscal year (FY) 2012 results for the three months ending 3/31/12 in early May, including the financial and operational highlights summarized below with 4Q12 and full-year FY12 results typically reported a month later than usual (i.e. early September).
Lannett reported net sales increased 19% to $30.7 million (NYSE:M) from $25.9M in the year-ago period.
Lannett reported net income of $1.7M or $0.06 per diluted share (more than the $1.6M net income reported in the first nine months of FY11) and reversing a net loss of ($0.4M) or ($0.01) per share in the year-ago period.
Lannett reported net sales for the first nine months of FY12 increased to $87.3M vs. $81.3M in year-ago period while net income also increased to $2.5M.
Lannett projects FY12 full-year revenue of $120M, which would require net sales of $32.7M during 4QFY12 as compared to $25.5M in net sales during 4QFY11.
As of 3/31/12, Lannett reported 28.7M shares of common stock outstanding on a fully diluted basis, $24.6M in cash and $7.4M total debt (with $6.8M classified as long-term debt).
Below is a summary of key pipeline products and pending FDA and late-stage clinical trial catalysts for Lannett.
Lannett expects to be first-to-file (2H12 estimate) (six-month marketing exclusivity if approved by FDA) for a generic (Abbreviated New Drug Application or ANDA) version of the anti-cancer (multiple myeloma) drug THALOMID marketed by Celgene (NASDAQ:CELG), and also expects to receive FDA approval for another generic chemotherapy drug during 2H12 with projected annual sales potential of $70M for both drugs.
In January 2012, Lannett announced a Special Protocol Assessment (SPA) agreement with FDA for a pivotal Phase 3 clinical trial to evaluate C-Topical (Cocaine HCl topical solution product) for use as an anesthetic (numbing agent) prior to diagnostic procedures or surgery. The

company expects to complete the study and file a 505(b)(2) NDA (also plans to seek new chemical entity or NCE five-year marketing exclusivity) by year-end 2012 for this grandfathered product that was never formally approved by FDA but is currently marketed.

In February 2011, Lannett submitted a Citizen's Petition and prior approval ANDA supplement seeking FDA approval to reactivate the use of a dormant antibiotic, MYCHEL (chloramphenicol oral capsules), for second or third-line use in serious MRSA (methicillin-resistant Staphylococcus aureus) infections with a potential FDA decision during 2H12 although there is no decision deadline for this type of submission.
Based on projected net sales for FY12 of $120M, Lannett is poised to report strong 4QFY12 results that are likely to continue the positive momentum in terms of sales and profit growth reported in the first nine months of the current fiscal year as the full-year revenue guidance implies 4Q net sales of nearly $33M, which represents an increase of about 30% from the year-ago period.
My fair value estimate for Lannett is in the $6-7 range and I expect shares to reach this level within the next 9-12 months or possibly sooner if the company continues the recent trend of strong sales and profit growth and reports positive developments from the key pipeline catalysts outlined above. My price target range is based on a price/earnings growth multiple of 1X based on projected 20% top-line growth rate for next year w/ FY13 revenue projections in the low-mid $140M range and expected earnings per share in the low-mid 30 cent range.
Risks for investors in Lannett include a low average trading volume that enhances share price volatility and makes the stock difficult to trade actively and a highly competitive, low margin environment in generic drugs, which is part of the reason for the shift to a specialty pharmaceutical business model through pipeline drugs such as C-Topical and the potential first-to-file generic version of cancer drug THALOMID. In addition, most of the major expected catalysts for Lannett are later in the year so there is a lack of expected major near-term catalysts for the company.
Disclosure: I have no positions in any stocks mentioned, and no plans to initiate any positions within the next 72 hours.