In bull markets, few things are more exciting than fresh, new IPOs. Especially in markets whose upward momentum is fueled by new technologies or a lasting boom in the economy.
And yet, even in the best of circumstances, initial public offerings are never surefire bets. Most are rigged in a way to maximize revenues for the underwriters and investment bankers… usually by bleeding those retail investors who counted themselves lucky to get in on the deal at or near the IPO price.
Only a few — Google (NASDAQ:GOOG) comes to mind — ever make serious profits for investors.
After Visa, the latest household-name company to try and go public before the US stock market goes to hell in a handbasket is Penthouse Media Group Inc (PMGI). The publisher of the men's magazine of the same name intends to sell $250 million in stock in an initial public offering.
Penthouse plans to file a registration statement with the SEC in the second quarter of 2008. Since we have three weeks and a bit left in the first quarter, the great event will take place within the next 15 weeks.
Penthouse or one-bedroom efficiency?
Penthouse's flagship publication has seen its circulation deflate over the last decade. It had sagged another 3 percent in the half year ending Dec. 31, coming in at just 350,583 copies. To compensate for the shrinkage, the company has spent the last couple of years acquiring adult Web sites and video producers.
Just last December, Penthouse agreed to buy Various Inc., an owner of 25-plus web sites that include adultfriendfinder.com. They paid $500 million in cash and stock, projecting that the acquisition would boost annual revenues to $340 milllion.
According to the company's CEO, Penthouse is "now looking at what kind of mainstream Web sites we can acquire."
Playboy vs. Penthouse
Penthouse would not be the first publicly traded publisher of men's magazines. Playboy (PLA) has been trading on the New York Stock Exchange forever. And that's exactly the problem.
Sure, Playboy posted 2007 revenues of $339.8 million just last month, on Feb. 13. But it lost $1.1 million for the quarter, from a profit of $3.7 million over last year, on an operating loss of $1.9 million vs. a profit of $3.1 million in the prior year's period.
Results included a $1.9 million charge, primarily from the sale of assets related to its Andrita television studio, expected to be complete next month, along with a tax benefit of $2.6 million. Revenue was flat at $85.9 million. Revenues from Playboy's entertainment division fell 3%. Domestic TV fell 10% as households dropped access.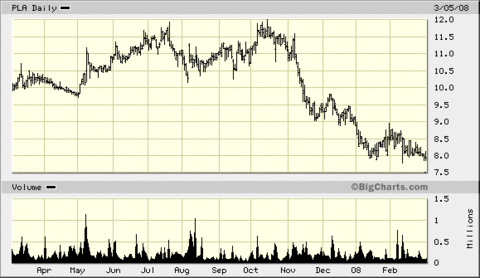 The magazine itself was anything but perky, with slight drops in newsstand revenues, fewer subscriptions and declines in advertising revenues. The company anticipates a 30% decline in advertising revenues in the first quarter of the current fiscal year, due to a rate-base reduction and decrease in advertising rates.
The stock is down from a 1999 high of over $36 or thereabouts to below $8.
Bigger than yours?
Well, here's the bad news. Like with the upcoming Visa IPO, not everything is quite what it's cracked up to be. Unless you live in Inner Mongolia, there is really no reason for anyone to buy Playboy or Penthouse magazine at the newsstand anymore. The Echo Boom generation not only is set to stay home longer but also enjoys some of the most protective parents, with pronounced maternal opinion that images of nude females are exploitative and bad for Little Pugsley. Dang goes your new subscription prospect pool!
Cartoons and articles, as attractive as they are to the average teenage high school student, are also falling prey to changing generational reading habits. And when it comes to porn, there is absolutely nothing that the magazines have to offer that the Internet doesn't offer in larger quantities, larger cup sizes, and more variety. Plus, it's free.
What about cable TV channels, video production companies, and porn DVDs? Forget about it — streaming video via WiFi is wearing down that commercial base like the surf at Atlantic City pounding sandcastles. And every hobo with a camera can produce the same output as the production companies. Only cheaper.
Or so I've been told.
That leaves the advertising potential of the adult (and potentially, non-adult) websites. That's nothing to sneeze at… considering porn — and especially free porn — is as recession-proof as government cheese.
But there is no way that it would justify $20 a share, $15 a share, or even just Playboy's current $7.90 and change. We'll take a peep at the actual offer as the companies announces details. But based on the current market situation, I'd think the Penthouse IPO might be an excellent short play.
We'll keep you posted as matters mature.
Disclosure: None