By Joey Vazquez
We continue our search for the most attractive companies to buy and sell right now. The markets dropped as Europe`s woes continue to weigh on our markets and the economic data we received today was weak, showing the jobs market has slowed. I strive to find attractive companies with strong or weak fundamentals and technicals that will outperform or underperform the markets. Should you buy or sell these companies?
Watson Pharmaceuticals Inc. (WPI):
(Click charts to enlarge)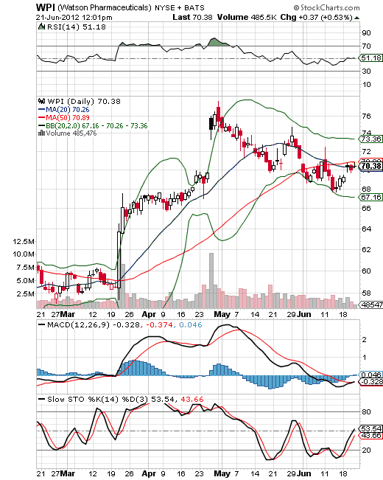 We continue to like the Healthcare sector as it has shown strength during times of weakness. We especially like to play this sector with strong companies like Alexion Pharmaceuticals (NASDAQ:ALXN), Mylan Inc (NASDAQ:MYL) and WPI. Goldman Sachs (NYSE:GS) added WPI to its conviction Buy list on June 19th and upgraded its price target to $87. WPI recently bounced off support from its bottom BB and retook its 20-day MA. WPI is currently fighting resistance from its 50-day MA, resistance that we believe will be broke. Its MACD indicator just crossed over its signal line, showing the start of a new bullish trend. Its stochastics are also headed higher, confirming our bullishness.
Trade Idea: Go long WPI
Entry Range: 69.56- 69.21
Targets: 70.10, 70.79
Stop Loss: 68.02
Our Entry: 69.41
Travelers Cos. Inc. (NYSE:TRV):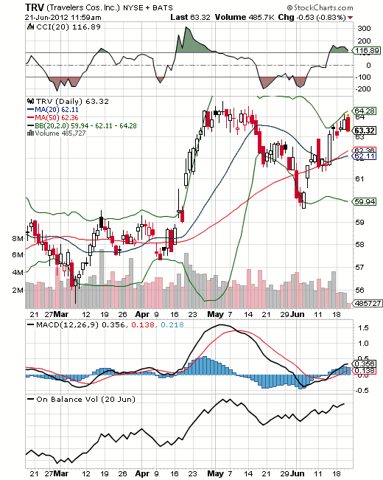 Travelers has shown great strength in June, reclaiming all the lost ground from the month of May. TheStreet took notice of this strength when it reiterated its Buy rating on TRV in mid June. It reported TRV strengths can be seen in its revenue growth, reasonable debt levels and strong stock performance. TRV bounced off support from its bottom BB in very early June and has been on a rampage since. TRV reclaimed both its 20- and 50-day MA, both of which will be good support for the stock. Its OBV indicator has been in an upward channel since late May, showing positive momentum is flowing back into the stock. Its MACD indicator crossed over its signal line a couple of days ago and has been pushing the stock higher since. While we did see weakness today just like the overall market, TRV CCI indicator was able to stay in the low +100, which is still a bullish sign.
Trade Idea: Go long TRV
Entry Range: 62.80- 62.50
Targets: 63.26, 63.89
Stop Loss: 61.38
Our Entry: 62.64
Johnson Controls Inc. (NYSE:JCI):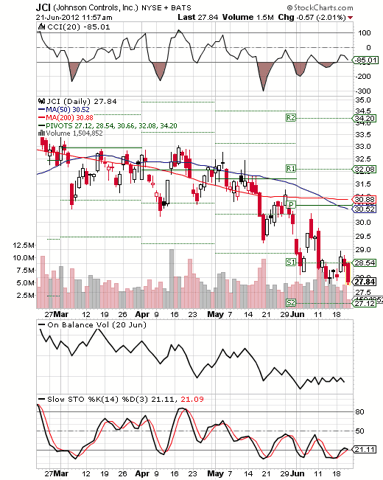 Auto parts companies have continued to struggle this year with some cyclical weakness this half-year, and JCI has seen weakness due to its strong connection to Europe and a lack of growth year over year. A death-cross formed on the JCI chart a couple of days ago, giving us a very bearish indicator all by itself. Its CCI indicator is on the verge of entering the -100 area, an indicator that's bearish and would suggest the continuation of this trend. JCI OBV indicator is in a long-term downwards channel, showing the positive momentum continually leaving the stock. Its stochastics have just turned lower and will continue lower if the trend continues.
Trade Idea: Go Short JCI
Entry Range: 27.47- 27.32
Targets: 27.13, 26.85
Stop Loss: 27.95
Our Entry: 27.40
Avery Dennison Corp. (NYSE:AVY):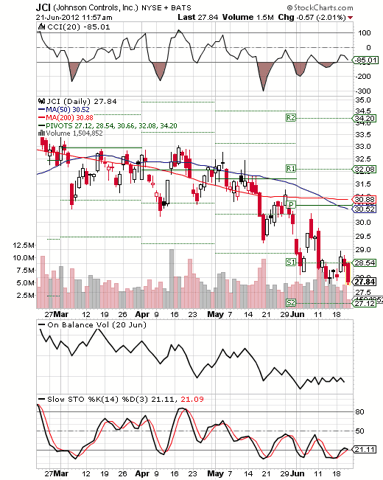 Industrial goods have continued to struggle this year as we have suggested in previous reports like Cummins (NYSE:CMI). Another weak-looking one is AVY. It has not shown strength in this market, and it is in cyclical weakness showing a lot more sell volume than buy volume. AVY has failed on multiple occasions to break through its 20-day MA since it submerged underneath it in early May. Subsequently AVY broke down through its crucial 200-day MA today, giving us quite the bearish indicator. AVY now has very strong resistance at the 28.13-27.92 area. Its stochastics turned lower today and will continue to push down on this continued weakness. AVY OBV indicator has been in a very strong downward channel since early May, showing how weak AVY has been in this time span. Its RSI is at 43, indicating there's plenty of room for more selling before AVY becomes oversold.
Trade Idea: Go short AVY
Entry Range: 27.52- 27.38
Targets: 27.18, 26.90
Stop Loss: 28.00
Our Entry: 27.45
Disclosure:
I have no positions in any stocks mentioned, and no plans to initiate any positions within the next 72 hours.