Ouch. The market got hit hard after the Fed decided to "Twist" some more as economic data came out weak and fear re-entered the hearts of traders. Initial jobless claims were fairly flat week over week, but the Philly Fed Index was very weak at -16 vs. -2 expectations. That miss hurt the markets a lot. Existing-home sales were slightly off their previous pace and just missed expectations, and leading indicators were up 0.3% vs. 0.0%. Yet the Fed's move was not enough to goose the markets higher. Europe got news that Spanish banks may need another $78 billion to bail out the company. And to make matters worse, oil declined below $80 per barrel, which really hurt energy stocks and did not help retail.
The major drop in the markets was quite harsh, and it really came a bit unexpected. The Fed's Operation Twist was not gigantic in its nature, but it also shows the Fed wants to be involved. The fact that the markets dropped so significantly seems to suggest disappointment. What will catalyze these markets? Find out below.
Two Trades
Two trades we are watching right now are Vertex Pharmaceuticals (NASDAQ:VRTX) for a long options position and a pair trade of Monster Beverage (NASDAQ:MNST) long with Qualcomm (NASDAQ:QCOM) short. We like the looks of VRTX right now to continue to hold up in this market with a very strong data results from its cystic fibrosis drug. The company is showing great strength capabilities into its July 23rd earnings, and we do not see much downside risk below $50. We like this spread to take advantage of the company's great fundamentals right now. Additionally, we like pairing MNST long with QCOM short. We believe that this pair will do quite well in these market conditions. MNST dropped during market strength on a downgrade, but the company bucked the market trend today and has amazing support at $75. QCOM does not look strong right now, and it may not see an upward catalyst until the iPhone 5 launch. Additionally, it formed a bear flag that is breaking down today.
Trade No 1: VRTX -- Jul 21, 50/48 Bull Put Spread
Trade No. 2: Long MNST, Short QCOM
Click to enlarge images.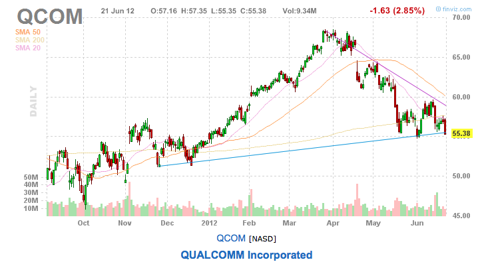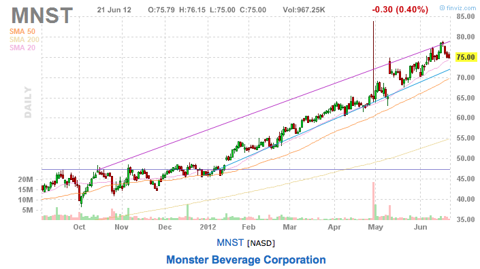 Charts courtesy of Finviz.com.
Tomorrow's Outlook
Triple-digit days have been somewhat commonplace for the market over the past several weeks, and we are looking at another potential one tomorrow with the coming of the end of the week. Tomorrow is a quiet day for data and earnings, but that does not mean the move will be quiet. We have some German business data about the business climate, but that is about all of the major data. The lack of a catalyst may be a problem for the market, and attention will be paid to what's coming next week: Europe and technical lines. There are no earnings tonight. Oil did drop below the key $80 line, and it could be on a bit of trouble right now as that was a key mental level. We like looking at bear call spreads in United States Oil (NYSEARCA:USO) to take advantage of that weakness. Additionally, gold did not like Operation Twist. It was not enough to keep the dollar down, and it has lost that fear appeal. We're looking at bear call spreads in SPDR Gold (NYSEARCA:GLD) or Proshares Ultra Gold (NYSEARCA:UGL).
Oxen Group Moves
We did not get any exits today from our main portfolios; however, our newest Goldman Sachs Paper Trade Portfolio did very well, closing out eight positions. We got 1.5%-2% gains in Baxter (NYSE:BAX) long, Tesoro (TSO) short, Huntington (NYSE:HII) short, Statoil (NYSE:STO) short, ConocoPhillips (NYSE:COP) short, and Rockwell Collins (NYSE:COL) short. We were stopped out on PerkinElmer (NYSE:PKI) long as well as Western Refining (NYSE:WNR). We added the two above positions to our portfolio.
We have the following positions. In our Short-Term Equity Portfolio we are long Home Depot (NYSE:HD), Apple (NASDAQ:AAPL), MNST, and Marathon Petroleum (NYSE:MPC). We are short Advance Auto (NYSE:AAP), SPDR S&P (NYSEARCA:SPY), QCOM, and Home Properties (NYSE:HME). In our Options Portfolio, we are long Starwood (HOT), Dollar General (NYSE:DG), Monster Beverage and AutoZone (NYSE:AZO). We are short Aflac (NYSE:AFL). We have a reverse iron condor on AAPL. In our Earnings Alpha portfolio we are long VRTX, Intuitive Surgical (NASDAQ:ISRG), Marriott (NYSE:MAR), and Lennar (NYSE:LEN). We are short Constellation (NYSE:STZ), Schlumberger (NYSE:SLB), and Walgreen (WAG). We have a reverse iron butterfly in Decker's Outdoor (NASDAQ:DECK).
Disclosure: I am long PNRA.