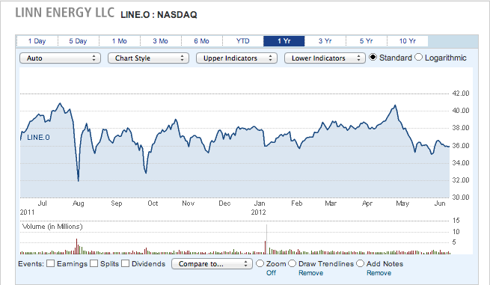 Linn Energy (LINE) has dropped since its recent high of $41.13. However, its recent drop is not a time to sell but a time to buy!
Citigroup has a 12 month price target of $48. As you will read Linn Energy is a solid company. Linn Energy is the 9th largest public MLP/LLC, has a great growth pattern and is in a key position to take advantage of natural gas. Linn Energy also has a very limited exposure outside of the United States as they are solely in the United States.
Reasons Linn Energy Is A Great Play:
Linn Energy's EBITDA for Q1 2012 was $264.1 million. This is a 28% year over year increase from $205.6 million.
Linn Energy has increased its year over year production per day by 51% (Q1 2012 was 78,467 BOE per day: Crude Oil 33%, Natural Gas 49% and Natural Gas Liquids 18%. Q1 2011 was 52,133 BOE per day.)
Linn Energy is the 11th largest domestic independent oil and natural gas company.
Linn Energy's reserves are 48% oil/natural gas liquids and 52% natural gas.
Only 65% of Linn Energy's reserves are developed. This along with an aggressive acquisition strategy will provide huge growth for Linn Energy. ($1.4 billion in acquisitions in 2010, $1.5 billion in 2011 and $1.8 billion year to date in 2012.)
Linn Energy is hedged in natural gas 100% through 2017. They are also hedged in oil 100% through 2015 and 94% through 2016.
Linn Energy's price over earnings is 7.2x.
The past three consecutive years have seen a 5% increase in Linn Energy's dividend. Their current annual dividend is $2.90.
Some Risks:
Linn Energy's debt is approximately $4.85 billion in 5-9 year notes (2017-2021) and $75 million in its $2 billion reserve-based credit facility.
Linn Energy missed their Q1, Q2 and Q3 2011 earnings per share estimates.
Linn Energy is heavily involved in natural gas. While I believe this is a good thing and they are heavily hedged, there is some risk involved.
Linn Energy is purely in the United States. While this does protected them to some degree from the European, Asian and Middle Eastern markets, it does severely limit their customer base.

Disclosure: I am long LINE. I recently bought more shares of Linn Energy (LINE) on June 18, 2012.