At the beginning of the year, I had mentioned missing out on Minefinders (MFN) @ $10 even with gold at $800. Well, at the end of February, the market sent MFN back below $10 and I bought some for the portfolio at $9.95.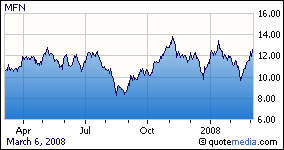 Normally, I type up a semi-thorough research report to crystallize the risks and rationale for my picks but am skipping it this time. If you would like a good backgrounder on Minefinders, try Seeking Alpha's MFN stock page and pay particular attention to Mike Niehuser's informative posts. Be aware however that he may have some sell-side interests with MFN but that doesn't necessarily invalidate his research. As always, read with a skeptical eye and make your own assessments.
A few extra points below:
I believe the reason MFN was available again under $10 despite $900+ gold was due to market disappointment with their revised Dolores economic study update. While they increased P+P reserves (+37%), lowered gold cash costs net of by-products and raised the IRR. However, they raised the underlying base metal prices +42% on the gold side and doubled the silver price to reach these estimates so in actuality, the revision to the study was negative when taking into account the elevated base case.
They are also behind schedule on initial production which may have contributed to the decline.
Finally, the market has not favored the junior mining stocks despite the run-up on the commodities.
Risks to Our Investment:
Minefinders has no proven track record of being able to operate a mine successfully. Even the best and biggest miners like Barrick are having trouble containing costs. There is nothing to suggest that MFN will fare any better. They are already late with their flagship Dolores project and over budget with initial capital costs (US$192M) exceeding 45% of previous forecast and sustaining capital at $50M, 72% higher than previously projected.
Beyond Dolores, the company has no clearly defined reserves to develop, only prospects that may become reserves after further exploration and delineation. With the company focused on bringing Dolores online and then possibly adding a mill to boost recovery rates, it may be some time before management can focus on the other prospective plays.
Once Dolores is brought online, MFN will be a one-mine company for quite some time. Any delays or major setbacks at Dolores could seriously endanger the company. $58M of long-term debt (32% debt-to-equity) sat on the balance sheet as of Q3 2007 and without Dolores, the company generates no income from operations. If Dolores is seriously impaired for any length of time, expect the stock to be drastically marked down.
Any correction to the precious metals market that many consider frothy may delay market price appreciation on the common stock. The juniors to date have largely missed out on the run to $1000 gold. A severe correction could mean they just sit this round out.
Attractive Upside for Minefinders:
Based on ounces in the ground valuation, this thing is cheap. If everything goes reasonably well, Minefiners will join the rank of producing companies before the year is out and should be revalued to reflect that. My rough EV:oz au equivalent calculations shows we're paying a quarter of the multiple for Minefinders compared to, say, another one-mine producer like Agnico-Eagle (I acknowledge this isn't a clean comparison but that's ok because we own both!). This site confirms my findings though I'm not sure which numbers they are using to calculate EVPU.
Favorable jurisdiction and economic environment. Minefinders' Dolores property (as well as their other prospects) are all located in Mexico, which is probably one of the best places to be a gold mining company in world right now. While infrastructure may be a slight problem, the country has a rich mining history and culture, good prospects that property rights will be respected for the foreseeable future, a good labor pool and an attractive currency relative to the US dollar.
Management has acted conservatively in bringing Dolores along to production. Shares outstanding stand at 48M, reasonable compared to a serial diluter like Yamana. The management's plan to initiate production with a lower-cost open pit, heap-leach mine and use cash flows generated to upgrade to a mill demonstrates a judicious sense of strategy. And the fact that the company has managed to finance all of this without egregious amounts of debt, dilution or hedging reflects well on management.
I'm no geologist but indications are that there is a good potential for resource upgrade at Dolores covering areas that were not included in the initial or revised feasibility study.
Clear exploration targets in Planchas de Plata, Real Viejo, La Bolsa & El Duranzo.
I wouldn't be surprised if Minefinders encounters further delays bringing Dolores online. But if they can manage to generate positive cash flow before the year is out at a cash cost near $325-$350 per oz (compared to the company's current $297 target), I'll be a happy shareholder.
While I am excited by this addition to my portfolio, I consider this play slightly more speculative than my usual fare. As always, your mileage may vary.
Disclosure: Long MFN. Please see our portfolio page for all disclosures.