This summer will prove to be an important one for Arena Pharmaceuticals (NASDAQ:ARNA) and Vivus (NASDAQ:VVUS), both awaiting FDA approvals for their weight loss drugs. Arena's Lorcaserin comes up for approval on 27th June and Vivus's Qnexa on 17th July. The following quote by a cardiologist indicates why both these drug approvals are being so eagerly awaited:
Almost every patient I see in the hospital started out with obesity as their first problem. Then diabetes follows hypertension, atherosclerosis, renal failure, heart failure, amputations, dialysis, respiratory failure, myocardial infarction, sepsis, stroke, and death. You would think the hospital beds are filled with people dying from cancer or damaged lungs from smoking. Wrong, the hospitals are filled to capacity with obese people.
Between 1997 and 2007, the prevalence of obesity among adults aged 20 and over rose steadily from 19 to 27 percent. Some estimates show that nearly one-third of those over age 20 are obese. This has lead to a significant amount of Medicare and Medicaid funds being allotted for the R&D of obesity related drugs. Estimates show that the increased prevalence of obesity increased the spending of government funds from 1987 to 2001 by 12 percent, and costs the nation $147 billion a year - making obesity nothing short of a public health crisis.
Because of the high prevalence of obesity, the U.S. weight loss market is a very lucrative one, estimated to be worth around $65 billion and is expected to grow at the rate of 4.5% per annum. This is the market that both Arena and Vivus hope to tap into with their drugs.
Qnexa was approved by the FDA advisory panel on 22nd February, 2012 with a whopping 20-2 vote while Lorcaserin was approved on 10th May, with an 18-4 vote. Between the two companies, I think a better investment would be Vivus, because of the following reasons:
Valuation
Both Arena and Vivus have received a favorable FDA advisory panel vote, and therefore stand a good chance to obtain final marketing approval. However, let us compare a few figures:
| | | |
| --- | --- | --- |
| | ARNA | VVUS |
| Total Assets | $152 million | $157 million |
| Current Price (as on 20th June 2012) | 10.01 | 26.9 |
| Book Value per share | 0.23 | 3.27 |
| P/B | 43.5 | 8.2 |
Source: Morningstar
Therefore, both the companies have a blockbuster weight loss pill awaiting approval. However, Arena is quite over-valued with a P/B ratio of 43.5 when compared to the P/B ratio of Vivus. An Interesting fact is that, Roche Holdings (OTCQX:RHHBY) which currently is the only manufacturer of a weight loss pill (Xenical) has a P/B ratio of 11, in spite of having a product portfolio of approximately 39 drugs. This leaves very little doubt regarding the overvaluation of Arena based on the current fundamentals.
Number of products
Arena currently has no product in the market, and if approved, Lorcaserin will be its first FDA approved product. The future prospects of ARNA, therefore, are heavily dependent on this one drug being accepted not only by FDA, but also by physicians and patients. On the other hand, Vivus already has a FDA approved product, Stendra (used for treating erectile dysfunction, approved earlier in 2012), in the market. Therefore, Vivus's portfolio is relatively diversified where the company will not be relying solely on one drug for its future revenues.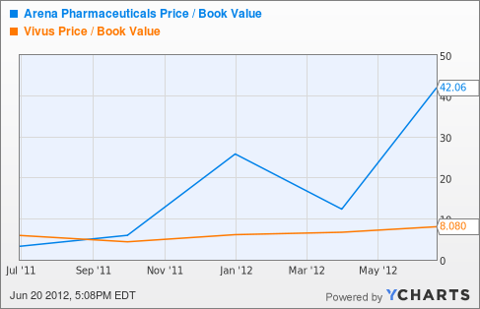 ARNA Price / Book Value data by YCharts
Hyperbolic Price Rise of Arena Pharmaceuticals
In the last one year the stock price of Arena has more than quadrupled, from $2 to the current price of $10. The stock gained about 670% in the last 12 months alone. This shows the optimism of the market for the growth prospects of Arena but leaves very little further upside, especially if the above mentioned overvaluation is taken into account.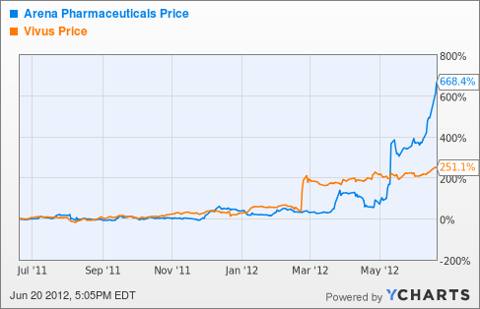 During the same period, Vivus had a run of only 250%. Sure, that is a big number, but still modest compared to Arena's return. Therefore, if looking at a long term investment, for further growth potential, Vivus will be a better choice.
Synopsis
Both Qnexa and Lorcaserin, if approved by the FDA, will be immensely successful drugs keeping in mind the huge weight loss market in the US. However, the question is that the approval and success of this one drug enough to sustain the meteoric rise of Arena Pharmaceuticals? Arena has no other source of revenues. It will take substantial amount of time for the revenues to kick in, and the stock is already overvalued with a P/B ratio of 43. If one is looking for a good, for a safer bet, then I think Vivus is a better choice due to the better valuation, and the product diversification.
Disclosure: I have no positions in any stocks mentioned, and no plans to initiate any positions within the next 72 hours.