The venerable hard-disk drive for data storage in servers, PCs and laptops (and the odd iPod) are going to go the same way as the dodo. They'll be largely defunct pretty soon (although how soon turns out to be something of a critical question). The reason for that is rather simple.
Hard disks are mechanical devices. That brings a host of disadvantages. They need a good deal of energy, they're vulnerable to shocks and damage, they're not subject to Moore's law (despite having shown similar if not better improvement in the last decade or so, it has to be said).
And there is another curious reason. Their main advantage, capacity, is outgrowing the usefulness of at least a significant part of the users (those with laptops and PCs).
What is replacing hard disks? Solid State Drives (SSDs), which are comprised of flash memory, a non-volatile type of memory (that it, just like hard disks, but unlike RAM memory, retaining data when the current is cut off). Compared to hard disks, SSDs are an order of magnitude faster, more robust, and more energy efficient. And they are also rapidly improving and coming down in price.
This is why the hard-disk industry has seen a great deal of consolidation, and the SSD sector has seen a great deal of expansion, with new players joining in, driving performance and prices ever higher. The hard-disk industry used to be very competitive, with players like IBM (NYSE:IBM), Maxtor, Conner and Fujitsu (OTCPK:FJTSY), which all left the field.
Even as little ago as last year, there were still five players in the hard-disk sector, Seagate (NASDAQ:STX), Western Digital (NYSE:WDC), Samsung (OTC:SSNLF), Hitachi (OTCPK:HTHIY) and Toshiba (OTC:TSHTF). But Seagate bought Samsung's hard-disk business and Western Digital and Toshiba divided Hitachi's. Since Toshiba is quite small, it's effectively Seagate and Western Digital dominating the market.
There are a couple of offsetting forces at work here. Longer-term, we have little doubt that SSDs, which are already eating into the hard-disk business, will dominate as they get cheaper, faster, more energy efficient and capacities surge. However, in the short run, hard disks are profiting from movement to the cloud and from very intensive data storage like video streaming.
One should also realize that the consolidation in the industry has reduced competition. This became pretty obvious in the aftermath of the Thai flooding. Here is Seagate CEO Steve Luczo:
As Seagate's factories were spared from the flood waters, Seagate's CEO Steve Luczo felt in a generous mood as his competitors were out of action. Luczo told Bloomberg that he could have raised prices by 40 per cent, but instead chose a 20 per cent price hike. Ah, the opportunity for commercial profiteering and perhaps an insight into what it would be like if there was just one hard drive manufacturer.
And here is the Inquirer weighing in:
Not only did Luczo reveal 20 per cent price increases but subsequent financial results posted by the firm confirmed that the 'supply shortage' that was widely reported simply didn't materialise.
We would think that, longer-term, even the server market will be gradually taken over by SSDs. Not just the speed and reliability, but more especially the energy efficiency gives them a significant leg up, and when they gradually overcome their capacity/price disadvantage, these advantages will assert themselves with considerable force.
So what we have in the near-term is very profitable companies, and they are very cheap as well, so it's tempting to buy them.
Western Digital
A nice 'pure play' hard-disk company. Some company metrics (from Yahoo):
Market capitalization $7.7B
Revenue (past 12 months) $10.13B
Earnings per share (NYSEARCA:EPS) $4.29
Cash $3.38B
Debt 2.74B
The last three years, the company has generated between $1 and $2B of operational cash flow and overall positive cash flow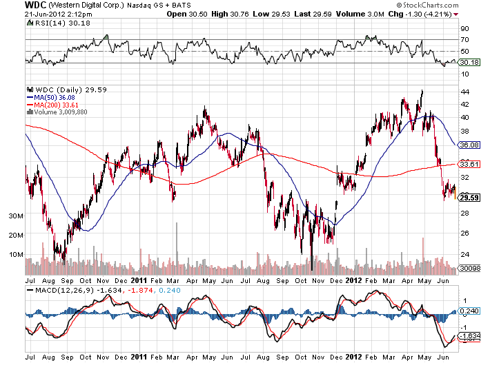 As you can see, the company fell sharply from the end of last month's $40+ level, back towards the $30 level today. But those floods, how much did they affect the figures?
What of Western Digital, the company that was supposedly worst hit by Thailand's floods? Well, the firm's most recent financials for the quarter ending 30 March 2012 showed profit up 230 per cent from a year previously, which should be more than enough to overcome the 35 per cent drop in profits in the fourth quarter of 2011 that immediately followed the floods. [The Inquirer]
Yes, indeed, the shares can be considered very cheap. Analysts on average expect the company to produce a whopping $7.66 per share in earnings this fiscal year, and this will rise to $9.09 next fiscal year [Yahoo], giving them a forward price-earnings ratio of just over 3.
In fact, Seagate is even cheaper. Analysts expect profit per share on average of $9.46 next year (ending June 2013), which would give it a forward p/e of 2.5.
Buying these companies simply becomes a bet on the speed of the transition from hard disks to SSDs. Apparently, analysts, on average, do not see a speedy transition. Revenues for STX are expected to rise from $15.4B this fiscal year, to $19.4B the next. A similar rise is expected for Western Digital's revenues.
The last four quarter in profits have been astounding at Seagate:
June 2011: 28 cents (25 cents expected)
Sept 2011: 34 cents (31)
Dec 2012: $1.32 ($1.08)
March 2012 $2.64 ($2.11)
Difficult to argue that this Thai flood has done them any harm.. So for the foreseeable future, these stocks seem extremely cheap and good profit machines. But we know the party won't last. The shock will come in leaps and bounds, as a reaction of increases in performance and price falls of SSDs that will take customers away.
Can these companies use the cash generated in their profitable hard-disk business to transform into something else? That's a fair question. These kind of transitions, like the legendary transition of Nokia from paper to mobile phone giant, are quite rare. Both companies have made some feeble attempts to get into the SSD business, or the home network (and here) business (good for data storage as well, needless to say).
But we're not that optimistic. Capabilities are the DNA of companies, and those of the hard-disk business are quite specific to that technology (magnetic storage). They either have to find a field where these capabilities can be applied with equal success, or develop (or buy) new capabilities.
Betting on SSDs then? Well, that field is quite fragmented (although we like OZC), but even flash memory (on which these are based) might be superseded in the not so distant future.
One can ride these stocks for a while, but not too long.
Disclosure: I have no positions in any stocks mentioned, and no plans to initiate any positions within the next 72 hours.