Worries about Spain's undercapitalized banks, concerns about the election outcome in Greece, and early signs of the weakening economies in China and the U.S. have driven global equities lower in the past month or so. Still, despite the negative sentiment, several stocks have continued their charge higher. Among the stocks reaching fresh 52-week highs, there are several dividend-paying companies with low payout ratios. Here is a quick glance at five such dividend stocks. Despite the run-up in prices, some of these stocks remain undervalued on a relative basis.
Click to enlarge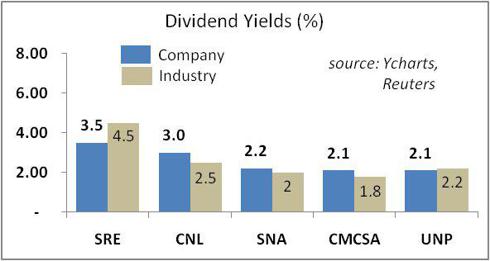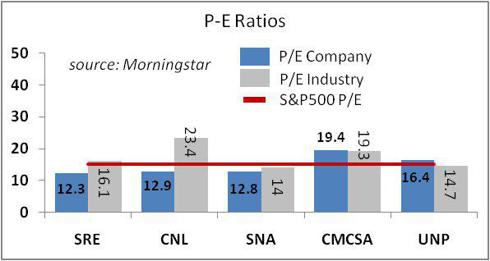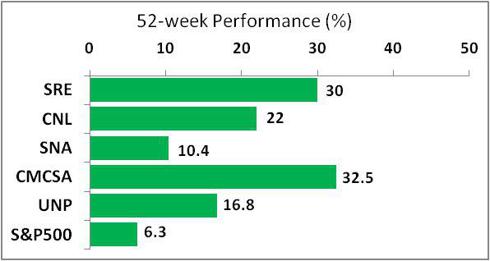 Sempra Energy (NYSE:SRE) is a $16.6 billion energy services holding company whose subsidiaries provide natural gas and electric power to customers. This utility holding company is also the largest natural gas storage company in the United States. Shares of Sempra Energy have hit a fresh 52-week high at $69.46 a share, up some 30% on the year. The stock may have been buoyed by the talk of LNG exports to Japan. In fact, Sempra and Japan's Mitsubishi Corp. and Mitsui & Co. have agreed to build a natural gas liquefaction plant in order to export natural gas to Japan, where natural gas is six times more expensive than in the United States. The building of the export facility will last for three years. The company's shares are slightly undervalued relative to industry and almost on par with the company's own five-year average valuation.
Sempra Energy pays a dividend yield of 3.5% on a payout ratio of 43%. The company's peers PG&E Corp. (NYSE:PCG), AGL Resources (NYSE:GAS), and Enbridge (NYSE:ENB) pay dividend yields of 4.0%, 4.8%, and 2.9%, respectively. It should be noted that, recently, there were six insider sale transactions involving Sempra Energy's stock, including sales by the company's Chairman and one of the Vice Presidents/General Counsels. The company's Chairman sold 151,800 shares at an average price of $67.16 a share, while Sempra's Vice President sold 16,000 shares at average prices of $65.00 (6,000 shares) and $64.45 (10,000 shares). Still, among fund managers, the stock is popular with David Dreman, who purchased a minor stake in the company in the previous quarter.
Cleco Corporation (NYSE:CNL) is a $2.6 billion electric utility holding company that provides power to customers in Louisiana and Mississippi. The stock has claimed a new 52-week intra-day high at $42.45 a share, up 22% in a year. On a trailing-earnings basis, the company's shares are undervalued relative to industry, but above the company's five-year average P/E. On a forward-earnings basis, the company is undervalued relative to industry and its own past valuations.
This electric utility holding company pays a dividend yield of 3.0% on a payout ratio of 39%. The company's peers Entergy Corporation (NYSE:ETR) and American Electric Power Company (NYSE:AEP) pay yields of 5.0% and 4.7%, respectively. The company has paid dividends since 1935, and in 2011, it raised dividends twice for a cumulative 25% increase. Billionaire Ken Fisher has a minor stake in the company.
Snap On Inc. (NYSE:SNA) is a $3.7 billion company that sells tools (e.g. hand and power tools), equipment (i.e. shop equipment), diagnostic products and software, repair information and systems solutions for professional users primarily in the automotive industry, but also in the aviation, natural resource, and power generation industries. The company has seen its stock price surge to a new 52-week high of $64.36 a share, up 10.4% in a year.
Snap On shares have rallied due to a strong demand that has outpaced analysts' expectations. The demand is supported by an aging vehicle fleet. At 11 years on average that fleet is currently oldest on record. The company is positioning itself for an expansion into China. Snap-On's CEO calls the company "recession-resistant" and gives an upbeat outlook on the company, which derives two thirds of its sales from North America. As regards the valuation, the company's stock is undervalued relative to its industry and its own historical P/E averages.
Snap On pays a dividend yield of 2.2% on a payout ratio of 27%. Its main competitors, including Stanley Black & Decker (NYSE:SWK) and Danaher Corp. (DHA) pay yields of 2.6% and 0.2%, respectively. Billionaire Ken Fisher is also a shareholder in this company.
Comcast Corporation (NASDAQ:CMCSA) is a U.S.-based entertainment, information, and communications products and services company. It has nearly $85 billion in market capitalization. The company is the largest U.S. cable and Internet service provider in terms of service subscribers. Shares of Comcast have reached a new 52-week intraday high of $31.65 a share, up 32.5% in a year.
The company's shares have rallied as Comcast beat analyst estimates on both revenue and earnings, despite the protracted weakness in the housing sector to which the company is closely tied. Other positive catalysts for the rally have been the company's bolstering of its dividend by 44% and the authorization of a $6.5 billion stock repurchase program, $3 billion of which will be spent on buybacks this year. Recently, the stock may have also benefited somewhat from the trend of investing in U.S.-focused companies on the back of the strengthening dollar.
Comcast pays a dividend yield of 2.1% on a payout ratio of 40%. The company's peers DirecTV (NYSE:DTV) and Dish Network Corp. (NASDAQ:DISH) do not pay regular dividends. Fund manager Lee Ainslie (Maverick Capital-check out its top picks) is an investor in the stock.
Union Pacific Corporation (NYSE:UNP) is a rail transportation company with market capitalization of $57 billion. The company's shares have hit a new 52-week high of $118.99 a share, up 16.8% within a year. The stock has found an impetus in the Standards & Poor's (S&P) credit upgrade based on "moderate pricing increases, strong cost controls, and a commitment to moderate financial policies." This credit upgrade is relevant because it lowers costs of debt financing that is used to support infrastructure growth. (Union Pacific plans to spend a record $3.6 billion this year on new terminals and network upgrades.)
Despite weaker coal shipments, the company has increased freight volumes (and prices). It has been a cost-efficient substitute for the trucking industry. As regards valuation, the company's shares are overvalued on a trailing-earnings basis, but on a forward-earnings basis, they are lower than the company's own five-year average metrics.
Disclosure: I have no positions in any stocks mentioned, and no plans to initiate any positions within the next 72 hours.