Recently in the comments section of one of our articles a new trader asked if we might recommend an options play with a time-frame of a month or two on The Little Energy Stock That Could - EnCana (NYSE:ECA). Our response:
Anytime you are talking about options with a 30-60 day window, $Yoda, you want to be the seller and not the buyer. Sell a put if you want to go long in options over that time frame.

The August 18 2012 $21 Put has a bid at $1.95, that's 78 cents of time premium, 4.4% of your risk. Times 6 that's a 26.2% annual gain if ECA stays flat. That's not exciting as it caps your upside so much but that's about the best I can see IF you are bullish.
The phenomenon of time decay means that options have an expiry date that we are constantly getting closer to and for that reason options are constantly losing their time premium. Not only that but this loss of value accelerates as we get closer to expiration. The importance of this cannot be overstated. If we buy an option with a month to expire not only is it losing time value from the time we get it but it actually picks up speed.
Natural Gas
Esteemed Seeking Alpha favorite Paulo Santos recently offered his view on natural gas for this year and next:
Given the production drops on existing wells, the drop in natural gas rigs and the focusing of these on wet plays, the likelihood is that the production drop will materialize in the neighborhood of 10% for 2013, consistent with Chesapeake's (NYSE:CHK) prediction for its own natural gas production. This is enough of a drop to create a larger natural gas rally during 2013, maybe even up to the $4-$5 area where rigs will start coming back again.

There's also the chance that production will drop enough to create fears of a shortage during 2013. That could make for temporarily much higher prices.

My own opinion on how to take advantage of these movements would be toward using natural gas futures or by investing in companies that can benefit from higher natural gas prices, such as Exelon (NYSE:EXC). I am not very fond of the natural gas producers themselves, because of high debt loads and the fact that natural gas will see a volume drop. Still, there should be good, conservative, natural gas producers such as Encana (NYSE:) that will benefit considerably from any large increases in natural gas pricing.
Here we have an interesting situation. It's possible that gas and its producers may languish for the remainder of 2012 and then take off in 2013. This information could dovetail nicely indeed with our knowledge of time decay.
The Trade
First let me emphasize that we are not recommending this trade. Instead we wish to explore the concept of a calendar spread and suggest that this could be a starting point for your research if you think the scenario Mr. Santos described will play out. Let's have a look at the options chain for ECA for options that expire in January of 2013 and 2014. (Source ETrade)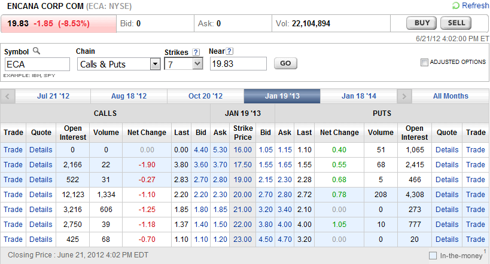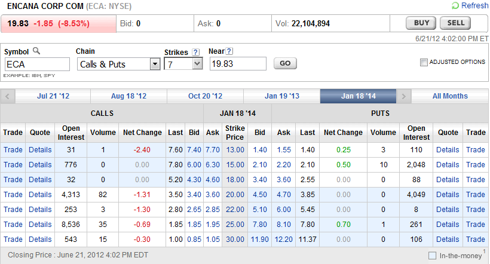 EnCana trades around $20 so let's use that as our strike price. Already an opportunity should be popping out at us. The '13 call option last traded at $2.20, the '14 option traded at $3.50. Because EnCana last traded at $19.83 neither of these options has any intrinsic value, if expiry were today they would expire worthless. That means that the entire value of both options is the time premium. Let's say that Jan '13 and Jan '14 are 6 and 18 months away. Jan '14 is three times as far away so the time premium we pay should be three times as well if time decay happened at a steady rate. But the Jan '14 call is only about one and a half times the price, and that is because time value decays at an accelerating rate as options approach expiration.
In this case if Encana does not move from $19.83 then come January the '13 call will have gone from $2.20 to $0 while the '14 call should have lost less than one-third of its value, maybe a dollar and change, and the difference between that and the $2.20 can be the profit in a calendar spread.
So what we do with a calendar spread is we buy the longer dated option and sell one with the same strike in the nearer term. In this case we will sell the Jan '13 $20 call for the listed bid of $2.20 and buy the Jan '14 $20 call for the listed ask of $3.60.
Conclusion
We will call this trade the "Portuguese Calendar Spread" in honor of Paulo and we will follow this trade to see what we can learn from it as time passes and we take advantage of time decay. Other things being equal these trades will make money as time passes whether the underlying stock goes up, down, or stays flat. Combine that with a market timed event like the possible situation Mr. Santos described and this could be a very smart way to play the natural gas trade.
Calendar spreads work on securities of all kinds. Some other energy securities to consider trading this way include: Arch Coal Inc (NYSE:ACI), Alpha Natural Resources, Inc. (NYSE:ANR), Apache Corporation (NYSE:APA), Baker Hughes Incorporated (NYSE:BHI), Peabody Energy Corporation (NYSE:BTU), Chesapeake Energy Corporation (NYSE:), ConocoPhillips (NYSE:COP), Chevron Corporation (NYSE:CVX), Devon Energy Corporation (NYSE:DVN), Enbridge Energy Partners, L.P. (NYSE:EEP), EOG Resources, Inc. (NYSE:EOG), Halliburton Company (NYSE:HAL), Hess Corp. (NYSE:HES), Linn Energy, LLC (NASDAQ:LINE), Marathon Oil Corporation (NYSE:MRO), National-Oilwell Varco, Inc. (NYSE:NOV), Plains All American Pipeline, L.P. (NYSE:PAA), Petroleo Brasileiro SA (ADR) (NYSE:PBR), Penn West Petroleum Ltd (NYSE:USA) (NYSE:PWE), Royal Dutch Shell plc (ADR) (NYSE:RDS.A), Seadrill Ltd (NYSE:SDRL), Schlumberger Limited. (NYSE:SLB), Statoil ASA (ADR) (NYSE:STO), Suncor Energy Inc. (NYSE:SU), TOTAL S.A. (ADR) (NYSE:TOT), Valero Energy Corporation (NYSE:VLO), Exxon Mobil Corporation (NYSE:XOM)
Disclosure: I am long ACI.