Listening to Coldwater Creek's (NASDAQ:CWTR) latest conference call with analysts left me wondering, "what are they thinking?" As recently as today, one can draw similar comparisons with Thornburg Mortgage's (TMA) woes. Management at Thornburg was extremely bullish for months in spite of the credit freeze that was closing in around them. So much so that they sunk millions of dollars of their own money into the business in the form of stock purchases.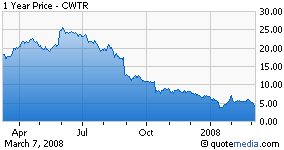 Dan Griesemer, Coldwater's current CEO who took the place of Dennis Pence due to health issues, is a MEGA-BULL when it comes to the company's business model, which serves the frugal "Missy" category.
As I see it, the Street has several issues with Coldwater:
1) They continue to open stores, albeit at a slower pace, in the face of a darkening macro picture. And let's be real: the first to pull back the reigns are Coldwater's customers, who remember the Great Depression as a time of hardship, not like an Ambercrombie (NYSE:ANF) customer who thinks that a pill will fix it. To Dan's credit, his rationale is not without merit, citing improved leasing terms and the availability of prime locations. However, don't think the terms would not be so enticing unless the commercial property owners didn't see something they didn't like. Buyer beware. Time will tell if Dan and his team were right to expand when others are running for cover.
My Opinion: They should stop and weather the storm.
2) Georgia Shonk-Simmons' lack of focus on the brand and fashion risks have been major misses. The company has downplayed this, but I believe the brand needs a fresh set of eyes. Her comments and tone border on being obtuse. This leads me to question the bench strength with the company.
My Opinion: She should have been gone long before the "rebuilding effort".
3) Where is Missy? Niche retails fair far worse in such dark economic times and, based on the latest retail numbers, you can seen how the Missy Sector has suffered to the tune of a 70%+ haircut in the pps. This business model is yet to be proven as something that is "sustainable and consistent". Dan seems to miss this point.
My Opinion: Expanding the demographic may help improve consistency.
4) I question the brand's "national" appeal. The merchandise, store experience and hertitage speak to a mid-west crowd, where the fashion is more stable and less trendy.
My Opinion: Focus on areas that fit the lifestyle and heritage of the brand.
As a shareholder of Coldwater Creek, I hope they can reignite the brand and weather the current macro environment to the benefit of shareholders. Otherwise, the company will serve as nothing more than a personal ATM for executives that failed to deliver.
Disclosure: Author has a long position in CWTR