Goldman Sachs (NYSE:GS) has removed the dreaded "sell" rating from Norweigan oil & gas major Statoil (NYSE:STO) and awarded it the scintillating "neutral" rating. In addition to possibly meaning that business has gotten better at STO the upgrade itself should bring some support to the reeling energy titan. Followers of this space know that we like to sell options on names we are bullish on, and we have outlined two ways to do that: writing cash-secured puts and writing covered calls.
These two strategies are terrific ways to generate income on stocks we like, and there is often debate about which is better. Reel Ken shows us that they are basically the same, with a slight near-term bias toward the puts. So let's run a simulation to see if that is indeed how things work out.
Calls vs Puts: Wall Street's Bloods vs. Crips
Only one of these gladiator option strategies will come away alive. Let's have a look at the options chain for STO: (Source: ETrade)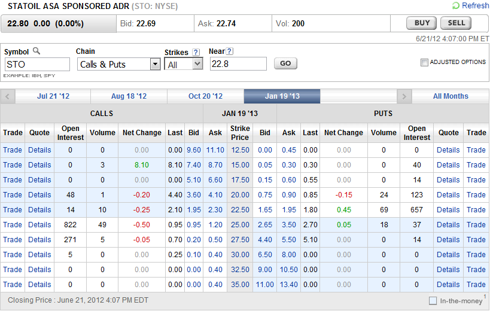 Statoil last traded at $22.80, so let's give it room to run up to $25.00. That leaves room for about a 10% move which is okay if we are gearing this trade toward an income investor. If you do not know how these two trades work please click the links in the first paragraph.
First let's do the covered call. We will sell the Jan 19 2013 call for the bid of $.95, and we will purchase 100 common shares for the asking price of $22.74. Our total cash outlay is $2,179 ($2,274 - $95).
Now the put. We will sell the $25 Jan 19 2013 put for the bid of $2.65, and we will need to put up $2,235 ($2,500 - $265) to secure the put.
Already the call is out ahead, and this has everything to do with liquidity and the "spreads." The spread is the difference in price between what buyers and sellers are willing to do business. It will be interesting to see over the life of this trade if liquidity flows more to one side or the other.
Conclusion
We will monitor these two trades to see how they would work out if we were to pull the trigger on them. Be careful when trading options that there is enough liquidity in the options you choose so you don't have to reach to get the position you want. We will name this trade the "Bloods vs Puts" trade and we will update it periodically checking on its status.
Selling cash-secured puts and writing covered calls are two if the best income strategies an investor can use. Consider these strategies with the following energy stocks: Arch Coal Inc (NYSE:ACI), Alpha Natural Resources, Inc. (NYSE:ANR), Apache Corporation (NYSE:APA), Baker Hughes Incorporated (NYSE:BHI), Peabody Energy Corporation (NYSE:BTU), Chesapeake Energy Corporation (NYSE:CHK), ConocoPhillips (NYSE:COP), Chevron Corporation (NYSE:CVX), Devon Energy Corporation (NYSE:DVN), Enbridge Energy Partners, L.P. (NYSE:EEP), EOG Resources, Inc. (NYSE:EOG), Halliburton Company (NYSE:HAL), Hess Corp. (NYSE:HES), Linn Energy, LLC (NASDAQ:LINE), Marathon Oil Corporation (NYSE:MRO), National-Oilwell Varco, Inc. (NYSE:NOV), Plains All American Pipeline, L.P. (NYSE:PAA), Petroleo Brasileiro SA (ADR) (NYSE:PBR), Penn West Petroleum Ltd (NYSE:USA) (NYSE:PWE), Royal Dutch Shell plc (ADR) (NYSE:RDS.A), Seadrill Ltd (NYSE:SDRL), Schlumberger Limited. (NYSE:SLB), Statoil ASA (ADR) (NYSE:), Suncor Energy Inc. (NYSE:SU), TOTAL S.A. (ADR) (NYSE:TOT), Valero Energy Corporation (NYSE:VLO), Exxon Mobil Corporation (NYSE:XOM)
Disclosure: I am long ACI.