Minefinders Corporation's (MFN) Dolores mine near Chihuahua, Mexico is rapidly approaching production. Management recently announced an update that increased the reserve estimate for the project and released drill results on the adjacent high-grade East Dike satellite target. This has substantially improved the economics of the project since the initial Feasibility study. Minefinders is in the enviable position of being unhedged, and moving to production during a period of record metal prices for both gold and silver. As management anticipates full commercial production in the first half of 2008 and becoming cash flow positive by September, we believe their stock maintains good upside potential in the near term.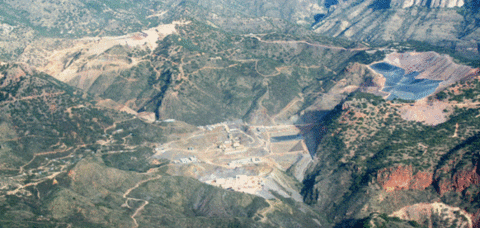 Dolores Project in Center of Photo, Proposed Pit Extending North to Upper Left, Leach Pad Upper Right
Source: Minefinders
Minefinders construction team is now in the final steps of commissioning the conveyors and crushers and plans to place ore on the leach pad in April. They began mining in October of 2007, having initiated construction in October of the prior year. Despite delays in initiating production, they have kept their equipment busy stockpiling ore and removing waste rock for building up access roads. In addition, after partial removal of waste rock, management appears encouraged to find that their block model appears to be holding together. Removing waste while leaving ore in the benches should also minimize costs of stockpiling and increase availability of ore grade material early on. Management reports that they have adequate capital to bring Dolores to profitability.
Management recently announced completion of an updated reserve estimate of 99.3 million tonnes, including 2.4 million ounces of gold grading 0.77 g/t gold and 126.7 million ounces of silver grading 39.67 g/t silver, or 4.6 million gold equivalent ounces grading 1.43 g/t gold. Along with the updated reserve estimate, they provided an updated economic analysis, the 2007 Base Case which demonstrates a substantial increase in value over the 2006 Base Case. While we consider the metal price assumptions to be more representative of long-term metal prices, we believe their 2007 Spot Case (now below current prices) represents a plausible scenario in the near to mid-term during the project's early phase of production.
images

The mine life increased to 15.5 years in the 2007 Base Case, from 12 years in the 2006 Base Case, due to the increase in the mineral reserve estimate. The 2007 Base Case incorporates an increase in operating costs. Management notes that this is primarily due to increases in fuel, electricity and labor, which have been common among other projects updating studies while advancing toward production. While increasing costs have suppressed appreciation of the stock prices for emerging producers, life-of-mine costs remain under $300 per gold equivalent, and margins continue to expand as the project's undiscounted NPV has nearly quadrupled from the 2006 Base Case.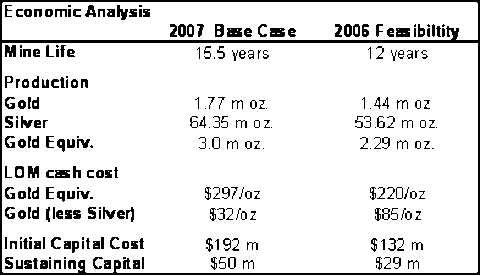 The current economic plan is for an initial leach operation with capacity to process 18,000 tonnes per day. The reserve estimate and operation is limited by space available on the leach pad. Their engineers are now continuing to optimize available space seeking to expand the leach pad in order to take advantage of additional identified mineralization. Currently the resource is open to the north and south of the proposed pit. In addition, Minefinders recently released an additional 20 in-fill drill holes in the high-grade East Dike satellite deposit adjacent to the pit, which should provide an additional boost to the project's economics. The East Dike deposit is characterized by high-grade structures surrounded by disseminated gold and silver mineralization extending outward over widths of 20 to 50 meters.

The high-grade East Dike satellite deposit is about 200 meters east from the eastern edge and parallel to the proposed pit extending at least 350 meters. The geometry of the deposit suggests that it may be readily mined by side-hill strip with a low strip ratio or basically extending the wall of the pit to the east. Management believes "the Dolores resource base continues to grow significantly and these results further confirm the expansion potential at the mine." Clearly, as the mineralization is of higher-grade, near surface and oxidized, it has the potential to improve project economics. Interestingly, the drill hole D-451, drilled in 2006, 50 meters further to the north and offset farther to the east, is also of a grade to suggest potential for expanding the newly identified resource. We will watch with interest as management seeks to capitalize on this higher-grade mineralization and how it may be included in the current mine plan.
Minefinders has also encountered higher grade mineralization under the proposed pit which may be accessed from underground. They are targeting completion of a Feasibility Study by the end of 2008 for an additional mill expansion to increase recoveries of higher-grade ore from the pit and underground. As underground mining will be processed through a flotation circuit in lesser volumes, the additional resource should not be as constrained by space limitations.
Management believes it has assembled a management team capable of expanding the operation at Dolores and capitalizing on its other projects in northern Mexico. Its efforts to minimize dilution, raise sufficient capital, and to move to unhedged production should allow it maximum financial flexibility to advance its other projects. Currently, based on the 2007 Base Case (heap leach only) Minefinders' stock is trading below a 1.0 NAV, suggesting strong potential for appreciation as they move to production and with potential of expanding the resource and operation.
Disclosure: The author is long MFN. An affiliate of the author's employer provides corporate advisory services to MFN.