I should begin by noting that I own silver, silver stocks, and remain bullish on silver in the long run. As I have maintained for several years now, I consider a triple-digit silver price to be a reasonable expectation. This belief guides much of my strategy towards managing my silver positions.
With that said, silver has tumbled since Wednesday's announcement that the Fed would not engage in QE3 but rather would engage in Twist II. Personally, I'm not so interested in monitoring these terms as I am in observing the money supply, which continues to reach new all-time highs. So long as new highs are being reached, the inflationary outcome my portfolio is predicated upon remains very likely (although price inflation can occur even without expansion of the money supply, as it can be the result of a loss of confidence in a currency). Still, though, no QE will impact how directly speculative money used to bid up stocks and commodities enters the economy, as well as impacting sentiment. In this regard, I think the absence of QE could be especially bearish for silver in the near term.
Below is a chart of silver. Based on the technical patterns, I think $26 is a great buying opportunity. However, if $26 does not hold, there is not much in terms of significant support levels until around $18. I would encourage silver investors to be psychologically and financially prepared for such an event. Silver at $18 would represent an especially worthwhile buying opportunity, in my opinion.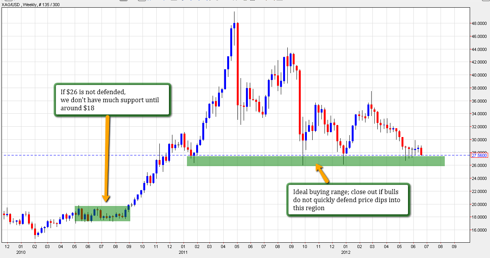 It is also worth noting that the spread between gold (NYSEARCA:GLD) and silver (NYSEARCA:SLV) is rising; it now stands at 57.37. As the chart below illustrates, it basically has been in an uptrend for the past year, and very clearly since this past March.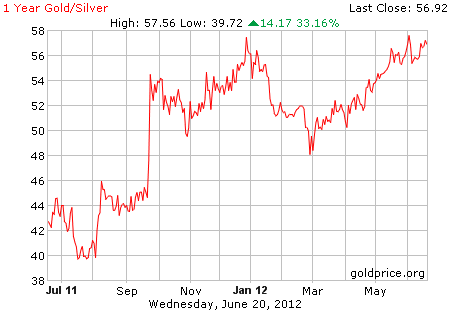 Without QE3, I think this trend could continue. Of course, ultimately I expect QE3, or something that has the effect of creating new liquidity, to emerge by the end of the year. I don't see another solution that the Fed will seriously consider to bonds maturing and the ongoing derivatives crisis. When the Fed employs this type of monetary policy, it will need to do so aggressively, at which point I think silver will rally, very sharply. It should be noted, though, that silver can rally even without QE3; after all, it did so for much of the last decade, before the term QE was even a part of our consciousness. That is why I think silver is a good buy at $26, and that investors committed to silver would benefit from being ready to buy at $18 if price falls to such a level.
Personally, the primary way I hold silver is through silver stored in vaults, although I do take on some derivative contracts as well. Accordingly, investors can utilize SLV or PSLV as ETFs that hold silver. In terms of silver stocks, I stand by my two favorites, Silver Wheaton (SLW) and Silvercorp (NYSE:SVM). Silvercorp is the lowest-cost major producer of silver that is on pace to double their production by the end of 2015; they are currently trading at what I consider to be fairly low prices -- under 14X earnings ($5.89 per share at the time of this writing). Still, though, I would recommend investors not in SVM yet to leave some capital ready in case P/E falls below 10.
Silver Wheaton is a bit more expensive -- currently at 16.4X earnings -- though it employs the streaming model, whereby it provides capital to miners in exchange for a royalty stream based on mines' production. I think this is an immensely powerful model; finance-intensive models like what Silver Wheaton is employing will be especially powerful when QE3 comes around, as the ultimate impact of QE3 and financial chicanery from the Fed in general is to transfer value away from production and towards finance. Of course, patience is required to get the most of this opportunity.
Disclosure: I am long SLW, SVM.