At the 2012 REITWEEK conference, a big topic of discussion was deleveraging. Still feeling the effects of the recession beginning in 08, stockholders wanted to ensure their companies were better situated for a recurrence. This sentiment seems to be quite prevalent throughout the market, but is it justified? In fact, just the opposite can be true under certain circumstances. The current conditions in the hotels sector create a unique environment in which highly leveraged companies can realize a significant advantage as compared to the relatively less leveraged. To support such a claim, we first examine the true effect leverage has on a company. While leverage is typically thought of as a major component of company risk, its financial effects, when isolated from all other variables, fall into two categories: subtractive and amplifying.
Subtractive effect
This effect is straight forward and simply consists of interest payments subtracting from cashflows. With interest rates at an all-time low, the magnitude of reduction is diminished.
Amplifying effect
Since leveraging allows a company to control more or better properties with the same initial amount of capital, it multiplicatively affects profits, positively in times of success and adversely during struggle.
Since the amplifying effect is multiplicative and the subtractive effect is summative, a level of RevPAR exists, which I will call the tipping point, at which the amplifying effect begins to outweigh the subtractive effect. Beyond this point, which differs between companies, the more leveraged entities begin to meaningfully outperform their less leveraged counterparts (all else being equal).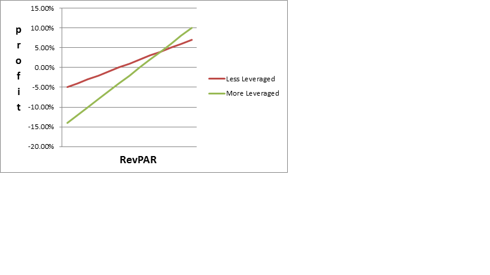 This graph is intended to show the qualitative relationship, exact percentages and slopes will vary from company to company. Essentially, increasing leverage shifts the line down, increases its slope, and moves the break-even point to the right. In other words, it requires a higher RevPAR to become profitable, but beyond a certain point the profit margin of a more highly leveraged company begins to exceed that of an otherwise equal less leveraged company.
The value of this information to us as investors is rooted in the general market's risk averse perspective. With mounting fears of impending economic decline, many investors have turned to less leveraged stocks leaving the more leveraged positions drastically underpriced. By developing a strong understanding of which stocks are most capable of surpassing the tipping point, we can take advantage of both the increased profit margin and the fear driven discounted prices.
As we look for stocks with the greatest leverage opportunity, the hotel sector presents itself as a frontrunner. PKF (an independent appraiser of the hotel industry) forecasts demand significantly outpacing supply over the next few years and the consequent increase in RevPAR. Recent sector data agrees with the PKF forecast as STR Global reports a 5.1% jump in ADR, and a 1.3% increase in occupancy which equates to a gain of 6.5% in RevPAR for the week ending June 15 as compared to the year prior. Here are some key issues in the sector which may present opportunity.
| | | | | |
| --- | --- | --- | --- | --- |
| Company (ticker) | Total Equity $ | Debt $ | Debt to Equity Ratio (Leverage) | Est. Price/FFO as of 6/15/12 |
| Ashford Hospitality Trust (NYSE:AHT) | $941mm | $2,492mm | 2.64 | 5.4 |
| Hersha Hospitality (NYSE:HT) | $727mm | $854mm | 1.17 | 13.4 |
| Hospitality Properties (NYSE:HPT) | $2,975mm | $2,502mm | 0.84 | 7.2 |
| Lasalle Hotel (NYSE:LHO) | $1,792mm | $1,172mm | 0.65 | 12.9 |
| MHI Hospitality Corp (MDH) | $41mm | $170mm | 4.15 | Not yet independently estimated |
| Pebblebrook Hotel (NYSE:PEB) | $1,135mm | $260mm | 0.23 | 18.1 |
| Strategic Hotels (NYSE:BEE) | $636mm | $1,431mm | 2.25 | 22.5 |
Data as of 03/31/12
Further analysis is needed to determine the likelihood of reaching the tipping point for each of these companies. Relevant information to consider includes but is not limited to the following:
Obtainable interest rates
A lower interest rate directly reduces the requisite RevPAR to reach the tipping point, so take a look at what kinds of rates companies are getting on credit lines. Based on a company's perceived credit worthiness, the actual credit rate a company can obtain may vary greatly. Simon Properties, a large, well-established company recently signed a $2.0B line of credit for 1% over LIBOR whereas Ashford Hospitality Trust being small and highly leveraged was only able to get 6.5% over LIBOR on a $135mm loan. That being said, in my opinion the respective bloated and barebones prices of these stocks more than makes up for the interest rate difference.
Debt maturity
It is difficult to predict how long these historically low interest rates will last, so companies with higher percentages of debt coming due soon can lock in low rates on ideally long term contracts. For those with little debt coming due, look to see if refinancing and acquisition are being utilized to take advantage of the lower rates.
Location and quality of hotels
Location and quality directly affect demand and consequently anticipated RevPAR growth. Particularly high-end hotels and those located in major cities have higher barriers to entry for competition so ADR may grow more quickly since supply is capped.
Europe situation
Whether or not an economic decline in Europe actually manifests into a significant problem plays a large role in determining the directionality of the amplifying effect. If RevPAR takes a hit, leverage could prove detrimental. Companies with more exposure to European customers may be more affected. For example Hersha Hospitality with a large footprint in New York could be considered more susceptible to declines in European travel to the US.
As leverage seems to generally be viewed as a negative, many highly leveraged companies are undervalued by the market. Between record low interest rates and projected increases in RevPAR, the hotel sector is poised for excellent growth. Careful examination of each company and keeping an eye on global economics may provide tremendous opportunity.
Disclosure: 2nd Market Capital and its affiliated accounts are long AHT and MDH