The recent struggles of the broader market, record-breaking oil prices and increasing signs of slowing economic growth weren't enough to keep many raw materials stocks from eking out gains. Of the 12 sectors Morningstar tracks, only the energy sector topped industrial materials' 5.49% return for the month.
A few laggard stocks dragged PowerShares FTSE RAFI Basic Materials to a 0.95% return in February. But PRFM still moved 11 spots up our PowerShares Momentum Table, ranking 15th last week.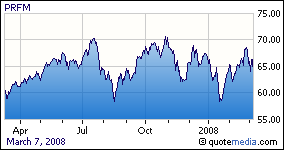 We added the ETF to the PowerShares Momentum Tracker Portfolio on February 14, and though the fund was essentially flat through March 3, there's hope that high commodity prices can help the cyclical chemicals and metals stocks stay strong.
PRFM invests in stocks of companies that produce and distribute a wide range of materials, including coal, copper, pulp and paper, gold, seeds, aluminum, raw chemicals and steel. Almost across the board, they've been part of the long-running commodities rally. Morningstar's industrial materials was the top sector for one-year returns (42.6%) as well as the three-year (28.4%) and five-year (37.7%) periods.
That run-up has raised concerns from some investors that the sector may be overvalued. Most of PRFM's stocks tie closely to the values of particular commodities, making them exceptionally volatile. If, for example, aluminum prices suddenly plummet, it's almost certain No. 3 holding Alcoa's (NYSE:AA) stock would also dive.
The beauty of PRFM is its exposure to a diverse array of companies within the sector. Over its short history (inception September 2006), the ETF hasn't been as volatile as its individual holdings, essentially because the wide breadth of its portfolio helps balance out the ups and downs of various industries.
For example, chemicals and forest products suffered recently: top holding Dow Chemical (DOW) because of its connection to the struggling automotive industry, and both Dow and No. 7 Weyerhaeuser (NYSE:WY), the forest products giant, because of their ties to the weak housing sector. Dow stock is off 3.8% year to date (through March 3), while Weyerhaeuser shares are down almost 15% for the year.
International Paper (NYSE:IP) was hurt by weakening sales and fears of a downturn hurting paper demand. Many analysts, though, still singled out the firm's stock as a potential bargain. Goldman Sachs analyst Richard Skidmore raised his rating of the stock from "neutral" to "buy," pointing to price increases and improving profit margins for the firm. International Paper was up about 1% year to date through March 5th.
Meanwhile, metals, seeds and fertilizer stocks have benefited from the long-running commodities boom, thanks to rapidly growing populations and wealth in developing countries, driving demand for jewelry—gold continues to hit record highs, both on supply/demand issues and as a hedge against inflation, the weak dollar and an economic slowdown—and for better food.
Surging metal prices brought considerable gains for Alcoa and Freeport-McMoRan Copper & Gold (NYSE:FCX). Demand for biofuels and food, the latter in developing countries, boosted the stocks of seed giant Monsanto (NYSE:MON) and The Mosaic Company (NYSE:MOS), one of the world's largest fertilizer producers. Increasing sales in China helped spur stock in the company to a nearly 19% year-to-date gain through March 3.
Both PRFM and its sector sibling, PowerShares Dynamic Basic Materials (NASDAQ:PYZ), returned about 11% in the three months ending February 28, outperforming every other non-commodity fund in the PowerShares Momentum Tracker universe.
The two funds overlap considerably, sharing nine of their top 15 holdings. PRFM trailed slightly behind PYZ in recent weeks, held back by weak showings from Dow, IP and Weyerhaeuser, which together accounted for about 19% of the fund's assets. That said, the two ETFs use different models to rank stocks, and PRFM tends to invest in larger stocks. While PYZ seeks stocks with the best chance to outperform across large- and smaller-cap stocks, PRFM places no restrictions on cap size, instead emphasizing the largest materials stocks.
As a result, PRFM carries an average market cap of nearly $15 billion, compared with $5.2 billion for PYZ. Nearly 70% of PRFM assets are invested in large- or giant-cap stocks, compared with 37% for PYZ, all large-cap. PRFM is also more concentrated, with 55% of assets in the top ten holdings, compared with 26% for PYZ. That may be good news going forward, because it may give PRFM exposure to global growth in the event of a U.S. recession.
Reaching across the globe and across the materials sector may allow PRFM to be a safe haven if the broader market continues to slip in a U.S. recession, especially if the carnage is somewhat limited to the U.S. But investors should know that this fund's heavy exposure to a handful of volatile holdings makes for an unpredictable fund that could suffer sudden losses.