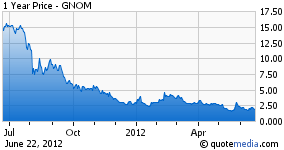 I have been following Complete Genomics (NASDAQ:GNOM) for a while now. I've even put it in my list of five favorite stocks. I really like its products; I really like its services, and I really like its CEO, Cliff Reid. By all accounts this is a great little company ready to take off like a rocket. It all seemed so eminent and inevitable. Then came first quarter results and since then the stock can't seem to find a bottom. In fact, it was dropping a whopping 10 percent per day for nearly a week. Talk about overreaction.
Complete Genomics is an early stage biotech company engaged in human DNA sequencing using proprietary machines, process, and analytics. However despite the optimism for its industry and the company itself, Complete Genomics missed Q1 targets. But who really cares? This is a tiny company trying to find its footing. More importantly, tiny companies trying to find their footing often experience growing pains during which they falter, recover, falter again, recover again and then the rocket is ignited. More importantly, investors - especially institutional investors - know this. This is what a developing company looks like. So what gives? Why is everyone suddenly abandoning a once highly regarded and well thought of company? The answer has to be more than just quarterly results.
Sequenom (NASDAQ:SQNM) and Amarin (NASDAQ:AMRN) are two examples of a developmental stage biotechs that missed their quarterly targets but didn't see their stock price take a dive next day. In fact, Sequenom missed its target pretty badly and subsequently saw an increase in the value of its shares. When you are a small company in a relatively new market, your job is to gain market share at all cost - revenue, profits, and quarterly targets be damned. In other words, investors don't measure the success or failure of a startup by its ability to meet quarterly targets. Instead, the most important measure is how much of the market is the company capturing. A classic example of this model is Amazon. During the late 1990s and early 2000s, Amazon effectively refused to make a profit. Instead it poured everything it had including endless rounds of capital raising in order to capture the market. And that is exactly what Amazon did. In fact Amazon captured and controlled the market so well that companies like Wal-Mart (NYSE:WMT) can't crack Amazon's (NASDAQ:AMZN) business model even with their infinite amount of resources. This is how a startup company is supposed to work and Complete Genomics seems to be following that model fairly well. . So what is going wrong?
To answer the above question, I scoured the vast spaces of the internet searching for clues as to why this promising company is being beaten down by everyone and their grandmother. Unfortunately, it's a tiny company with low trading volumes. So, Adam Fuerstein and all the other biotech bloviators aren't interested in writing an analysis of it. I then reviewed messages boards, Tweets, 10Ks, and anything else that I can find. After careful due diligence, I found some interesting things, and I'd like to share them with you.
First and most important, Complete Genomics' biggest competitor Ilumina Inc. (NASDAQ:ILMN) has filed a patent infringement lawsuit against it, claiming that Genomics machines and sequencing process are in violation of Illumina patents. The lawsuit was filed in August 2010, shortly before Complete Genomics went public. About six months later, Genomics hit an all time high of nearly $19 per share. Presumably, investors assumed that the lawsuit was no big deal since companies sue each other for using the letters "P" and the word "The." In other words, litigation is a part of doing business -- any business. No big deal. However in this case, it may be a big deal. If Illumina wins this case, Complete Genomics is in real jeopardy of being shut down because its entire business dependents on those patents. Worse yet, Genomics recently received bad news in regards to the lawsuit. On February 12, 2012, the presiding judge defined the claims of the patent (a.k.a Claim Construction) in a language that mirrors and favors Illumina's own construction. This may seem like a minor technicality but in patent enforcement and litigation, claim construction can be everything. Arguments for the lawsuit are scheduled to begin in May, 2013. Stay tuned.
Second: as far as I can tell, there has been no insider buying of shares. Usually this is no big deal. In fact, I think investors often make too much of this fact because buying and selling of shares happens. After all, we are in this to make money. However with Complete Genomics, this seems a little strange. The stock is at an all time low. So if you are the co-founder and CEO (i.e. Cliff Reid) and believe in your business' future, why would you not publicly hint that you personally are purchasing a nice chunk of the shares outstanding? If Cliff Reid buys 100,000 shares of his company for a total cost of about $200,000, this may have the effect of doubling the stock price because investors will believe that Mr. Reid believes it's a good buy. Yet -- nothing. There seems to be very little insider activity. According to Yahoo Finance, the last time the CEO made a significant purchase was in September 2011. More importantly between March 12th and 15th of this year (or about a month after the judge defined the claims in favor of Illumina), two institutional investors/funds dumped nearly 2 millions shares of Genomics for a price ranging from $2.89 to $3.20. That was the biggest dump of shares in Genomics' short history. Moreover, insiders sold nearly 400,000 shares while purchasing only 100,000 around this same period.
Third and final point: no one in Complete Genomics has publicly addressed the dramatic slide in the company's share price. Usually when there is this kind of obvious collapse, the CEO or some spokesperson comes out and says that markets are often unpredictable and current prices do not reflect the value of our business, blah, blah, blah. This is almost standard language. However, it has been complete silence from Complete Genomics. I don't really know what to make of this. Could it be that they don't want to answer questions regarding the pending lawsuit or lack of insider buying or the massive institutional selling? Maybe. Worse yet, Genomics board hired bankers to "review its options" - usually code word for "we're seeking a buyer."
Given the above, it is hard for investors to judge the value of Complete Genomics. For the last week, its market capitalization has hovered around $70 million. However, it has nearly $80 million on its balance sheet. That means that the company is worth less than the actual money it has in the bank. By the way, this excludes the value of its intellectual property as well as property, plant, and equipment. This is a rare phenomenon. And I don't know what to make of this either. My gut tells me that the company is doomed. I don't see Genomics surviving the lawsuits. Also at a burn rate of nearly $30 million per quarter, the company may not be able to raise enough capital to challenge the lawsuit while maintaining current levels of operation. Moreover, given these uncertainties and the stock's historic lows, it may be difficult for it to raise additional capital to keep itself afloat. With that said at these valuations it is also a great speculative buy. In other words, my gut and mind are not in agreement.
For example, a $2,000 investment today buys roughly 1,000 shares. If the lawsuit is decided in favor of Genomics, its intellectual property alone is worth at least $1 billion - with emphasis on "at least." That means each current share would be priced at around $18. However given the growth of this industry, the company could easily be worth significantly more. For example in five years, a market capitalization of $5 billion (again a conservative estimate) would result in a future share price of $90. That is a 55 times (or 5,500%) return on investment. That is gaudy and worth the bet. Keep in mind that Illumina is trading at about 66 times earnings right now. In other words, there is very high expectation for companies that sequence DNA especially given the recent reports on their value in identifying cancer risks long before a person is even born.
Yes, you may lose that bet. But you may also be able to retire on it (depending on your level of investment of course). This is why I will be long Complete Genomics. First however, I have to answer the question of "has it bottom?"
Disclosure: I am long SQNM.