The slowdown in Europe and ongoing threat of crisis have translated into discounted valuations for several European companies. The resulting investment landscape also offers historically high-yielding stocks. The combination of discounted stock prices and high yields presents a compelling opportunity to investors who believe the current onset of international financial tumult is surmountable.
Telefonica (NYSE:TEF)
Stock price: $12.58
52-week range: $10.90-$24.82
Click to enlarge image.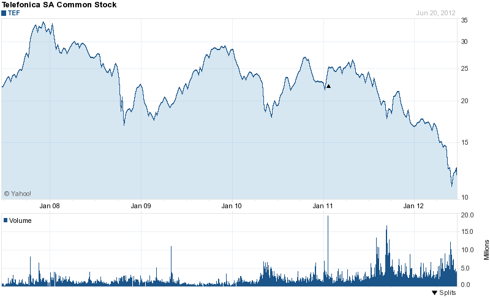 Source: Yahoo Finance.
One company that is trading near 52-week lows and affords investors an outsized dividend is Spanish telecom stalwart Telefonica. But be warned: European debt contagion has found its way to Spain, and Moody's Investors Services followed Standard & Poor's lead recently by cutting its credit rating on Telefonica. So we certainly urge caution on this pick.
Despite the risks, a few key elements make Telefonica an attractive potential investment. The company's aggressive acquisition strategy during the 2000s served to diversify its regional exposure. Granted, in some cases this has been bad for the company, as evidenced by its ill-advised stake in Telecom Italia. So too has the strategy resulted in a dangerously high level of debt. However, investors should consider broad regional diversity a net positive for the company, especially considering an alternative strategy could have resulted in lethal exposure to Spain's economic downturn.
As a testament to the scope of Telefonica's diversification, nearly half of its revenue comes from fast-growing Latin America. These Latin American stakes have performed extremely well, and the region continues to deliver significant profitability. Additionally, Telefonica holds stakes in over 40 companies across regions and continents. The full listing can be found here.
With such a large number of diversified holdings, Telefonica possesses the ability to sell down stakes in these holdings to raise money -- namely to pay off its hefty debt load. To this end, on June 10th Telefonica announced it was selling half of its stake in China Unicom (NYSE:CHU), a move that raised approximately $1.4 billion.
Although it seems clear that current cash flow constraints mean that Telefonica will need to cut its dividend, which currently yields over 10%, investors still stand to be rewarded for taking a chance on the company. The duality of a high dividend yield and a depressed share price spells upside. Trading at a shade less than 10 times current earnings and 6.5 times forward 2013 earnings -- and two times book value -- Telefonica is certainly not expensive. Its forward P/E is comparable to France Telecom's (FTE), and by the same metric the stock is priced more favorably than China Mobile (NYSE:CHL), Telefonica Brasil (NYSE:VIV), America Movil (NYSE:AMX), AT&T (NYSE:T), and Verizon (NYSE:VZ). Yet Telefonica's low valuation relative to its earnings and relative to its peers reflects its financial uncertainty, marked by a monster debt burden of $85 billion. This debt should not be overlooked in assessing valuation, and should be of prime concern among prospective investors.
As for the potential timing of a long position in Telefonica, we are holding off in the short term. We first want to see if the company can successfully pay down its debt, which we believe will be possible through both dividend cuts and sales of holdings. Once progress is evident on that front, Telefonica should present a compelling investment opportunity and a sensible way to position oneself to participate in a European recovery.
Disclosure: I have no positions in any stocks mentioned, and no plans to initiate any positions within the next 72 hours.