Costco Wholesale (NASDAQ:COST) is no secret, either as a company or a stock. The wholesale, membership-based retailer is a favorite place to shop for over 66 million members in the U.S. and abroad. The company focuses on the U.S. market, with 435 stores in 40 U.S. states and Puerto Rico, but also has another 167 warehouse stores in Canada (82 warehouses), Mexico (32), the U.K. (22), Japan (13), Korea (7), Taiwan (8), and Australia (3). Costco has a strong reputation for meeting customers' needs (and then some considering the bulk products it sells) at good prices while also paying employees well. In many ways, Costco represents the distillation of the modern American dream: build a place where people can buy as much as they want at low prices, in a no-frills environment where the workers are all friendly and the shoppers are left to find their own way through the maze. It's a terribly messy brain child of American individualism and consumerism, David Thoreau channeled through Steve Jobs, but it works, well enough that CNBC dedicated an hour of original programming to it.
(From Hilary Price's "Rhymes with Orange" strip;

It works so well that the stock is quite expensive, another non-secret. The shares trade for about 21x 2013 earnings, a hefty multiple for a company that makes its bones on getting people to buy memberships for access to cheap bulk goods. Compared to its obvious peers, Costco is valued at a considerable premium. The stock has been on a steady, more or less straight ahead path, gaining about 12% in the past year and gaining 138% since the March 09, 2009 bottom that it shared with the stock market as a whole, tracking ahead of an 80% gain in the S&P 500 (NYSEARCA:SPY) over the same period. And while the stock hits occasional hiccups, it has recovered from each pullback with new highs not long after. Sitting just off its 52-week high, surely Costco is bound to correct its share price one of these days, right? All multiples have to compress, as the song goes.
Costco has a few areas that may continue to catalyze its growth however, which could support its continued high multiple. And while the obvious peers are cheaper, another interesting comparison in the retail business suggests Costco is not as overvalued as one might think.
The customer base remains loyal, which is important in light of a recent hike in membership fees. Costco added $5 to the membership price for its individual customers and business customers and $10 to the Executive membership. That hike went into effect last November and began affecting renewals starting in December and January. Costco's first quarter where renewal rates were fully affected by the fee hikes saw renewal rates continue to grow sequentially, inching up to 89.6% membership renewal from 89.4% the prior quarter in the U.S. and Canada (where the rate hikes occurred). Anybody who knows a Costco shopper knows that they probably reacted to the fee hike the same way my father did when he heard about it - by calculating the amount of money he spends in a year in Costco, considering $5, and saying, "Peanuts, my darling." Well, in the same manner, at least.
This positive response to the membership fee hike comes in a pivotal period for Costco, one of transition at the top. Co-founder and longtime CEO Jim Sinegal has retired, leaving the reins to new CEO Craig Jelinek. For a company as "culture-based" as Costco, leadership is vital. While one can't presume, it helps that Jelinek has worked for Costco since 1984 (the company was founded in 1983), and was President and Chief Operating Officer before his promotion. The steady performance in his first full quarter is also promising.
Costco's most recent quarterly conference call, as well as its most recent notable executive decision, suggest another area where Costco's growth might ramp up: internationally. Costco's international business has helped the company in two main ways: it isn't so big as to get crushed by Europe's debt crisis or the slowdown in China, and more significantly, as you might recall from the list above, Costco's stores are not in continental Europe or mainland China. Having a small, growing international presence based on Canada, Mexico, the U.K., and East Asia is proving to be a prudent strategy considering the global economic climate.
Still, Costco has the ability to add international warehouses quicker, and it appears that Jelinek wants capitalize on this opportunity. CFO Richard Galanti, speaking at the conference call in lieu of Jelinek (who was in Australia with Sinegal looking at new potential sites for the business), said that Jelinek, "has indicated a desire to ramp (new store openings) up a little bit but do it within the controls that we have. So I think that part of (the ramp up) is the switch from international to domestic, having a higher percentage international." In the CNBC special, host Carl Quintanilla mentioned the company's goal of doubling its number of international stores in the next decade. The company's past behavior has leaned towards deliberate, considered expansion rather than rash build-ups; Jelinek might kick that process in the pants a bit, but the prudent company attitude should endure.
The latest sign of Costco's reemphasized focus on building out its international base is its recent buyout of its Costco Mexico business from joint-venture partners Controladora Comercial Mexicana (Comerci). The move gives Costco full control of its Mexican business, which will simplify its financial management of the business and also allow it a base to grow faster, suiting Jelinek's purported redirection. Credit Suisse's analyst team headed by Michael Exstein expects this to allow Costco to accelerate in Mexico at an expanded rate and compete better with Sam's Club and Wal-Mex in the country, while also being an earnings accretive deal in 2013 due to the financial simplification. In the meantime, Costco is expected to remain the preferred supplier of goods to Comerci's other outlets, a marginal positive as well.
The last area that could turn into a catalyst in the long-term for Costco is its online and mobile business. Galanti mentioned in that conference call that sales and profits are increasing, site traffic is increasing, and only the size of average tickets (amount a customer spends per shopping visit) are down. More importantly, he mentioned that, "we're replatforming our dotcom site," and, "are in the process of getting ready to launch our first 2 applications for mobile, both an Apple and an Android," apps that are expected to be available soon. Considering the current Costco homepage is a bit cluttered, and the continual shift towards online and mobile shopping, an increased and improved presence for Costco in these spheres could be a marginal positive. It's hard to say how much this will affect the business, however, as Costco does not break out its online sales in reports.
On to the comparisons. The most obvious peers for Costco are Walmart (NYSE:WMT), the international retail giant, and Target (NYSE:TGT), a similar-sized retailer with a similarly diverse orientation. I'm including Whole Foods Markets (WFM) as well. While focused on natural and organic foods and not as diverse nor as warehouse-oriented as Costco, Whole Foods also a growth stock and has similar intangibles (culture, reputation, etc.). Both companies also tend to attract higher-income customers who are better equipped to endure with recessionary or slow economic periods.
(Sources: TDAmeritrade, WSJ, each company's website for the most recent earnings report)
| | | | | |
| --- | --- | --- | --- | --- |
| As of CY Q1 2012 | COST | TGT | WMT | WFM |
| Market Cap | $39.7B | $38.8B | $229.4B | $17.6B |
| Quarterly Revenue Growth (Y-over-Y) | 8.25% | 5.85% | 8.56% | 13.57% |
| Linked Quarterly Revenue Growth | 3.22% | -20.77% | -8.20% | -21.27% |
| Quarterly Same Stores Sales Growth (Y-o-Y) | 5% | 5.30% | 3% | 9.50% |
| Yearly Revenue Growth | 14.07% | 3.67% | 5.94% | 12.23% |
| EPS Growth (Annual) | 9.38% | 7.10% | 9.45% | 17.44% |
| Estimated Earnings Growth (next 3 years) | 14.79% | 11% | 9.84% | 20.19% |
| Earnings 2011 | 3.3 | 4.27 | 4.49 | 1.93 |
| Earnings 2012 (Est.) | 3.84 | 4.32 | 4.91 | 2.47 |
| Earnings 2013 (Est.) | 4.37 | 4.87 | 5.35 | 2.83 |
| Free Cash Flow/Share 2011 | 4.31 | 1.56 | 3.09 | 2.17 |
| 2011 P/E | 27.72 | 13.70 | 15.26 | 49.81 |
| 2012 P/E | 23.83 | 13.54 | 13.96 | 38.92 |
| 2013 P/E | 20.94 | 12.01 | 12.81 | 33.97 |
| PEG Ratio | 1.87 | 1.25 | 1.55 | 2.47 |
| 2011 P/FCF | 21.23 | 37.50 | 22.17 | 44.30 |
| Price (as of June 20th close) | 91.49 | 58.5 | 68.52 | 96.14 |
| Dividend | 1.1 | 1.44 | 1.59 | 0.56 |
| Dividend Yield % | 1.20% | 2.46% | 2.32% | 0.58% |
(Note: Costco's FY 2012 ends in August 2012; Whole Foods's FY 2012 ends in September 2012; Walmart and Target's FY 2013 ends in January 2013; all quarterly figures are from the most recently reported quarter)
The comparison shows that indeed, Costco is expensive compared to Walmart and Target. Even the PEG ratio, meant to favor growth stocks more than P/E ratios, is significantly higher for Costco than those two other companies. Costco is cheaper on a P/FCF basis, however, a sign that its earnings are of high-quality. And besides, a stock merits higher multiples if it has higher growth. Costco beats these two companies on most growth metrics, including the two most significant ones: stock price and earnings growth. The following are two charts, one for each of those stats from the market's low point in March 2009 to today: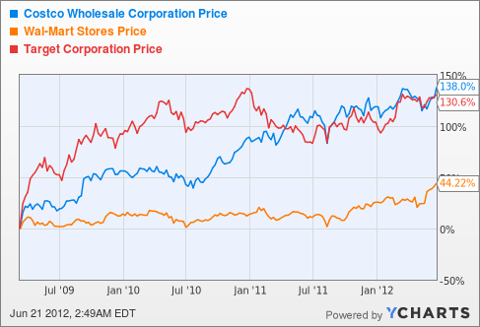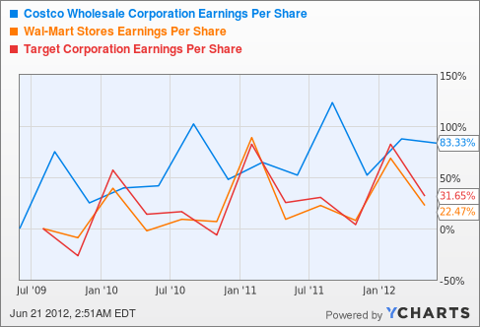 COST Earnings Per Share data by YCharts
Costco's growth does not measure up to Whole Foods', though, which may explain the higher multiple Whole Foods gets compared to Costco. Costco is in a more mature phase compared to Whole Foods, and has established a decent base with its dividend, which has been raised every year since inception in 2003. At the same time, Costco's stock is less trendy, and a 21x forward multiple is a lot easier to swallow than a 34x multiple.
It should be said that all of these stocks have performed fantastically, each representing a strong retail company that has been growing impressively through a difficult period. Each of these stocks is within 2% of its 52-week high, each high having been set in the past two weeks. What's compelling about Costco amidst this strength, beyond its stores and philosophy and all the soft stuff behind the company, is that it presents a strong growth story both domestically and, especially, internationally at a less than extreme premium, a la Whole Foods. When looking at these retail giants, Costco stands out as something of the Goldilocks play: not too hot and overpriced, not too cool and lower-growth. I hesitate to throw a target price on Costco, because it is difficult to gauge where growth stocks are heading when they trade in high multiples already. If we take the average projected earnings for 2013 of $4.37, tack on the $.13 per share in accretion that the Credit Suisse analysts foresee for the Mexico deal, and use the approximate multiple for this year's already achieved earnings of 24x, we get a 12-month target price of 108, an 18% increase from current levels. Considering Costco returned over 25% from January 03, 2011 to today, a nearly 18-month period, an 18% future return is not outlandish.
It's no secret that Costco has a winning business model and is beloved by customers. It's also no secret that the stock is pricey. Upon looking further at the story and at the numbers, I think the first non-secret outweighs the second, and that Costco is still worth buying into. Shares available only in bulk quantities, of course.
Disclosure: I have no positions in any stocks mentioned, and no plans to initiate any positions within the next 72 hours.