Introduction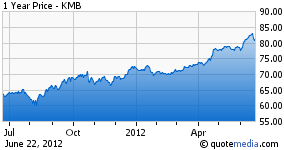 Kimberly-Clark (NYSE:KMB) recently reported strong first quarter results, which included a top line growth of 4.2%, a gross margin up 16.5%, and earnings per share up 37.2%, compared to the first quarter of 2011. The company is currently undergoing a reorganization in its foreign units as well as the U.S., which could bring even more positive surprises in the future. Investors have noticed this and the company's stock trades near a 52-week high. I think that this is justified and the shares are not overvalued. In addition, the company pays a stable and rising dividend, has global operations, and should see benefits in its future quarterly results from the recent drop in commodity prices. All this, together with its determined focus on personal hygiene products and strong brand names, could drive the shares well pass current levels.
Restructuring
In 2010, Kimberly-Clark announced a plan to improve shareholder value including a three-year cost savings target of $400 to $500 million and a better return on invested capital. As a result, the company's margins in 2011 deteriorated compared to 2010. However, 2012 is off to a great start as the company reported earnings per share of $1.24 or $0.07 higher than the average estimate.
Among the largest restructuring initiatives that Kimberly-Clark is undergoing is the exiting of the integrated pulp manufacturing operations. This will allow the company to focus on its more profitable consumer tissue and professional businesses. The integrated pulp manufacturing divestitures are estimated to be completed by the end of 2012 and cost $550 to $600 million. As a result sales will decrease by $250-$300 million in 2013, but operating income will benefit by at least $75 million.
In addition to exiting the integrated pulp manufacturing business and controlling its overhead spending, the company is also consolidating its Asian operations. The consolidation will allow Kimberly-Clark to simplify its operations and dedicate more resources on its key priorities in the region. I think that these specific initiatives together with the company's efforts to streamline its operations and exit non-strategic businesses will contribute further to its margins.
Valuation
As a result of its efforts to streamline operations and focus on its core products, Kimberly-Clark expects 2012 increases in sales of 3-4%, in operating margin of 0.5%, and in earnings per share of 4-7%. Thus, Kimberly-Clark should earn about $4.18-$4.30 per share (after extraordinary items and diluted) in 2012 for a price to earnings ratio of 19.2 to 18.6. This valuation is not cheap, but the shares pay a quarterly dividend of $0.74 for an annual yield of 3.7%. Given that real interest rates are negative, the dividend yield is very attractive. Share repurchases, which the company's management estimates to be in the range of $900 million to $1.1 billion in 2012, will also contribute positively to earnings per share.
Competition
On a relative basis, Kimberly-Clark is slightly more expensive than its major competitor Procter & Gamble (NYSE:PG). However, Procter & Gamble recently lowered its revenue and earnings forecasts and the stock declined following the announcement. In fact, the entire consumer goods sector underperformed on that day, with Kimberly-Clark losing 2%, Church & Dwight (NYSE:CHD) down 1%, and Colgate-Palmolive (NYSE:CL) shedding 0.5%. I think that any decline in Kimberly-Clark shares presents a buying opportunity. While Procter & Gamble is much bigger than Kimberly-Clark, its businesses cover much wider area. For example, Procter & Gamble has a pet food business and carries many premium brands for which substitution is easier. As a result, in April of 2012, Procter&Gamble had to cut back price increases on a number of products while Kimberly-Clark has been able to sustain its price increases.
From a geographic standpoint, Kimberly-Clark derives about 16% of its revenues from Europe compared to 20% for Procter & Gamble. Europe is experiencing the sharpest economic slow-down and Kimberly-Clark has a lower exposure, which should benefit revenues and earnings in 2012. In addition, Procter & Gamble derives 41% of total sales from North America compared to 51.5% for Kimberly-Clark. I think this is a positive as Kimberly-Clark sells higher-margin personal care (feminine care, diapers, and incontinence care) and consumer tissue products (facial tissue, bathroom tissue, and paper towels) that have less competition and are less economically sensitive in the domestic market.
Solid Business Opportunities And Global Reach
The company is making significant investments in its high-margin professional and health-care businesses. Most recently the company launched a number of products in these areas including a new hand sanitizer, advanced tools and accessories for regional nerve block procedures, and cut resistant gloves and sleeves. The company expects its professional and health-care products to sell especially well in Latin America, China, and Russia where the demand for these products is growing.
Also, Kimberly-Clark is focused on expanding into overseas markets. The expansion in Korea and Colombia should benefit from a recent free trade agreement the U.S. signed with these two countries. Approximately two years ago, Kimberly-Clark opened its first plant in Russia. Russia is situated well geographically (in both Europe and Asia) and also offers access to natural resources and cheaper labour. In total, as of December 31, 2011, the company had 6 factories in the U.S. and 23 outside the U.S.
Conclusion
One of the most important things that makes a company successful is how it communicates with its customers. Kimberly-Clark is committed to a first-class marketing of its products. Its advertising campaigns are often given as examples in the media and followed by other companies. I recently saw a cool ad about new Hawaiian Huggies diapers on my Kindle (luckily we are passed that phase). Another example is its new U by Kotex Sleek tampons. It was advertised with the goal of bringing out honest discussion about personal-hygiene products and it was one of the most successful new product launches in years.
Kimberly-Clark's stock is not on sale but I think it provides a good long-term investment opportunity as its margins could improve. Also, the company's stock offers generous dividend yield (which has been increasing for the past 39 years), exposure to growing emerging markets, a global leadership position in many product categories, and bearable volatility. I think many investors investing in medium-term and long-term bonds will find Kimberly-Clark stock a better investment as it has a comparable but tax-advantaged yield and also offers a better potential for capital appreciation.
Disclosure: I have no positions in any stocks mentioned, and no plans to initiate any positions within the next 72 hours.