Regardless of the countless reports surfacing casting doubt on this deal, there continues to be no indication, nor reason, for Bank of America (NYSE:BAC) to consider backing out of its offer for Countrywide Financial (CFC). On the contrary, with CFC encountering so many problems at this time, there will probably be no better time for BAC to make this move, particularly given the cyclical nature of the mortgage market.
This being said, it would not be at all surprising if BAC chose to amend the terms of the deal, as CFC quite literally would have no option but to accept virtually any revision proposed by BAC. However, there has been no indication from BAC that it is considering revising the terms of the deal at this point.
There should be no confusion surrounding this transaction. BAC desires entrance into the mortgage market on a national scale and CFC will provide that, regardless of its current difficulties. From the perspective of BAC, the company is acquiring CFC at its lowest possible point and can only expect to reap long-term benefits as the mortgage market recovers over the next few years.
There is absolutely no expectation by this publication that this deal will not be successfully completed.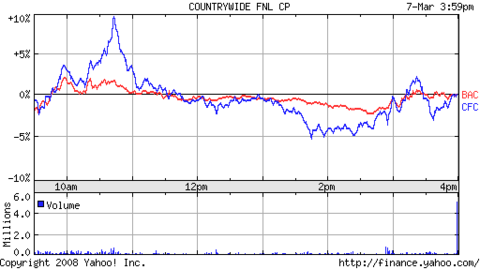 Disclosure: We have no positions of any kind, in any security. We are a completely neutral source of research and analysis.