NuVasive (NASDAQ:NUVA), a developer of surgical spine treatments, will offer $200 million convertible senior notes due 2013. The company estimates that the net proceeds from the offering will be $193.4 million, assuming no exercise of the purchasers' over-allotment option of up to $30 million of additional notes.
NuVasive intends to use the net proceeds from the offering for "general corporate purposes, including potential strategic acquisitions".
The notes will pay interest semiannually at a rate of 2.25% per annum and will be convertible into shares of NuVasive common stock at a conversion price of approximately $44.74 per share. The offering is scheduled to close on March 7, 2008.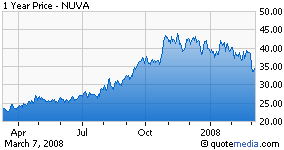 NuVasive's principal product is the minimally disruptive Maximum Access Surgery (NYSE:MAS) platform. MAS is comprised of three components: Neurovision, a proprietary software-driven nerve avoidance system; MaXcess, a split-blade design retraction system; and specialized implants, like SpheRx and CoRoent which collectively minimize soft tissue disruption during spine surgery while allowing maximum visualization and surgical reproducibility.
The MAS platform continues to rule the company's balance sheet. The system offers significant advantages to both patients and surgeons, including reduced hospitalization time and faster recovery. NuVasive has a state-of-the art cadaver operating theater and training facilities focused on educating leading surgeons on the advantages of NuVasive products.
The company has been growing rapidly over the past several years, buoyed by successful execution of general corporate strategy, the launch of new products, strategic acquisitions and the transition to an in-house sales team.
In the third quarter of 2006, the NuVasive completed an accelerated buyout agreement with Pearsalls Limited related to the NeoDisc investigational device and related embroidery technology. In January 2007, NuVasive acquired Radius Medical, a privately-owned developer of biologics used in bone graft and spinal fusion procedures.