Bonds are the true asset class being favored by the U.S. Federal Reserve. While so much time and energy is spent in the media focusing on how the extension of Operation Twist might impact the stock market, the most profound benefit is likely to be felt in the bond market. And nowhere is this more pronounced than in the U.S. Treasury market.
Click to enlarge images.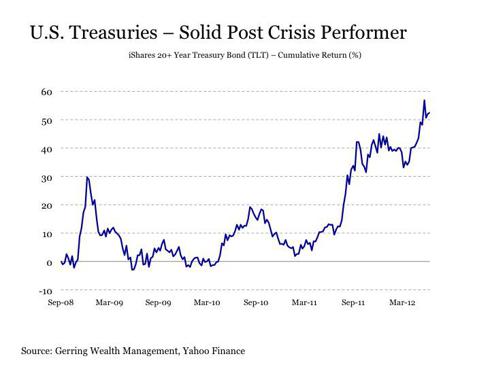 U.S. Treasuries have enjoyed a strong run since the beginning of the financial crisis. Since the collapse of Lehman Brothers in September 2008, long-term U.S. Treasuries as measured by the iShares +20 Year U.S. Treasury Bond ETF (NYSEARCA:TLT) have generated a cumulative return of +52%. This compares favorably to the +6% cumulative return of the U.S. stock market as measured by the S&P 500 Index over the same time period.
The phases of monetary stimulus have had a meaningful impact on Treasury performance along the way. Despite the fact that the stated intent by the Federal Reserve for launching past stimulus programs such as QE1 and QE2 was to help promote lower interest rates, the performance of U.S. Treasuries was typically poor during the times when these programs were in place.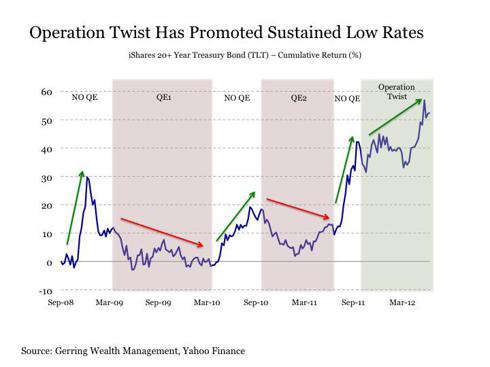 Overall, long-term U.S. Treasuries declined by -12% over the duration of QE1 and dropped by as much as -8% during QE2. Of course, as Treasury prices decline, yields rise, which is diametrically opposed to the Fed's objective of lowering borrowing costs in an attempt to stimulate the economy.
Instead, Treasuries usually performed best when the Fed was not applying stimulus. For example, long-term U.S. Treasuries advanced by +30% prior to the launch of QE1 and gained another +13% during the no-monetary-stimulus period between QE1 and QE2. So, opposite of what might be expected, the Fed was much closer to achieving its objective of lowering borrowing costs by doing nothing, for only when it actually applied stimulus were yields and borrowing costs rising.
In short, the bottom line for stocks and Treasuries from the beginning of the financial crisis through late last year was the following:
Fed QE Stimulus On: Positive for Stocks, Negative for Treasuries
Fed QE Stimulus Off: Negative for Stocks, Positive for Treasuries
But all of this changed with the introduction of Operation Twist in October 2011. Although it appears at first glance that stocks have performed well under Operation Twist, when the period is removed in which the European Central Bank (ECB) was applying its balance sheet expanding Long-Term Refinancing Operation (LTRO) from late December 2011 through the end of February 2012, stock performance has actually been mostly subpar during this latest program. Treasuries, on the other hand, have continued to perform quite well, rising by another +7% since the launch of Operation Twist last October.
Thus, it appears as if the U.S. Federal Reserve through Operation Twist has finally identified a way to try and stimulate the economy, while also lowering yields and borrowing costs as a result. Whether this strategy will actually be successful in fostering sustained economic growth is certainly subject to extensive debate (I have been strongly opposed to every stimulus program with the exception of QE1). But in the meantime investors are left only to react to the latest monetary policy actions. And while these actions may ultimately be creating a painful unwind for fixed-income investments at some point down the road, the latest Fed stimulus program is likely to provide even further support for bonds, including Treasuries, in the months ahead -- particularly if the global economy continues to slow and the threat of crisis from Europe escalates further.
For these reasons, maintaining exposures to long-term U.S. Treasuries is likely to be beneficial moving forward. This particular category also provides an attractive hedge against the stock market, as it typically goes up when the stock market goes down. Other fixed-income asset classes are also worthwhile for diversification, income, and consistent capital appreciation potential. These include Agency Mortgage Backed Securities (NYSEARCA:MBB), Build America Bonds (NYSEARCA:BAB), and Municipal Bonds (NYSEARCA:MUB). In addition, U.S. Treasury Inflation Protected Securities (NYSEARCA:TIP) offer appeal for their defensive as well as inflation protection characteristics.
Disclosure: I am long TLT, TIP, BAB, MBB, MUB.
Disclaimer: This post is for information purposes only. There are risks involved with investing including loss of principal. Gerring Wealth Management (GWM) makes no explicit or implicit guarantee with respect to performance or the outcome of any investment or projections made by GWM. There is no guarantee that the goals of the strategies discussed by GWM will be met.