Clorox (NYSE:CLX) is a DividendAristocrat. These guys have done well for shareholders for years. I have said before that no stock is a buy and hold forever, although Coke (NYSE:KO) is still as close as possible. With this in mind, sometimes it's time to sell a stock that is more like a good friend than an investment. This happened to me with Chevron (NYSE:CVX) recently and now it's happening to CLX.
Clorox 10-Year price chart:

This chart is beautiful if you consider that the dividend has grown from $0.84 per share to $2.40 per share during the last 10 years. CLX has been defensive in the face of extreme market moves. Dropping from the mid $60s to the mid $40s during 2008/9. A 30% price move when the S&P lost about 50%, thank goodness that's behind us. It is nice to know your holdings will give you less pain than the broad market and still pay a strong dividend.
Let's look at CLX the last few years.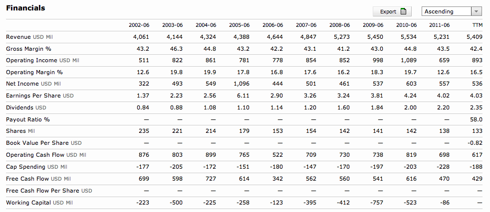 In 2005/6 CLX is showing this huge Net Income jump. I like that and I don't even mind that the long-term debt brought on to the books was part of it. See debt numbers below.

The problem is that Clorox was not able to translate that debt into meaningful revenue, EPS, or increased margin. Growth has been steady but low. Yes, EPS is up since 2005 but flat and down the last two years. The debt level has remained very high. I'm not a forensic accountant and do not need to be one to worry about these trends. For the most part I do trust companies while they work out the hard job of making money on a large scale. However, I have come to feel that the squeeze on Clorox is not going to be handled very well. I hope I'm wrong about it but with the price at a nice level I'm taking my profits here in the low $70s.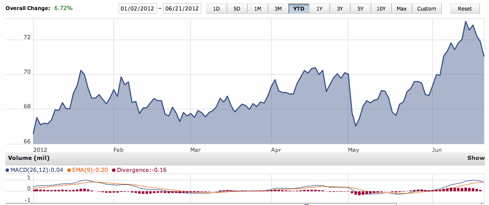 Holding CLX will net you some solid dividends but I would like to point out that dividends have grown faster than earnings and price, shown by the increase in yield level and a payout ratio that has eased up over 50%. CLX was yielding in the low 2% range in 2002 and is showing a yield of 3.6% today. Looking at that yield level I would hope for a strong up move in price if the balance sheet was strong and the prospects looking great. What we have here is the market (efficiently) telling us that CLX is not as safe a bet as it has been in the past.
I believe that CLX has been the beneficiary of the current trend in purchasing dividend growing stocks. This has driven the price up to a nice spot. The addition of huge amounts of debt has eroded stockholder equity and I'm done waiting for a more positive debt effect. The combination is too good to pass up, high price and some worry means it's time to sell.
Clorox is getting replaced with Colgate-Palmolive (NYSE:CL) and General Mills (NYSE:GIS). Lower yields with CL and GIS but better balance sheets and better ideas.
Disclosure: I am long GIS, CL, CLX.
Additional disclosure: Still selling and reducing CLX positions.