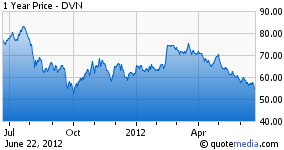 Devon Energy (NYSE:DVN) is poised to make even further gains as natural gas prices begin to rise. Smartly diversifying a few years back before the natural gas price downward slide, Devon still stands to gain based on its smart plays balancing its holdings of both oil and gas. Firmly footed in the Permian Basin where Devon expects 30% oil growth in 2012 with net production around 56 MBOED (76% liquids), the company plans to drill approximately 300 additional wells this year.
Devon is in the company of competitors like Apache (NYSE:APA), Cabot Oil & Gas (NYSE:COG), Canadian Natural Resources (NYSE:CNQ), and Comstock Resources (NYSE:CRK) all vying for the same riches in oil. The biggest difference though is that Devon's revenue growth has outpaced the industry by about 11.8%, and the company is just getting started with its aggressive search for oil and gas. Because the company has a firm, solid foundation to build upon and because it is hitting the mark on many of its plays, I believe Devon to be one of the better oil and gas companies to own.
The good news for Devon and other oil and gas companies involved in the exploration and production of natural gas is that natural gas appears to be in greater demand. A new report reveals that the use of coal, commonly used for utilities, is gradually being replaced with natural gas. The report says that the share of U.S. electricity that comes from coal is forecast to fall below 40% for 2012, its lowest level since World War II. Only four years ago, it was 50%, and by the end of this decade, it is likely to be near 30%.
Of course, as demand increases, prices rise and should help the bottom line of companies like Devon. More and more utilities are aggressively switching from coal to natural gas, taking advantage of the cheaper prices caused by over-supply. There are other advantages as well such as the fact that natural gas produces far fewer emissions of toxic chemicals and gases that contribute to climate change, which is vital as new governmental environmental regulations go into effect. The problem now becomes what to do with the abundance of coal. After China, the U.S. is the world's largest producer of coal, with enough reserves to last over 200 years.
The company is beginning to increase its productivity in Canada. At Devon's Jackfish 1, Jackfish 2, and Jackfish 3 facilities, the company is producing about 50,000 barrels of oil per day--- and that is just from one of the facilities being operational. The company is also working on another project in the same area with BP (NYSE:BP), creating an even greater demand for qualified workers. The company has been trying to get workers from all across Alberta, with some coming from Saskatchewan and British Columbia, and even Reno, NV. It is not the worst problem to have.
The company is productive and needs workers, but it isn't in the panic mode yet. The problem is that competitor Chesapeake Energy (NYSE:CHK) is in the same boat and needs workers as soon as possible. The advantage that Devon has is that the company has a reputation as a great company to work for, having made the Fortune 100 Best Companies to Work so the company should be able to attract qualified workers.
The company is being proactive developing a 10-year labor plan to ensure it has the people it needs to run its oil sands operations. As it develops its acreage in parts of the Mississippian oil play, which extends from northern Oklahoma into southern Kansas, Devon has had to recruit workers from outside the area. As an incentive and a way to get more of the good works to Devon's side, the company is putting up $111 million to build a lodge at Jackfish with room for 880 workers. The bunkhouse should be completed by November and will include ten dorms with 88 beds in each (each with its own bathroom), a gym, a movie theater, two squash courts, two hockey rinks, a baseball diamond, and a full-service dining room.
A company that treats its employees well will almost always have a more productive, qualified workforce. So far, the strategy of treating employees well has paid off. Earlier this month, Devon's Board of Directors declared a quarterly cash dividend on Devon's common stock for the third quarter of 2012, payable on September 28, 2012 at a rate of $0.20 per share based on a record date of September 14, 2012.
Devon reported a 2011 dividend of $0.67 representing a 4.69% increase over previous year. The company has a market cap of $23.89 billion and has a P/E ratio of 11.3, above the average energy industry P/E ratio of 5.2 and below the S&P 500 P/E ratio of 17.7. Year on year Devon grew revenues 15.23% from $9.94 billion to $11.45 billion while net income improved 3.38% from $4.55 billion to $4.70 billion.
Year on year, growth in dividends per share increased 4.69% while earnings per share excluding extraordinary items fell by 3.63%. Last year, the company increased its cash reserves by 68.84%, or $2.27 billion. The company earned $6.22 billion from its operations for a Cash Flow Margin of 54.34%. Additionally, the company generated $1.69 billion cash from financing while $5.65 billion was spent on investing. The company has a Debt to Total Capital ratio of 33.05%, a higher than the previous year's 19.76%.
Considering Devon as an addition to the energy segment of an investor's portfolio will prove to be a wise decision. The company will not disappoint in its returns, nor will it fail to continually look for even greater opportunities to improve profit margins and investor's satisfaction.
Disclosure: I have no positions in any stocks mentioned, and no plans to initiate any positions within the next 72 hours.