An investor usually sells a put option if his/her outlook on the underlying security is bullish. The buyer of the put option pays the seller a premium for the right to sell the shares at an agreed-upon price. If the stock does not trade at or below the agreed-upon price (strike price), the seller gets to keep the premium.
Benefits associated with selling puts
It allows one to generate income in a neutral or rising market.
Acquiring stocks via short puts is a widely used strategy by many retail traders and is considered to be one of the most conservative option strategies. This strategy is very similar to the covered call strategy.
The safest option is to make sure the put is "cash secured." This simply means that you have enough cash in the account to purchase that specific stock if it trades below the strike price. Your final price would be a tad bit lower when you add the premium you were paid up front into the equation. For example, if you sold a put at a strike of 20 with two months of time left on it for $2.50; $250 per contract would be deposited in your account.
Most put options expire worthless and time is on your side. Every day you profit via time decay as long as the stock price does not drop significantly. In the event it does drop below the strike you sold the put at, you get to buy a stock you like at the price you wanted. Time decay is the greatest in the front month.
Additional Reasons to be bullish on Statoil ASA (NYSE:STO):
Management has stated that organic capital expenditures for 2012 are going to be in the neighborhood of $17 billion. This includes expenditures related to assets acquired from the Brigham acquisition.
It expects to complete more than 40 wells in 2012.
Management wants Statoil to be in the top quartile of its peer group for unit production cost, and it has a target of trying to reach equity production above 2.5MMboe in 2020. The growth is expected to come from new projects in the 2014 to 2016 time frames that should result in a compound annual growth rate (OTCPK:CAGR) of 3% for the period 2012 to 2016. A second group of projects is expected to begin in the 2016 2020 time periods that should lead to a CAGR of almost 4%.
It sports a massive levered free cash flow of $15.02 billion.
In 2011 net operating income soared to NOK 212 billion compared to NOK 137.3 billion in 2010.
Statoil drilled 41 exploration wells, 22 of which were discoveries.
It added more than 1 billion barrels to its reserves. It achieved a reserve replacement ratio (NYSE:RRR) of 1.17 in 2011. The RRR for oil was 1.45.
Net income has surged from $2.8 billion in 2009 to $14.02 billion in 2011, an increase of 400%.
A very strong retention rate of 78%.
A decent yield of 4.00%.
A very strong interest coverage ratio of 85.
An excellent long-term debt to equity ratio of 0.37.
A very strong quarterly revenue growth rate of 33.7%.
A good 5 year ROE average of 27%.
A very low payout ratio of 22%.
Cash flow per share increased from $3.64 in 2009 to $12.70 in 2011.
Annual EPS before NRI increased from $2.36 in 2007 to $9.83 in 2011.
It has a free cash flow yield of roughly 7.08%.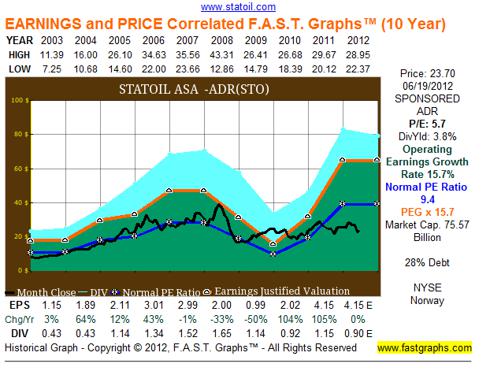 Suggested put strategy
Oil prices are pulling back, and the overall market still appears to be in a corrective phase. We would wait for a test of the 20-21 ranges before putting this strategy to use.

The Jan 2013 20 puts are trading in the $.70- $0.90 ranges. If the stock pulls back to the stated ranges these puts should rise in value by $1.00-1.25. For this example we will assume they rise in value by 1.10 and that the option can be sold for 1.80 per contract. For each contract sold $180 will be deposited into your account.
Benefits of this strategy
If the stock trades below the strike price, the shares could be assigned to your account. Your final cost in this case would be $18.20. If the stock does not trade below the strike price you get to walk away with the premium for a gain of 9% in roughly 7 months.
Risk factors
The shares could be assigned to your account if the stock trades below the strike price. As you were bullish to begin with this should not be a big issue as you get a chance to get in at a lower price.
However, if you have a sudden change of heart and feel that the stock could trade lower you could implement the following strategy. If the stock is trading close to your breakeven point of 18.20, you could roll over the puts. In other words, purchase the puts you sold and then sell new ones and pocket the difference. For example, say the puts you sold rise in value from 1.80 to 3.00. You are now 1.20 in the red. Let us assume that the stock is now trading at 18.40. You buy the original puts back and then sell the Jan 2013 16 puts for around the same price you sold the Jan 2013 20 puts. The premium you get for these puts should be more than enough to offset the $1.20 you lost by purchasing the original puts back. Thus you have now rolled over your puts and still have a net credit. This credit can be used to further lower your cost in case the shares are assigned to your account.
Conclusion
The markets are still in a corrective phase and there is a decent chance that this stock could test its recent lows again before trending higher. Selling puts provides you with the option of getting into a stock at a price of your choosing. If the shares are not assigned to your account, you at least get paid for waiting. Investors looking for other ideas might find this article to be of interest - Corning: 9.2% Extra In 7 Months Or A Lower Entry Price.
Disclaimer
It is imperative that you do your due diligence and then determine if the above strategy meets with your risk tolerance levels. The Latin maxim caveat emptor applies - let the buyer beware.
Disclosure: I have no positions in any stocks mentioned, and no plans to initiate any positions within the next 72 hours.
Additional disclosure: EPS and Price vs industry charts obtained from zacks.com. A major portion of the historical data used in this article was obtained from zacks.com. Options tables sourced from money.msn.com.