On June 18 Microsoft (NASDAQ:MSFT) gave a preview of their upcoming tablet called Surface. The tablet market is growing rapidly and consolidating around Apple (NASDAQ:AAPL) and Android lead by Google (NASDAQ:GOOG). IDC forecasts 107.4 million units in 2012 (below), a one year growth rate of 54% and a five year growth of 26% through 2016.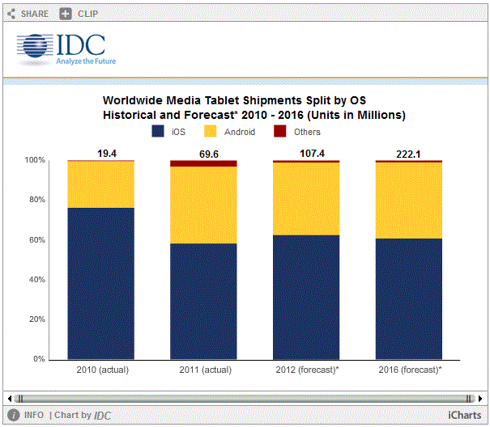 These numbers exclude forecasts for Windows 8 or Windows RT tablets. IDC view these tablets as follows:
Our current thinking, based upon early pricing expectations for these products, is that Windows-based tablets will be largely additive to our existing media tablet market forecast. We don't expect Windows-based tablets to necessarily take share from Apple (AAPL) and Android, but will grow the overall tablet market.
In our opinion for Surface to be a success it will need to take some share from the existing market.
With its 3mm detachable keypad the Surface seems to fit two markets, the tablet and laptop. Mike Angiulo - Corporate Vice President, made these comments at the presentation:
And for the millions of professional desktop users out there, people who use their PC everyday to design and to create things, this is a great choice for you. It's a stage for Windows. It's less than 2 pounds and less than 14 millimeters, it's a full PC.
The final product could prove to be competitive in both markets. Given the IDC forecasts the longer MSFT delays the harder it will be to take market share.
Questions requiring more in depth answers in a relatively short period of time are:
Launch date? Based on comments by Steven Sinofsky - President, Windows and Windows Live Division, "the Windows RT PC, will be at the time of the Windows 8 general availability and for Windows 8 Pro about three months later." Best guess September range for the RT PC.
Detailed price points?
Where will it be available? What is known: through Microsoft's physical stores here in the U.S. and online outlets of the Microsoft store as well. Clearly availability would need to be expanded. Maybe Best Buy (NYSE:BBY) and some others.
3G and/or 4G capable?
Battery life and charging time?
Until more is known it's difficult to make a reliable assessment. Why did Microsoft go public with more hype than substance? A post from TMF listed some compelling reasons to come out early:
1) Generate buzz and anticipation (Apple doesn't generally announce and have product in stores the next day; it's usually months.) This is not new.

2) Know that in an organization as big as Microsoft, nothing this big is going to stay secret, so manage the news, don't let it manage you.

3) Give OEMs plenty of time to come up with products; Microsoft relies to a very great degree on manufacturing partners (Apple doesn't), and putting out a Microsoft branded tablet is a slap in the face - unless they have some reasonable development time to come up with complimentary - or even competing products.

4) Related: give app developers time to come up with enough proprietary (or cross-platform) apps to make the basket seem competitive. This would be especially important for a "first time" product like Surface.

5) Convince people who are thinking of buying a competitive product today to hold off, hurt your competitor, and give yourself a chance to make the sale later.

6) Highlight (again) the fact that Microsoft will have a new OS (8) in the channel this fall, and signal to IT managers that they will need to upgrade to it more quickly than usual, since it will also be used on tablets, which IT managers know is a significant trend. (The adoption rates of Microsoft OSs have been decent, but not terrific. Significant numbers are still on XP, and only about half have moved to Windows 7. I'm sure Microsoft would like to get more people to move faster; it helps their developers, partners, and cash register.)

7) Work out the kinks (battery life!) and things which are "in progress" and give yourself a bit of time to deliver a finished, not beta product.
Based on IDC's numbers the market could approach $100 billion in the next few years. Capturing a piece of this market will prove significant. Until MSFT distributes a product that can be reviewed in greater detail, it's difficult to gage the market impact. If they have a competitively priced tablet that makes it as easy to produce content as it is on a laptop they may have a winner on their hands. This would be very attractive to the enterprise segment. The upside is huge considering their current market share is non-existent.
The potential is there. Perhaps the question should be can MSFT capitalize on this enormous market opportunity? They appear to be on the right track, although late to the game.