Many years ago, I was introduced to Alleghany Corp (NYSE:Y) by a lucky accident. I had previously worked for the Canadian subsidiary of Lincoln National (NYSE:LNC) which had just sold off its title insurance subsidiary, Chicago Title to Alleghany at what appeared, at least to me, to be a bargain price.
Housing back in the early to mid-80's was reviled as much as it is currently, in fact, in our mortgage department, we were recipients of people's keys that were being mailed in as people were giving up their homes. Title insurance was considered a terrible red-haired step child at the parent company with little chance of earning a return.
John Burns, Alleghany's CEO at the time, saw opportunity in this distress sale. The payback on this investment was 18 months, absolutely remarkable for what was viewed as a no-growth business.
Needless to say, I became a big fan of Burns and of Alleghany. Chicago Title was ultimately spun-off to shareholders, and later became part of Fidelity National (NYSE:FNF).
Visiting Burns at Alleghany over the years reinforced the value discipline that this remarkable gentleman has. He is an avid student of value investing and of course Buffett. His attention to detail, his keen awareness of valuation,and his knowledge of the insurance industry were always very impressive.
Many of us value hounds collect stories of Berkshire (NYSE:BRK.A), White Mountains (NYSE:WTM), Leucadia (NYSE:LUK), and Markel (NYSE:MKL), yet too infrequently is Alleghany mentioned. The objective of the firm sounds very Buffett-like:
Alleghany's objective is to create stockholder value through the ownership and management of a small group of operating businesses and investments, anchored by a core position in property and casualty insurance. Alleghany is managed by a select company staff which seeks out attractive investment opportunities, delegates responsibilities to competent and motivated managers, defines risk parameters, sets management goals for its operating businesses, ensures that managers are provided with incentives to meet these goals, and monitors their progress.The operating businesses function in an entrepreneurial climate as quasi-autonomous enterprises.Conservatism dominates Alleghany's management philosophy. Alleghany's philosophy shuns investment fads and fashions in favor of acquiring relatively few interests in basic financial and industrial enterprises that offer the potential to deliver long-term value to the investor.
Alleghany has brought some very unique insurance businesses into the fold. Capital Transamerica of Madison, WI was an insurance company with a magnificent underwriting record in specialty lines and a history of shareholders equity growth that George Fait, its founder and president would remind me at insurance conferences actually outgrew Berkshire's record. It was true!
Another successful specialty insurance franchise was acquired with RSUI, Royal Specialty Underwriting, Inc. , the Atlanta, Georgia-based excess and surplus underwriting subsidiary of Royal & Sun Alliance Insurance Group plc.
Alleghany holds a majority ownership in Darwin Professional Underwriters (DR) a company tightly focused on Directors and Officers, and Errors and Omissions insurance. Stephen Sills, the founder and CEO of DR, was the chief underwriter and founder and ultimately the CEO of Executive Risk, a very highly regarded company in this field. Executive Risk eventually went public. Chubb (NYSE:CB) acquired this business in 1999 at a very full price. Alleghany, on the other hand, established Darwin with Sills in 2003 as an 80/20 venture as an underwriting manager under Capital Transamerica, as usual, avoiding paying a huge acquisition premium.
Years before Berkshire bought its position in Burlington Northern Santa Fe (BNI), John Burns had accumulated a large position in the 1990's. The cost basis, about $12.07 versus today's $88.00.
Strong executive leadership continues to impress since Burns' retirement (he remains Chairman.) Wes Hicks has extensive experience as a senior executive, capital manager and research analyst in the insurance and investment industries. He joined Alleghany from Chubb Corporation, where he was CFO. Prior to Chubb, he was a senior research analyst covering the property-casualty and multiline insurance industries at J.P. Morgan Securities (NYSE:JPM)(where he was also a managing director) for two years and Sanford C. Bernstein & Co., Inc for eight years.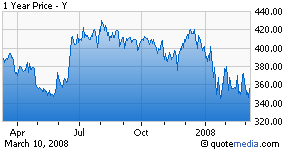 Going through the recent 10-K, results remain quite strong. Excluding cats and capital gains, it earned $30.29 in 2007 vs. $28.20 in 2006. Cash and invested assets are $4.9b, and the company's book value grew by almost 16% y-o-y. All the insurance subs wrote at an underwriting profit for the Q except CATA, which was due to higher loss and loss adjustments (but was offset somewhat by higher net premium). Overall it did a very respectable 77% combined ratio.
Trading at about 1.1x book value, the company appears very well capitalized if not over-capitalized. RSUI's (66% of underwriting profit) most admired peers [Markel Corp. (MKL), RLI Corp. (NYSE:RLI), and Gannett Company Inc. (NYSE:CGI)] command multiples of book value between 1.5x and 1.8x – CGI is the object of $2.3b takeout at 1.6x – and a well-run, growing, profitable insurance company should go for more than 1.1x. In addition, the firm carries the Darwin (DR) stake and real estate owned in the Sacramento, CA area at below-market historic price, providing hidden asset value and additional upside to book value. This hidden asset value may in fact equate to the stock trading at book.
In my estimation, the fair value for this business is $425 - $475. The potent combination of multiple expansion and book value growth as well as outstanding investment ability could prove very profitable over the coming years. The company also recognizes its value and has recently announced a $300 million share buyback.
One negative aside. Standard & Poor's downgraded slightly Alleghany's credit rating to BBB from BBB+, in my view casting more doubt on S&P's credit ranking abilities than on Alleghany's credit. The slight downgrade was done without any discussion with Alleghany executives perhaps leading some of us to question the degree of due diligence that may have been demonstrated here. Wes Hicks also expressed some surprise and disappointment in this having happened.
In my view, among the financial services stocks, the company stands out for its conservatism, its strong underwriting discipline, and its great executive team which has masterfully allocated capital over the years.
Disclaimer: I, my family, or clients hold a position in Alleghany, Berkshire, and Markel.