What will the world look like in 5+ years? I've been spending a lot of time thinking about just such a thing. I have thought a lot about the future and how the landscape will change, especially in regards to cell phones, television, and energy. Gazing into my Magic 8 Ball, I am trying to picture the world in 2017 and beyond. Really, what is investing? It is attempting to forecast the future, based on current information. So what do I see in my Magic 8 Ball?
Cellphones and Telecoms
I see cell service providers as being increasingly important and an excellent play. The advancement of cell phone technology in the last 15 years has truly been remarkable. I watch episodes of Seinfeld sometimes, and it's hard to believe that it was on in the 90s. Jerry always has that big giant home phone and there isn't one scene in a single episode when they're on a cell phone that I can ever remember seeing. Back when I was 12, 13, I had a little Nokia phone (NYSE:NOK) with a green screen. I was ecstatic that I could play some non-graphic game like Tic-tac-toe and make crank phone calls, all on the same device!
Nowadays, everyone has a cell phone. Smart phones are everywhere. It feels like Apple Inc's (NASDAQ:AAPL) iPhone has been around forever already. As more and more people get cell phones and smart phones become more affordable, cell providers are going to make more money:
Explosive growth in telecommunications over the past ten years has reshaped the global landscape. Nearly two thirds of the world's inhabitants now have a mobile phone or are connected to the Internet, and the percentage continues to grow. At June 30 of 2011, the France Telecom Orange Group (FTE) had more than 217 million customers worldwide, up 7% on 2010, including more than 158 million mobile customers (up 10.1%) and 14 million ADSL broadband customers (up 5%).
The cell phone has become an essential device and cell phone usage is only going to increase in the next 5 years. AT&T (NYSE:T) experienced significant growth in its wireless and wireline business in 2011: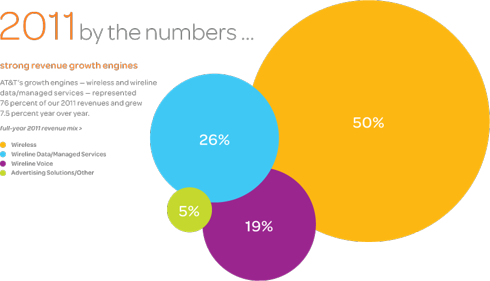 Predicting which company is going to have the best phone is tricky, so I'm not going to advise picking the actual cell phone creators (aka Nokia, thumbs down, Research In Motion, Inc. (RIMM), thumbs down, though I do have a BlackBerry and do not want to get an iPhone). However, I am bullish on most all of the big name telecoms: such as, Vodafone (NASDAQ:VOD), AT&T, France Telecom, Verizon (NYSE:VZ), and Telefonica (NYSE:TEF). For Warren Buffet lovers, these companies define the phrase "wide moat."
I don't think you can go wrong owning any of these 5 companies. I personally hold FTE for the dividend, and because I believe that I am getting the company at a discount due to all of the trials and tribulations in Europe. That being said, I think that all of these companies are a great bet to be successful for the next 5 years and beyond.
Internet and Television
What else do I see in my Magic 8 ball? I see a dramatic shift in the way people consume media.
For the first time in history, more people now receive their news online than on TV. I'm honestly surprised it took this long. I personally never watch the news. What's the point? You can read articles about what you find interesting online, without being force fed some garbage commercials on TV. 65% of people my generation (18-29) say that they get their news online. So, really, this shift is already pretty dramatic.
Did you hear about the spat between the big media companies and a commercial skipping DVR service from Dish Netowrk (NASDAQ:DISH)? I read that article and all I could hear were the media companies saying: Please, please, let us hang on to our multi-billion dollar monopolies that are totally dependent on advertising! Going off track a bit, I was reading about some guy the other day with young kids (sorry I can't find the link) who said his children did not even know what a commercial was, because they were so used to DVR'ing and on demand entertainment! He said they were literally confused by ads, because they never see them. This is the future generation, a generation conditioned on the internet and DVR, with zero relationship to television advertising.
Strictly TV companies, aka CBS, Inc., (NYSE:CBS) Time Warner Cable, Inc. (TWC), Comcast (NASDAQ:CMCSA), I'll even throw in Dish Network and DirecTV (NYSE:DTV); any company that is totally reliant on the TV viewing model, are in a heap of trouble long term in my opinion. The ad skipping DVR is the least of their worries, really. And I don't think that a commercial skipping DVR is reason enough to justify paying hundreds of dollars a year for entertainment I can get online. TV companies need to be seriously concerned about the internet. Why pay for the internet, where I have access to pretty much everything, and simultaneously pay for a ridiculously overpriced cable subscription? The only answer most people have is live sports. And with Xbox Live's (NASDAQ:MSFT), partnership with ESPN, (NYSE:DIS) my problems are solved.
I also came across this job listing by Google (NASDAQ:GOOG) the other day.
The first video posted on YouTube was a 19-second clip called "Me at the Zoo." Today, more than 48 hours of video are uploaded every minute. The YouTube and Video team helps budding filmmakers and musicians build careers, creates products like Google TV and YouTube Live and runs collaborative projects like Life in a Day and the YouTube Symphony Orchestra. We are leading a change in how we entertain, inform and share with one another, whether through cat videos or footage of a revolution in progress.

You will work with professional leagues and other sports partners to build live, VOD and clip video channels in connection with a rollout of sports on YouTube. The right candidate has a deep understanding of technology and social media, thrives in fast paced environments, and can manage diplomatically both internal and external stakeholders.
Is the future of media with enterprises like YouTube Sports? I think YouTube has a great chance of capitalizing on its practical monopoly on online videos by adding in more original, live content. Google seems to be looking to capitalize on the coming media shift away from television and towards the internet. Who knows? Perhaps live sports on YouTube are not as far off as people might think.
Already, a significant number of people have begun to "cut the cord":
It has now been a couple of years since I cut my cable and began exclusively watching Internet video on my home television. I still feel that it was one of the wiser decisions I've made with technology, saving me hundreds of dollars a year and countless headaches dealing with a cable company.

The report, the result of a survey of 2,000 United States adult broadband users, found that people who use Netflix to stream Internet video to their televisions are twice as likely to cancel, or slim down, their cable television options as they were a year ago. The report comes from the Diffusion Group, a Dallas-based media research firm.
I don't know when, but eventually the internet is going to become the place for everything. It just has to. Perhaps there will no longer be live television news stations. Already, people have the ability to stream live sports to their computers. ESPN3.Com is a fabulous example of this. I'm not sure if Netflix (NASDAQ:NFLX) is the answer, but it is my advice to stay as far away as possible from any sort of direct television investment. A major shift is coming, similar to the last major media shift away from print news to online news.
My Magic 8 Ball isn't clear enough to see exactly when or how this shift is going to play out, but the shift itself is going to happen. Mark my words. I am also very bearish on the Washington Post Company (WPO) (see my detailed explanation) and other singularly focused news companies aka the New York Times (NYSE:NYT). Perhaps these companies will be able to evolve; I personally look for investments that have a better outlook than 'perhaps.'
Energy
Shaking my Magic 8 Ball one more time, I also would like to see major shifts in energy consumption. Germany is undertaking perhaps the most ambitious effort to change their energy production in the history of humanity. They have already shut down a number of their nuclear reactors, and plan to have them all shut down by 2022, with wind and solar power replacing them. For this reason (and others), I have recommended E.On Energy (OTCPK:EONGY). Siemens AG (SI) and General Electric Company (NYSE:GE) are more conservative plays on this expansion. Personally, I would not want to be the one betting against the Germans succeeding.
Additionally, Tesla Motors (NASDAQ:TSLA), the little engine that could, has an ambitious plan to produce an excellent electric car for the masses. I really believe that electric cars are the way of the future. As someone else put it, I feel almost prehistoric going to the gas station and pumping up my car with gas. With an electric car, you leave it plugged in over night and then it is ready to go 200, 300 miles! And you never have to fill up your tank again! Tell me that doesn't appeal to you.
People who talk about 'range anxiety' with electric cars are bordering on irrational. If you can't find a place to charge your car or get home within a 200 mile range, you deserve to be towed by AAA. In fact, I'm predicting that a lot of people are going to welcome a solid electric car with open arms, if for no other reason than as an alternative to expensive gasoline, which is not going to get any cheaper. Already, people are feeling the pain at the pump: Were you aware that calls to AAA because people have run out of gas have significantly increased along with the souring US economy?
'When prices go up, people like to push it,' said Jason Toews, co-founder of GasBuddy.com, a system of price-tracking websites. 'If it is costing $50 or $75 or $100 to fill up, that is real money they don't want to part with.'

Jonathan Spoer of Calabasas, who drives his 2001 GMC Yukon about 35,000 miles a year between work and religious outreach, said he has run out of gas twice in the last week. Spoer blamed a busy schedule, the Yukon's faulty fuel gauge and his propensity for driving past service stations he feels are gouging drivers.

'I try to stretch my dollar so much that sometimes it catches up with me,' he said.
The average American family in 2011 spent $4,155 on gasoline.
Here is a simple explanation from Eco World of why powering an electric car is significantly cheaper than a traditional gas vehicle.
An electric car makes sense on a purely economic basis, which is something Seeking Alpha readers should appreciate. In 5 years time, if Tesla is able to produce their electric cars for the masses, their shareholders stand to be handsomely rewarded. Way back when, the New York Times predicted it would take man "1 million to 10 million years" to build a flyable plane? I feel that Tesla skeptics are close to this level of extreme pessimism in their inability to see the future adoption of electric cars.
The last thing I see in my Magic 8 Ball right now is an increasing trend amongst people who care about our planet's future, especially younger people of my generation. There is an increasing awareness that global warming is real and a desire to move away from oil and towards renewable energy. Unfortunately, most all solar and wind companies that I have researched have looked to be terrible investments, aka Vestas Wind (OTCPK:VWDRY) and First Solar, Inc. (NASDAQ:FSLR) which have both suffered monumental declines, and do not really seem promising at this time. Anyone who has any potentially solid direct plays on clean energy, other than E.On, feel free to comment and let me know.
That's all that my magic 8 ball has for now. I will shake it some more in the coming days and see if it has any more useful predictions about what the world will look like in the coming years. Thanks for reading.
Disclosure: I am long FTE, TSLA.