Investors are worried about the over supply in the fertilizer market. The fertilizer stocks have already priced in these fears. However, we believe that growth in global population, rising income levels, and continuous use of grains as a source of fuel will increase grain demand, and consequently, the demand for fertilizers/plant nutrients will rise.
In this regard, the role of natural gas prices and corn prices are of a particular significance. This is because if corn prices continue rising (due to prolonged drought) and U.S. natural gas prices remain at current depressed levels, there will be an upward shift in fertilizer demand and supply. Given that the current market dynamics are favorable and fertilizer stocks are trading at relatively cheaper levels, it is an appropriate time to invest in these stocks.
Industry Analysis
There are three common types of fertilizers: Nitrogen (N), Phosphate (P) and Potash (K).
Industry Demand
According to projections made by the International Fertilizer Industry Association (IFA), global fertilizer demand is expected to increase by 2.5% in 2012-13. This increase in demand will lead to an average annual growth rate of 1.3% for Nitrogen, 2.1% for Phosphate and 2.8% for Potash.
According to a recent press release by the United Nation's Food and Agriculture Organization (FAO), world cereal production is now forecast to increase by 3.2% to a new record. At this new level, world production would exceed the anticipated utilization in 2012-13.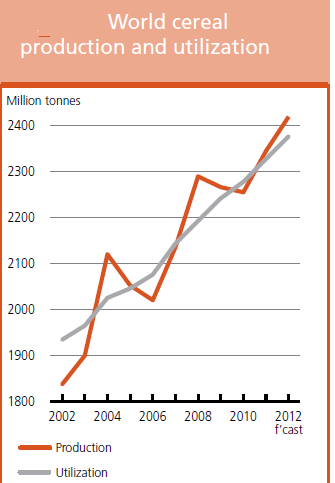 FAO believes that the increase in world cereal production is primarily attributable to:
A forecast of an increase of 7.3% in global output for coarse grains. This is mainly due to excellent prospects for maize crop in the U.S. However, global maize inventories are rebounding only marginally because world demand has remained firm.
An expected increase of 2.2% in worldwide rice production. However, rice prices have not declined because of a temporary surge in import demand and large government purchases in Thailand, the number-one exporter of the commodity.
Although global wheat output is expected to be about 3% lower than last year's record levels, it is still well above the average of the past five years.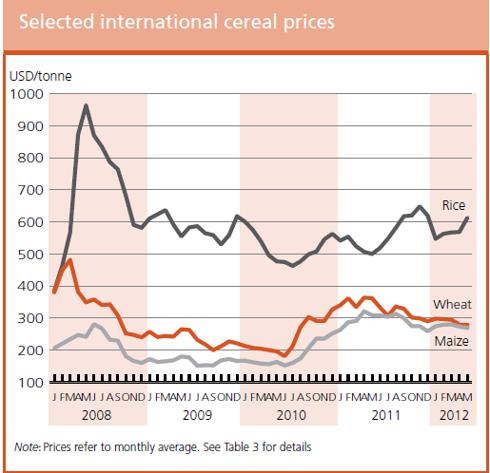 Given these forecasts, grain prices have been declining generally, with the notable exception of rice. However, global soybean inventories are low and since soybean competes with maize for land, oilseed prices have sharply increased since the beginning of 2012.
Meanwhile, corn prices have also seen an upsurge as crops droop in hot weather. According to the IFA, these tight market conditions, particularly for oilseeds and corn, will give farmers an incentive to boost production. This outlook of agricultural markets corroborates the fertilizer's demand growth expectation of the IFA.
The Organization for Economic Co-operation and Development (OECD) and FAO have forecasted an increase in almost all major crops in their 10-year outlook. As a result, the demand for fertilizers is expected to remain high.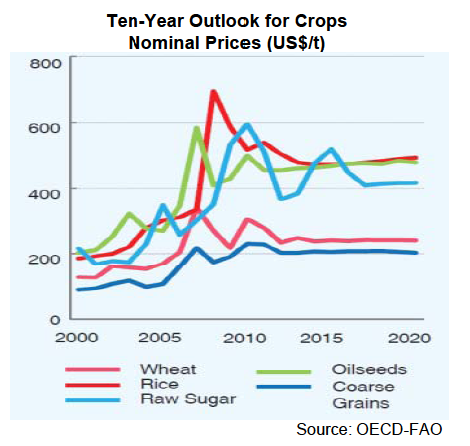 Industry Supply
Natural gas prices are currently at their record-low levels, and as a result, global fertilizer supply is expected to increase. The IFA has forecast surplus capacity by 2015, which it attributes to a new $90 billion investment, which will put both Nitrogen and Potash fertilizers into massive surpluses by that year.
The danger for Potash producers is competition from new suppliers. Some Nitrogen fertilizer producers, due to the oversupply in their own sector, have announced that they will invest in new Potash capacity. However, currently, Nitrogenous fertilizers' producers were profitable due to rising Phosphate raw material costs and decline in Potash demand.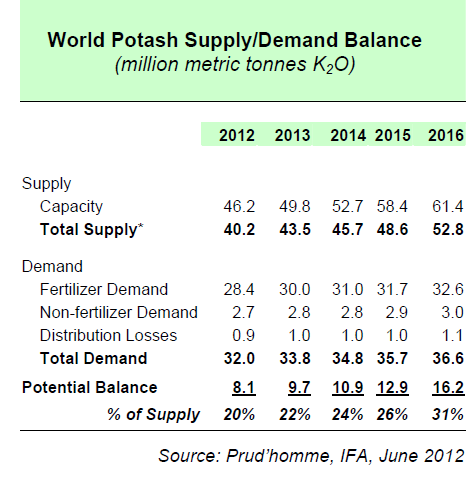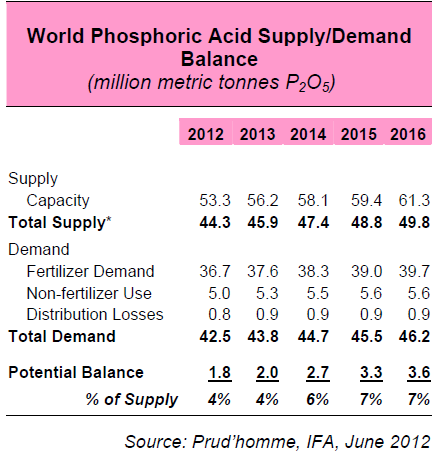 Major Companies
We have done a detailed investment analysis of Potash Corp. (POT), The Mosaic Company (NYSE:MOS), and CF Industries Holdings Inc. (NYSE:CF). Other major fertilizer players are Agrium Inc. (AGU) and Intrepid Potash Inc. (NYSE:IPI), along with a Chinese competitor, Yongye International Inc. (NASDAQ:YONG)
Comp Sheet
| | | | | | | | |
| --- | --- | --- | --- | --- | --- | --- | --- |
| | POT | MOS | CF | AGU | IPI | YONG | Industry |
| EV/EBITDA (TTM) | 9.28 | 5.85 | 3.41 | 5.02 | 6.95 | 1 | 5.25 |
| PEG ratio (5-year expected) | 1.08 | N/A | 0.68 | 1.04 | 0.58 | N/A | 1.08 |
| Forward P/E (1 year) | 10.13 | N/A | 8.03 | 8.86 | 12.7 | N/A | 9.93 |
| Dividend Yield | 1.45% | 1.01% | 0.97% | 1.22% | - | - | 1.16% |
| Stock price performance (YTD) | -9.53% | -4.66% | 4.98% | 14.75% | -10.17% | -19.23% | N/A |
| Long-term growth rate | 10.27% | 8.93% | 9.80% | 6.23% | 27.15% | N/A | N/A |
Potash Corp
Potash Corp's 1Q2012 financial performance is not attractive, but the settlement of new contracts by China, and the start of the North American planting season are expected to improve global demand. Meanwhile, due to Capnotex's new contract with Sinofert Holdings and an expected contract with Indian buyers, the situation is expected to improve a lot. Given that its shares are trading near 22-month lows, we recommend a long position in its stock.
Potash Corp is the world's largest fertilizer company by capacity and is the world's leading Potash producer. Its first quarter per-share earnings dropped to two-thirds of those in the previous year: $0.56/share in 1Q2012 as against $0.84/share in 1Q2011. Due to lower Potash sales and production volumes despite high prices, POT's operating costs increased, resulting in a 37% decline in quarterly gross margin, relative to the previous year. Its shipments of Potash also suffered a blow of nearly 60% this quarter as buyers in North America and India deferred major purchases of Potash.
Its Potash inventories are currently 43% higher than the previous five-year average. However, global Potash demand started to improve from April onwards as China settled its new supply contracts and the North American planting season started to gain momentum.
In addition, the Potash marketing consortium, Canpotex, which is jointly owned by Potash Corp, Mosaic Co and Agrium Inc., has signed a contract with Sinofert Holdings in March to supply 500,000 tons of Potash to the Chinese fertilizer maker in 2Q2012. A new contract with Indian buyers is also expected in the second half of 2012, according to the head of Canpotex. Consequently, the demand for Potash fertilizers will improve.
Potash Corp's dividend yield of 1.5% is the highest among its peers. In addition, its EV/EBITDA ratio of 9.3x is also the highest of the lot, illustrating POT's premium valuations. However, it has a lucrative long-term growth rate of 10.3%.
The Mosaic Company
The Mosaic Company has suffered a YTD share price drop of almost 5% due to decline in gross margins as a result of low Potash sales and high Phosphate raw material costs. However, an increase in global demand, capacity increases in both of its major segments (Phosphate and Potash), and rising corn prices make it a good company to invest in given its current low prices.
MOS is the world's leading producer and marketer of concentrated Phosphate and Potash. Recently, it was recognized by the Ethisphere Institute as one of the 2012 World's Most Ethical Companies (WME).
The Company's President, Jim Prokopanko, attributes early and strong spring season in North America, along with increasing shipments to South America, for an increase in global demand for crop nutrients, which will improve results in 4Q2012. In 3Q2012, lower Potash volumes and higher Phosphate raw material costs contributed to the decline in earnings. This is because higher Potash prices prevented many customers from buying ahead of the spring season.
Although the stocks hit a 22-month low recently due to economy fears, MOS' future projects are very lucrative. Its innovative premium Phosphate product, MicroEssentials®, will have a new capacity in FY2013. Its Potash tolling dispute is now resolved, which will result in an additional 1.3 million tons of peaking capacity (starting in January 2013). In addition, another settlement agreement has been reached, which will allow Mosaic to return to full operation at its South Fort Meade phosphate mine.
In addition, increasing corn prices due to dry U.S. weather will keep the fertilizer demand high. Corn prices have a notable impact on fertilizer stocks because of the crop's intensive need for nutrients. Especially the requirement of large amounts of Potash and Phosphate fertilizers for a good crop of corn, amidst rising corn prices, is good news for MOS considering these two types of fertilizers are its main products.
Mosaic is the second-largest shareholder in Canpotex, and the latter's contract with Sinofert Holdings is expected to increase MOS' Potash sales as well.
Its EV/EBITDA ratio of 5.9x is just above the industry average of 5.3x, while its long-term growth rate of 9% is very attractive for potential investors.
CF Industries Holdings Inc
CF Industries Holdings Inc.'s high gross margins, rising demand, and low costs of production (due to low natural gas prices) make it a good firm to be considered for investing at this point in time.
CF's gross margins increased to 52% from 48% last year, as its sales of Nitrogenous fertilizers increased by 37%. Falling natural gas prices and the North American spring planting season contributed to a boost in production of CF industries. The sales of its Nitrogen segment increased due to higher sales volumes and prices. CF's extensive storage and distribution network allowed it to move Nitrogen products into position early in the year in anticipation of seasonal demand.
Meanwhile, CF believes that higher crop prices and lower natural gas cost environment will continue to benefit it in the year. Its EV/ EBITDA ratio of 3.4x is the lowest among its peers, and it has a high growth rate of almost 10%. Moreover, its stock price has experienced a YTD appreciation of 22% because of its superior financial performance relative to its peers and positive future expectations. Given its growth opportunities and diversified product mix, we recommend a long position in its stock.
Disclosure: I have no positions in any stocks mentioned, and no plans to initiate any positions within the next 72 hours.