Brazilian integrated energy company Petroleo Brasileiro S.A. (NYSE:PBR) - Petrobras - has posted terrible investment performance. As the price of crude increased steadily over the last couple of years - not including the last 3 months - the shares of the large oil companies also appreciated - except for Petrobras.
Here are the share price returns of selected oil companies over the last two years:
Exxon-Mobil (NYSE:XOM): +34%
Chevron (NYSE:CVX): +36%
Royal Dutch Shell (NYSE:RDS.A): +21%
Ecopetrol S.A. (NYSE:EC) +100%
Petrobras: -47% (minus 47%)
A big factor in the lagging results from Petrobras is the company's restriction from raising fuel prices in Brazil. As a result, the company's refining, transport and marketing segment swung to a $2.1 billion loss in 2011, down from a segment profit of $5.7 billion in 2010. The refining and marketing swing to a loss basically wiped out a $7.5 billion gain in operating profits from exploration and production in 2011.
Now there are news reports that Petrobras will request and the Brazilian government is seriously considering to allow the company to increase fuel prices by up to 10%. From the company's income statements it appears the company prices and sells its crude oil production based on global crude oil prices. An increase in the prices the company could charge for gas and diesel fuel would help to offset profit declines from the current decline in crude oil prices. As an indication that the government is strongly considering allowing fuel price increases, Brazilian Mines and Energy Minister Edison Lobao noted that Petrobras had not increased prices in nine years.
There are still headwinds facing a share price turnaround for Petrobras. The biggest issue is slower GDP growth in Brazil which declined to 2.6% last year. For 2012, growth estimates range from 1.5% from Credit Suisse to a repeat of last year by the Brazilian government. An official fuel price increase for Petrobras should give the shares a boost, but a true resurgence of growth is a multi-year undertaking. Investors taking a position in PBR now should plan for several years of patience.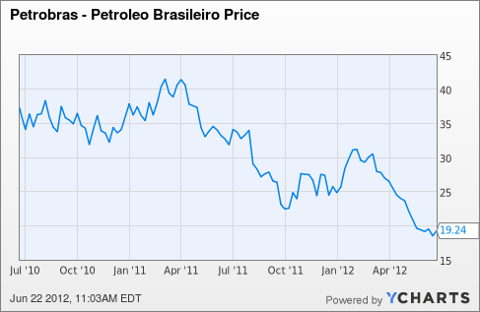 Disclosure: I have no positions in any stocks mentioned, and no plans to initiate any positions within the next 72 hours.