Asset allocation strategies based on intermediate trends should be positioned for a Bull Trap - not a Bull Market. Allocations to domestic equities and fixed income remain in place, but investments levered to global growth should have been exited including emerging market equities, commodities (and commodity-oriented sectors), and precious metals. International exposure should also have been curtailed.
While the month of May decimated the global growth story, markets have rebounded in June largely given the expectation that Europe will (again) resolve its financial issues and China has the capability to reinvigorate growth. As I wrote previously (Getting Whipsawed), the market's pessimism might have been overdone in May and could prove to be temporary. Therefore a defensive move to cash would be untimely. However, we would only know that in hindsight and that the insurance was worth the performance penalty.
Bull Trap?
Since writing my last article on June 6th, the market trends have indeed rebounded and the shorter-term technicals of the market indicate a positive re-entry into the market. For example, the broad based US equity market (represented here by Vanguard's Total Market ETF (NYSEARCA:VTI)) dipped below its 200-day moving average on June 1st and exited on June 6th. The domestic equity market ETF's short-term trend also turned positive on June 18th, which had been negative since May 7th. This should be considered a reasonable entry point for VTI based on its technical picture.
Figure 1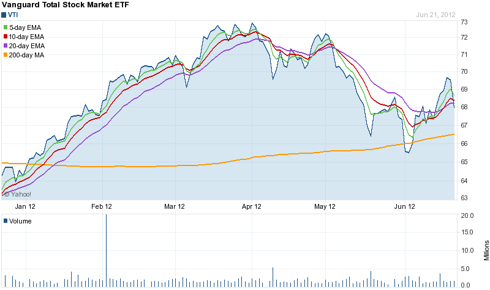 However, outside of domestic equities - the only asset that has turned positive relative to its 200-day moving average (since the end of May) is international real estate (represented here by the Dow Jones International Real Estate Index SPDR (NYSEARCA:RWX)).
Figure 2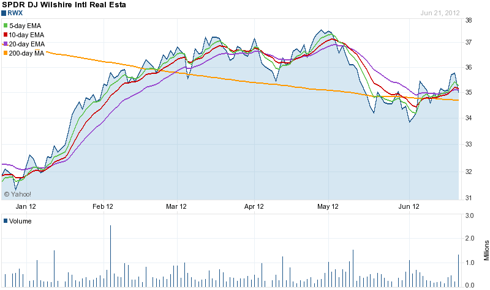 Emerging market equities (represented by the MSCI Emerging Market Index (NYSEARCA:EEM)) turned positive on the shorter trend system on June 19th but remains below its 200-day moving average and thus still unattractive as an investment (again based on its intermediate trend).
Figure 3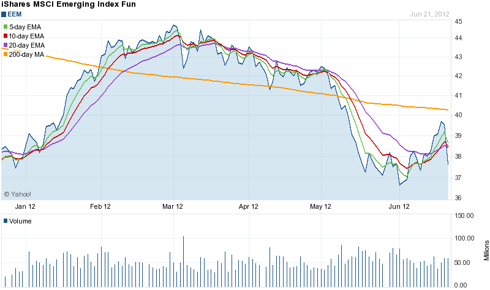 Lastly, commodities (represented by PowerShares DB Commodity Index Tracking ETF (NYSEARCA:DBC)) remains in a meaningful decline.
Figure 4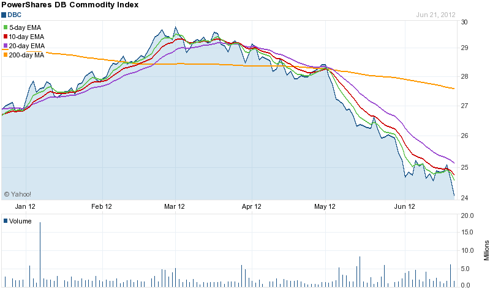 Fundamentals
While market prices indicate a rebound for many indexes, the challenge is balancing the market price action and the underlying fundamentals that support those prices. Fundamentals in my opinion are flashing caution at best.
JP Morgan's Global All-Industry Output declined slightly in May to 52.1. Based on flash PMI readings in China and Europe and weak domestic regional manufacturing data (Philadelphia Federal Reserve's Business Outlook Survey for example) - one could expect continued declines. Global growth is decelerating. On Wednesday, the Federal Reserve lowered its economic growth expectation range for 2012 by 50 basis points to a range of 1.9% to 2.4%.
Lastly, forward earnings expectations are coming down as public companies begin to discuss outlooks for the second quarter. Several large multi-national corporations have already lowered forward guidance including Pepsico, Inc., Proctor & Gamble Co., and FedEx Corporation to name a couple.
Volatility
My personal wall of worry is centered on volatility. We have yet to see any meaningful spikes in volatility despite what I would consider significant uncertainty in the market and the global financial system. Even with Thursday's market drubbing, most indexes are just reaching their long-term volatility averages. A current look at the S&P 500 (NYSEARCA:SPY) shows that volatility levels, albeit rising, remain just below long-term averages. The current reading for the 50-day annualized volatility for the S&P 500 is 15.8% versus an average of 17.6% since 2003.
For reference, the S&P 500 peaked recently in October of last year at ~38%. Yesterday's down day on the S&P 500 of 2.2% was the second worst day this year, but last summer's volatility spike included several days with 4% moves and one whopping 6.7% move. While I have seen references to markets discounting a Lehman Brothers bankruptcy event, the volatility of the S&P 500 on September 15, 2008 was 24.5% and heading towards 80%! We are not anywhere near that today.
Figure 5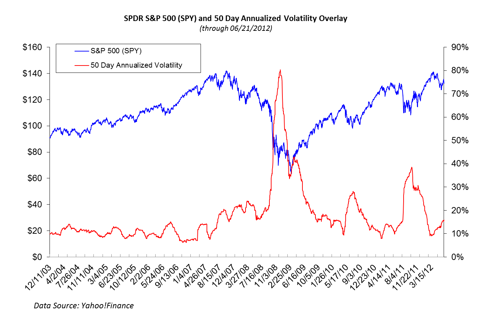 Conclusion
Short-term trend indicators show that most market indexes have turned positive since the month long decline beginning in the first week of May and ending the first week of June. Bias continues to be for equities that are domestically focused and fixed income in general based on the intermediate trend (10-month or 200-day moving averages).
Despite the positive near-term price action, I continue to view risk towards a continued correction and that the near-term run-up is a bull trap for the more optimistically inclinded.
Rather, I view that underlying market fundamentals will likely begin to weigh on prices if there is more deterioration in the economic data, which is expected given the slowing global growth, lowered domestic economic growth expectations, and an increasing number of companies lowering forward guidance.
Therefore a conservative-based portfolio with a fair amount of dry powder is warranted in my opinion and if we see a spout of volatility then 1) conservative portfolios will avoid the swings and 2) more aggressive investors will find attractive entry points after the volatility peaks and begins to decline.
Disclosure: I am long SPY.