Actionable Items:
CEF Weekly Review: On average, the 13 closed-end fund (CEF) types registered a share price increase of 1.0% for the week ending 6/22/12. The high-low spread (average percentage price change difference between the highest and lowest fund types) registered this week was +2.1% versus +2.6% the previous week.
The PowerShares CEF Income Composite (NYSE:PCEF), an ETF that invests in taxable income CEFs, advanced 0.7% for the week. PCEF is now up 3.0% YTD on price appreciation alone. Currently, PCEF's trailing twelve months' yield is 8.4%. For the week the S&P 500 was off 0.6% and is up 6.8% YTD.
CEF Weekly Fund Type Performance: For the week all the CEF fund types on average advanced outpacing their respective average NAVs. There was a bias toward fixed-income fund types possessing some element of equity exposure.
PrefStkFnds advanced as investors were more comfortable owning preferred stocks of banks, which represents a preponderance of preferred stocks, than their common equity outright. HiYldBndFnds also made a comeback this week after having been a source of investors' funds over the past 5 weeks.
The troika of equity-oriented fund types, GenEqFnds, SpecEqFnds and WrldEqFnds lagged with minor advances of 0.4%, 0.2% and 0.0%. The India funds Morgan Stanley India Investment Fund (NYSE:IIF) and India Fund (NYSE:IFN) held down WrldEqFnds as India struggles with high inflation and an increasingly dysfunctional economy. Precious metals as well as resource countries weighed on SpecEqFnds. Central Fund of Canada sold off during the week plunging 5.2%. Cornerstone Progressive Return Fund was the laggard in the GenEqFnds with a price decline of 4.0% for the week.
images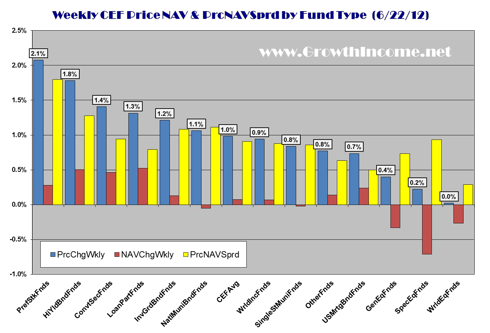 Weekly CEF Winners and Losers: One of the CEFs with the greatest positive PrcNAVSprd* for the week was ING Emerging Market High Dividend Fund . IHD share priced advanced 4.9% while its NAV receded 0.4% generating a positive PrcNAVSprd of 5.3%.
IHD is a fairly new CEF launched last year that focuses on owning stocks in emerging markets. (See "2011 CEF IPOs: Price Performance Dismal, BCX of Interest" for further analysis.) IHD sports $272.3 million in total net assets and appears unleveraged. It trades at a slight premium of 1.6% and at an annualized quarterly yield of 11.4%. The stock is going ex-dividend on July 2nd with a declared quarterly distribution of $0.40 per share. The source of the distributions is opaque as its high distribution rate would not seem supported by net investment income-given the nature of its investments in emerging markets.
One of the CEF(s) with the greatest negative PrcNAVSprd for the week was Cornerstone Progressive Return Fund . CFP's share price declined 4.0% while its NAV increased 0.2% generating a negative PrcNAVSprd of 4.2%.
Our position on the CFP continues to be one of great curiosity. This is a CEF that owns other CEFs that trades at a premium for CEFs which investors can buy for the most part individually at a discount. Its current nominal annualized 21.3% yield is unsustainable and dilutive. It has maintained its high distributions through a strategy of periodically issue non-transferable rights offering to reload coffers-most recently in May.
Do It Yourself Investing: The related chart relates the diminution of CFP's share price ("blue") since 2006 compared to The Adams Express Company (NYSE:ADX), which is also a GenEqFnds CEF ("green").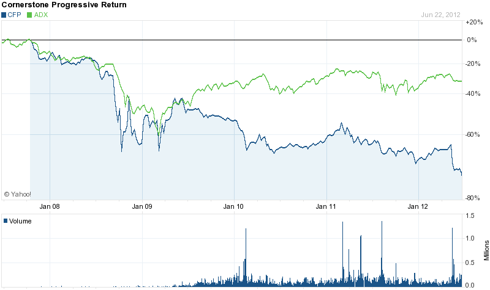 In all fairness, CFP's share price does not take into consideration the reinvestment return on cash distributed. However, if this is your strategy-of paying yourself your own money-you should set up a separate account, buy the stocks in CFP portfolio, and make period withdrawals from the account to yourself. There are two benefits: 1) you don't have to pay a premium to accumulate the shares; 2) you would save yourself a 1.55% management fee for the privilege.
Because of CFP's high nominal distribution yield and frequent "rights" offerings, CFP is a favorite of traders.
CEF Focus Stock(s) for the Week: Our focus stock of the week is Tri-Continental for two reasons. As mentioned above, there was some significant insider buying by one of its portfolio managers. Secondly, the stock generated a modest negative PrcNAVSprd of 0.8% this week with its price declining 0.5% and its NAV rising 0.3%.
TY is one of the oldest of the CEFs with an inception date back to the great depression. The stock, like many that traffic in large cap stocks, sells at a substantial discount of 15% and trades at an annualized quarterly yield of 2.0%. Its total net assets are $1.3 billion and its leverage is moderate at 10.5% of which 3.2% is from its preferred shares outstanding and the rest in derivatives. Approximately 40% of its portfolio is debt related-mostly in convertible bonds. Its largest holding as of April is Apple representing 3.2% of its portfolio.
Our contrarian play this week is Cushing MLP Total Return Fund . As a result of energy imploding this week there was collateral damage for infrastructure companies. SRV's stock price dropped 2.5% while its NAV increased 0.2% generating a negative PrcNAVSprd of 3.7%. If the markets get cheerful next week you may see this stock lift. However, as we know, energy related stocks are held hostage to a global economic slowdown which appears to be entrenched.
Last Week's Focus Stock(s): Given the volatile nature of the markets' we've been recently providing investors with both a focus stock for the week and a contrarian pick as events can radically change over the week.
Last week's focus stocks were distinguished by the positive or negative sentiment coming out of the Greek elections. For a more constructive appraisal, we suggested Morgan Stanley China "A" Shares which lagged its other Chinese CEFs and Pioneer Muni High Yield Income Advantage Fund for those less sanguine.
For CAF, there was an initial lift into Tuesday of 1.8% but as the equity markets' careened lower that gain was replaced by a loss of 1.3%. MAV performed better in a deteriorating environment advancing 2.8%.
---
[*] All things being equal, price and NAV should move in tandem. A price movement greater than the NAV generates a positive PrcNAVSprd and may be interpreted as negative on a near-term basis and indicate that the stock is overvalued relative to its NAV which in theory is the stock's intrinsic value. The opposite would be true for a negative PrcNAVSprd.
Disclosure: I am long PCEF, TY, CAF. I own a diversified portfolio of CEFs and ETFs and am long stocks in the CEFBig10™ and CEFMuni10™.) The first is a balanced equity-income portfolio (CEFBig10™) and the second a tax-exempt income portfolio (CEFMuni10™).