It is becoming increasingly difficult for gold and silver investors to "keep the faith" in volatile markets. The lack of substantive monetary policy action by the Federal Reserve on Wednesday prompted a plunge of more than $50 an ounce in the gold price by the end of the day on Thursday, giving back the gains that were made earlier in the month when gold surged more than $50 after the dismal June 1st labor report suggested that the Fed will do more.
The situation in silver markets was even more grim as the "poor man's gold" registered its biggest loss since mid-December, sinking to a 19-month low and wiping out its modest year-to-date gain. However, precious metals investors should take heart because it's only a matter of time before central bankers again flood the world with newly printed money and metal prices will surely rebound.
For the week, the spot gold price fell 3.3 percent, from $1,626.70 an ounce to $1,572.30, and silver dropped 6.4 percent, from $28.74 an ounce to $26.90. Gold is now up 0.3 percent so far this year, down 18.3 percent from its high last year, and silver moved back into negative territory for the year, down 3.4 percent in 2012 and 45.7 percent below its peak over a year ago.
Investment banks remain mostly bullish about precious metals, gold more so than silver, as last Wednesday Societe Generale issued a report as detailed in this item at Business Insider from which the graphic below was pulled.
images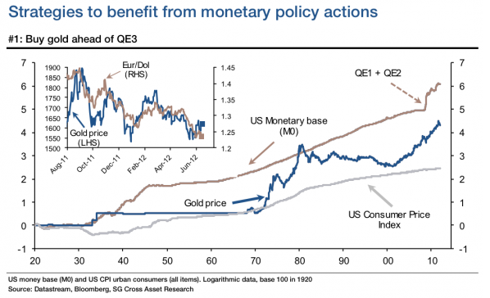 Analysts were "enthusiastic on gold" and identified as their number one strategy as "buy gold ahead of QE3″, noting the historical relationship between the U.S. money supply and the price of the metal along with gold price increases of 36 percent and 21 percent during QE1 and QE2, respectively.
They expect gold prices near $1,800 an ounce by the end of the year and, should the 1980 relationship between the gold price and the money supply return at some point, prices to go as high as $8,500.
While citing an average price of $1,760 an ounce for the metal this year, HSBC said they expect a return to above the $1,900 level by year-end, also citing monetary policy as the driver. They added that demand for gold should increase later in the year as investors shift their focus from Europe to the U.S. as our "fiscal cliff" approaches, a factor that I've been citing for months now as a reason to be bullish about gold during the second half of 2012.
Much near-term technical damage was done last week to both gold and silver. Support levels of $1,560 an ounce and then $1,530 an ounce are now seen for gold, which has been trading between $1,530 and $1,640 for almost two months now. For silver, technical factors are much worse after Thursday's dramatic fall as the metal tested support at $26.60 and is expected to close in on major support at $26 an ounce in the days ahead.
Demand for physical gold remains strong at central banks but weak from traditional buyers in India where the falling value of the rupee has sent the gold price to a series of record highs. Gold imports, cited as a major factor behind the nation's widening trade deficit (and, as a result, the weakening currency) plunged more than 50 percent last month from a year earlier and the outlook for June is no better as the Bombay Bullion Association said they expect gold imports to drop to 20 to 25 tonnes from 55 to 60 tonnes a year ago.
There is now a clear, concerted effort by the Indian government to dissuade its people from buying gold. Last week Finance Minister Pranab Mukherjee said there is a need to spread financial literacy so that people will invest in "market instruments" such as stocks and bonds instead, noting that high imports of gold are "a clear indication that large sections of the community … want to invest in a dead asset only with the expectation that its value would appreciate".
He is wished good luck in that task as there is a deep cultural affinity for gold in India that has only been strengthened after the events of recent years.
Silver has been a beneficiary of the soaring price of gold in India as silver coin and bar sales are now soaring, however, the gold market remains underpinned by demand from central banks. Russia added nearly 16 tonnes to its gold reserves last month, part of a steady accumulation plan that has been in place for a few years. Last year, the Russian central bank added 100 tonnes to its gold reserves and while its 2012 purchases are expected to fall short of that mark, the deputy chairman of Russia's central bank, Sergey Shvetsov, said "it will be less, but still a considerable figure".
The South Korean central bank said it intends to add to its gold holdings this year in order to diversify its foreign exchange reserves that are now heavily weighted toward the U.S. dollar at a 60 percent share and the euro at 39 percent. Chief investment officer Eugene Kim noted its 54 tonne gold holdings - about one percent of its reserves - are too small and that "given its symbolic presence and usefulness as a safe haven in times of crisis, the BOK needs to buy more. We may do so this year".
It's been a terrible stretch for gold and silver investors, now more than a year since the early-2011 high for silver and a full nine months since gold reached a peak later in the year. However, with Western central banks warming up their printing presses as Eastern central banks continue adding to their gold reserves, the outlook for precious metals should brighten within a few months.
Disclosure: I am long GLD, SLV.
Additional disclosure: I also own gold and silver bars and coins.