by Sean Geary
Emerging Money author Jonathan Yates made a number of compelling points as to why airlines from developed nations mostly make for terrible investments. However, investors and traders alike can find a lot to like about emerging market airlines.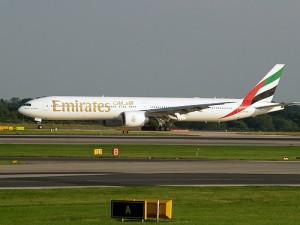 Emerging market airlines like Emirates have proven that it is indeed possible to make money in this difficult industry.
Compared to their developed market counterparts, many emerging market airlines offer a far more intriguing investment thesis. Airlines from Australia, the U.S., Europe, and Japan suffer from bloated cost structures, aggravating labor disputes, massive debt, thin profit margins, and cutthroat competition. Profitability is difficult to attain, and is often the product of the vagaries of global energy markets.
While emerging market airlines also suffer from whipsawing crude prices, juxtaposed with their developed market peers, listed emerging carriers are in general more flexible and benefit from cheaper labor, although the intensity of competition varies from market to market.
This increased flexibility has allowed emerging market airlines to become more dynamic. With their lower cost structures and superior service, Middle Eastern carriers like Emirates and Qatar Airways have all but put some entrenched developed-market airlines like Qantas out of business.
As a result, a number of emerging market carriers are able to operate profitability, even if the industry is widely denigrated in investment circles. While most carriers were hurt by sustained high oil prices throughout 2011, in 2010, emerging market airlines like Emirates and Singapore Airlines made more than $1 billion in profit.
In addition to flexibility and profitability, emerging market airlines are also fantastic growth stories. The Chinese domestic market is expected to double within the decade. China's largest carrier by passengers flown, China Southern Airlines (NYSE:ZNH), will be able to take advantage of this trend. As more and more people enter Brazil's middle class, more Brazilians will have the opportunity to fly, helping airlines like Tam SA (NYSE:TAM) and GOL Linhas Areas Inteligentes S.A. (NYSE:GOL).
For those with a more short-term perspective, emerging market carriers can serve as very effective trading vehicles. Given the role that oil plays in airline cost structures, it should be no surprise that emerging market airlines frequently trade in inversely correlated fashion to the price of crude. However, when the price of crude drops on global growth concerns, airlines don't always outperform. This leads to potential buying opportunities as the lower price of oil will boost future earnings for many of these firms.
Furthermore, some emerging market carriers offer unique currency exposure. For example, it's somewhat difficult for retail investors to short the real. However, because GOL generates most of its income in reals, shorting GOL can serve as a de facto short for the real.
For both traders and investors, emerging market airlines offer interesting opportunities. However, you must be discerning, as some airlines like Kingfisher are much more poorly run than an airline like Jet Airways. Right now, you could consider going long Copa Holdings (NYSE:CPA). The Panamanian carrier is a particularly compelling investment because of its rapid growth, savvy fuel hedges, low forward P/E of 8.73, smart management, exposure to the dynamic Panamanian economy, and its ideal geographic position allowing the firm to take advantage of the sharp rise in traffic between both first and second-tier cities in North and South America.

Disclosure: Author is long GOL