Coach Inc. (NYSE:COH) shares have plummeted 24.10% over the past 3 months amid overall equity market weakness, especially for the cyclical luxury sector. At $59.79 per share, the stock is trading at 8.5x the NTM EBITDA and 14.9x the NTM EPS. I believe the stock is dirt cheap at this level given the 7 convincing reasons below:
Based in the US, COH has a very limited exposure to the European market. In the past fiscal year, the firm has generated 70% of the revenues from the US, 18% from Japan, and 12.2% from international markets, especially from China. The expansion in China is gaining momentum as more stores will be opened, which will likely sustain the top line growth.
Consensus estimates predict the top line to grow at a 2-year CAGR of 14.5% over the current and next fiscal years, and the EPS to rise by 19.4% over the same period. Taking that into consideration, the stock currently trades at a 1-year low PEG of 0.9x.
According to the chart below, COH's forward P/E and EV/EBITDA multiples are trading at very close to their 1-year lows.
images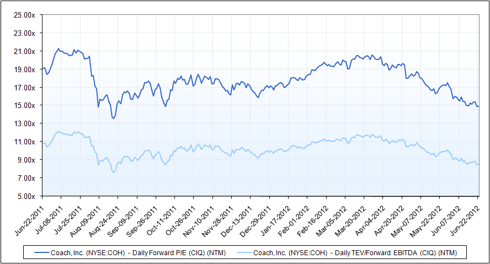 The valuation is ridiculously cheap. Based on the comparable analysis (see below) for companies in the luxury sector, COH has a superior performance in all of the growth, profitability, free cash flow, leverage, and balance sheet metrics relative to the group averages. As such, the excellent financial performance should merit a valuation premium. To measure the margin of safety, I performed a very conservative valuation (see below) without a premium. The model yields a stock value of $76.28, which is still 28% above the current market price. It appears that an unrealistic valuation discount of 23% has been baked into the price.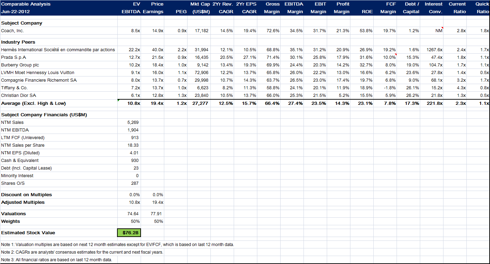 Consensus estimate trends are solid. The following tables show that consensus estimates for revenue, EPS, and EBITDA have substantial upward revisions over the past 18 months. In addition, COH has consistently beaten estimates over the past 8 consecutive quarters.



The chart below shows that the stock price is approaching a technical support level at around $57.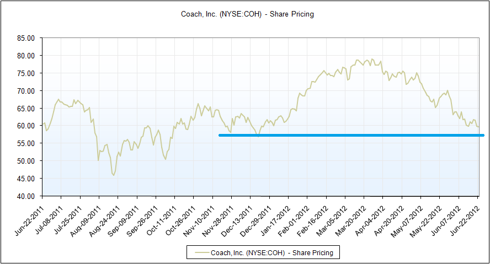 The dividend yield has now risen to 2%. I am very comfortable with the dividend sustainability given that the company is a free cash flow generator and has ample liquidity on the balance sheet.
I have been adding positions recently to average down my cost. In the light of the cheap valuation, financial excellence, solid growth prospects, and a sustainable dividend yield, this stock should not be overlooked.
Charts and estimates tables are sourced from CapitalIQ, comparable analysis table is created by author, and financial data is sourced from company 10-Q, 10-K, press release, Yahoo Finance, YCharts, Wall Street Journal, Thomson One, Bloomberg and Morningstar.
Disclosure: I am long COH.