Dividends provide stocks with stability. They bring in an investor audience with a mindset for longer-term prospects and an income focus. For companies that have established their ability to consistently grow their yields, so too have their stock prices often corresponded with their distribution growth. As companies choose to raise their dividends, they project their confidence in their ability to consistently pay it.
In many regards, the steady rise of a dividend yield is often reflective of a company's growing ability to perform in its industry space. As a result, identifying those with explosive dividend growth patterns can usually be a good starting point in one's own research for future investments. The following seven companies have shown some significant increases to their yields in recent years. All values were taken as of June 21, 2012.
Church & Dwight Co. Inc. (NYSE:CHD). The company specializes in consumer packaged goods and stands as a leader in household products. Of the many popular brand names under its wing some of the most well known are those of ARM & HAMMER, Trojan, Nair, and Oxi Clean. The company has significantly increased dividend in recent years. Within 3 short years, the dividend was raised 433% from a quarterly rate of $0.045 to $0.24.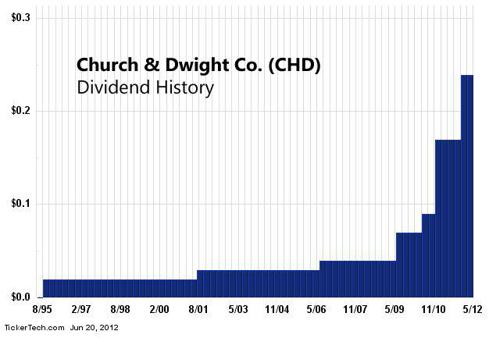 Cliffs Natural Resources Inc. (NYSE:CLF). The company operates as a global producer of iron and metallurgical coal, the basic materials essential for steel production. With the prospect of slow growth around the world, Cliffs stock has been falling as a response. Yet the company has been showing a different picture in its own income distribution. Over the last year in a strong bid for confidence, the company raised its quarterly dividend rate by 123% from $0.28 to $0.625.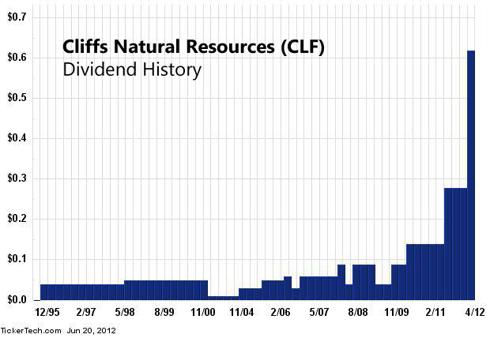 CSX Corp. (NYSE:CSX). Operating in the transportation sector, CSX provides rail-based freight services. The company transports everything from basic materials commodities, to industrial goods, to consumer products along its 21,000 mile rail network. Over the last 3 years, the company has raised its dividend 92% from a quarterly rate of $0.073 to $0.14.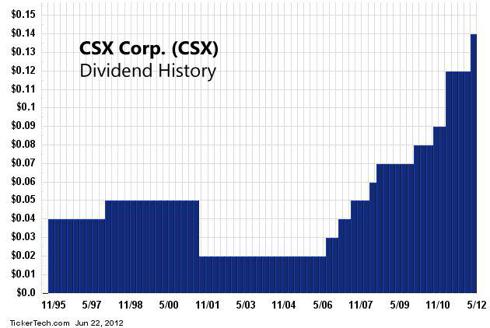 Lockheed Martin Corporation (NYSE:LMT). Lockheed stands as one of the United States' most premier names in aerospace and defense. Even as the country takes a step back on its defense project spending, Lockheed has shown its strong confidence in its ability to outperform. The company maintains a steady dividend growth pattern and recently raised its quarterly rate 33% from $0.75 to $1.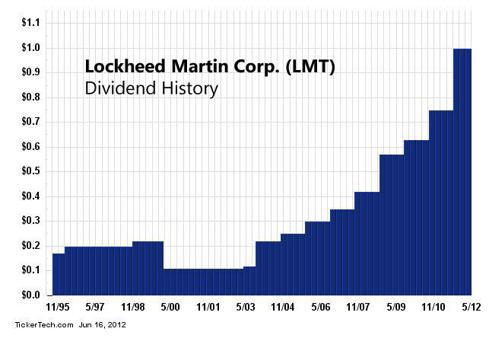 Norfolk Southern Corp (NYSE:NSC). As another railway transportation company, Norfolk Southern Corp has also capitalized upon an increasing demand in train transportation. The company operates across 20,000 miles of rail expanding over 22 states. Over the last 8 years, the company has increased its quarterly dividend rate 488% from $0.08 to the current $0.47.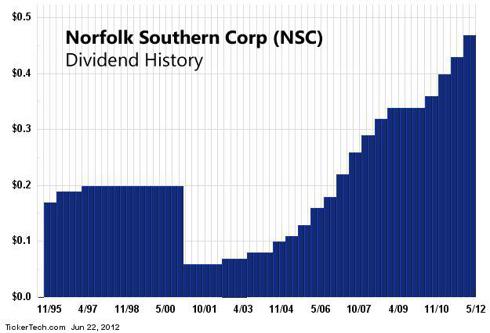 Novo Nordisk A/S (NYSE:NVO). As a dominant European-based drug manufacturer, the company has expanded its presence across 75 countries and sells its products in more than 190. It's products have allowed it to become a leading provider for diabetes care along with a strong reputation for haemophilia care. Over the last 3 years, the company has increased its annual dividend by 141% from $1.034 to $2.497.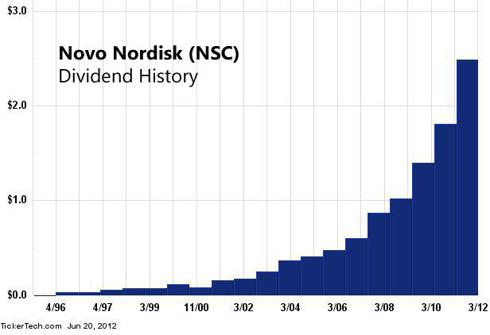 Seagate Technology Plc (NASDAQ:STX). The company operates as one of the surviving members of the hard drive industry's aggressive consolidation efforts over the past few years. Currently addressing the demand faced by the cloud computing revolution, Seagate operates as a leading manufacturer with limited competition. Over the last year, the company raised its quarterly dividend rate by 39% from $0.18 to $0.25.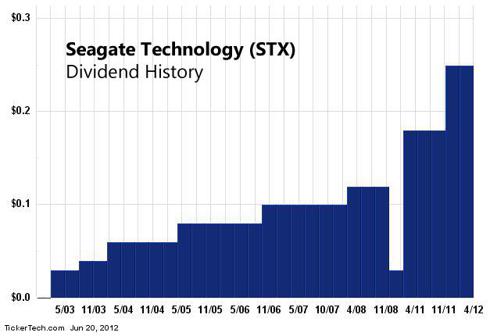 Disclaimer: Please refer to my standard disclaimer found here.