Once again your analyst is writing from the road, this time in not so sunny Miami. Not to worry, even in the gloom Miami is…well…Miami. Gloom seems appropriate for this weekend's edition of Perspective and Outlook: volatility made a comeback last week as the June market rally hit its first serious bump in the road. Was it just a bump, or are the wheels about to come off? Let's look at the numbers:
Perspective
Stocks: It was a mixed picture for U.S. equities last week, as the blue chips lost ground, while the small caps managed a net gain. The week began with a continuation of the rally off the May slide, but ran into heavy selling on Thursday. All of the major indexes had topped their 50 day moving averages prior to that session, but fell back below in the day's trading. However the week ended on a positive note as buyers came in and the market advanced on a pickup in volume.
Seven of the nine major S&P sectors retreated on the week, with the energy stocks taking the worst of it, as oil prices again fell sharply. Only tech and health care came in with gains. Interestingly, we saw a nearly 2% drop in the overbought utilities, suggesting that the action was not a simple risk off move.
Global markets were also something of a mixed bag; five of the twelve major indexes we monitor posted gains for the week, while seven recorded losses. It was nothing dramatic either way. The gains tended to come from the mature markets, while the emerging markets were weaker in general.
Bonds: U.S. Treasury yields firmed up somewhat, even as the Fed indicated that "operation twist" would expand, with the central bank extending the duration of its holdings in an attempt to keep long terms rates down, and thereby to stimulate borrowing - and growth. Overall the week's action had the effect of flattening the yield curve very slightly. Municipal yields followed Treasuries to the upside, as did TIPS. Corporate bond rates on the other hand, fell again, as investors continue to display a strong appetite for private sector debt, even in lower grades.
Commodities: After putting in a small rally off the early June low, the CRB index fell back near the bottom as weak economic data cast further doubt on the outlook. The weakness went right across the board, beginning with oil, which broke decisively below $80 on two days of higher volume trading. WTI crude dropped nearly 5% on the week. Gold also sold heavily, falling 3.5% but remaining above the May lows. The industrial metals index fell to a nearly two year new low. The softs were generally weak as well, and remain in a broad down trend that goes all the back to the start of 2011.
Currencies: After a two week correction which followed a new high, the U.S. Dollar Index resumed its advance last week, coming off support near the 81 level. The euro, a recent proxy for risk assets which had been coming off a new low at the start of June, fell back from resistance around $1.26. Sterling, Swiss Francs, Yen, Aussie and Canadian dollars - most of which displayed chart patterns that look very much like the euro - all pulled back on U.S. dollar strength.
Perspective
Concerns for economic growth have taken center stage again. The market was rolling along well enough, content to roll along in its new June up trend, until Thursday's reports threw cold water on the markets. Of particular note was the deeply negative print from the Philly Fed, which showed a marked slowdown in manufacturing activity. Coupled with another higher than expected set of unemployment claims data, the numbers filled in yet more detail on a canvas that is shaping up to portray low growth ahead. Earlier in the week there was some mild enthusiasm on the housing front, as the Census Bureau reported an upside surprise in the number of building permits issued, but existing home sales showed no sign of a pickup in volume. In troubled Europe, the winner of the Greek election managed to put together a coalition government that at least appears committed to remaining in the currency union, and there were no new disasters ahead of the coming week's European summit meetings, but the overall tone remains decidedly gloomy. That gloom is casting shadows of uncertainty over global financial markets.
Stocks: To this point my suspicion that we would see a choppy trader's market this summer, following the May correction, has held true. The June bounce on the SPX had retraced ~62% of that correction, a nice Fib number, and failed the test of the April support level. Since April we have seen a series of lower highs on the SPX, and higher lows on the VIX, which supports the elevated volatility outlook. Yet markets are no longer giving oversold readings in the short or medium term. The relatively easy long trade off the May correction is now in the books and we have to look ahead.
Market internals could lead us either way from here (of course - it can always go either way), and I can see no technical catalyst for a directional move. Fundamentally, the outlook has been weakening as the economy struggles, earnings forecasts have been increasingly cautious, and of course the European debt crisis weighs. Political actors continue to play an exceptionally large role: what will be the resolutions of the "fiscal cliff" facing the U.S. at year's end? When will European leaders finally put the right policies in place? Amid all of this, where is the growth going to come from?
images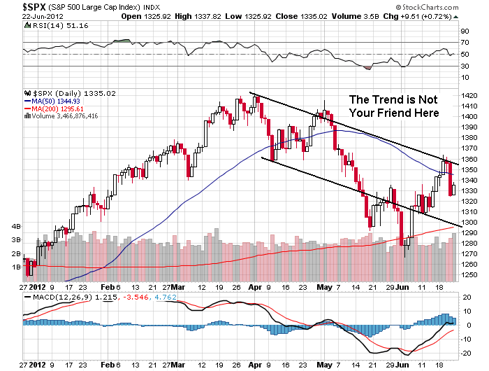 That is the outlook as I see it at present. In the short term, as noted above, the read is particularly difficult. I am not in any trading positions and don't anticipate putting on any new ones in the coming week. Longer term, my focus remains on quality stocks with steady earnings. This is not a market in which I am inclined to swing for the fences. Putting a few runners on base, and hoping to bring one or two in, is about as good as it gets at this stage.
Leaving the baseball metaphor and turning to specifics, our holdings continue to be concentrated in blue chip tech, health care and consumer staples stocks. Two of our long term core holdings, Microsoft (NASDAQ:MSFT) and Pfizer (NYSE:PFE), continue to act well. Several others appear to have put in bottoms. We are on hold as far as adding, but my watch list at this point is concentrated in another favorite sector - large energy stocks. The pullback in energy prices has brought down valuations in many of these. Firms with continuing earnings power, attractive dividend yields, and the right mix of assets and investments will be attractive once the correction ends. We're not buying yet; there could well be more downside ahead and - returning to the baseball metaphor - I am inclined to take a couple of pitches here and look for a fat one later.
Bonds: With corporate bond prices soaring and yields falling - 3M (NYSE:MMM) sold ten year notes at 2% recently -the higher grades are not particularly attractive at this point. Unless safety is a paramount concern and extremely low yields are acceptable (gee, thanks Uncle Ben), you have to start looking elsewhere. For our income portfolio, I continue to like leveraged municipal funds and lower grade corporates, though they come with a measure of risk that must be understood. And although they are not bonds, a continuing correction in REIT prices could make them an attractive income generating option. Like many higher yielding assets, REITs have been on a long run and valuations on many of the leading names have gotten a bit extended, so I taking a patient approach here as well.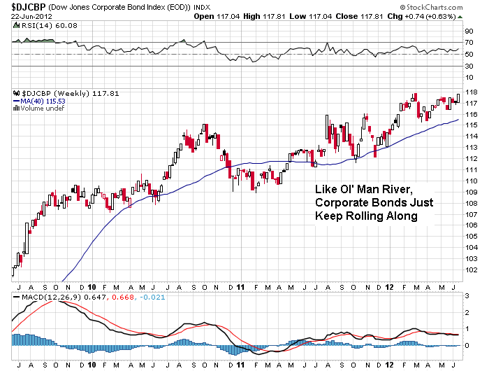 Commodities: The break in oil prices is becoming quite interesting. Technically, there is a realistic possibility that we could get all the way down to the $60 area. Fundamentally, that is very uncertain, and subject to geopolitical pressures. While lower oil prices are certainly a boon to the global economy in a time when it is struggling, they are not so good for funds in which oil is a large part of the allocation. For this reason I am bearish on the popular broad commodity funds as well as on focused oil funds. Aside from oil, I am finding plenty not to like on the commodity front: industrial metals (look for copper to re-test $3), precious metals (gold posted its lowest weekly close in nearly a year), and agriculture (high volatility down trend). There is not much good to say here, other than we will see attractive prices at some point, but it's hard to say when. It seems best to stay on the sidelines for now.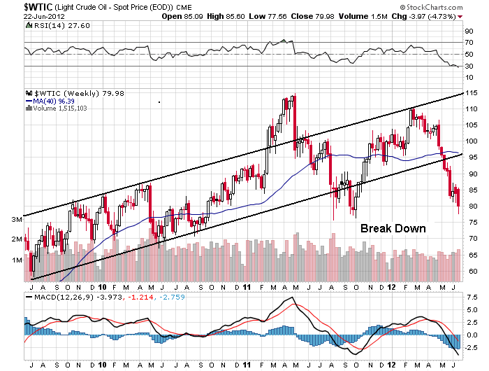 Currencies: The U.S. Dollar Index did a ~50% re-tracement of the move off the May 1st bottom to the June 1st top, before coming off support last week. The inverse correlation with risk assets continues to hold, and the primary trend for the dollar is up, so the direction of the dollar is important. With European leaders meeting again this week, there could be a significant impact on the markets. My expectations have been low - anything better than disastrous incompetence will do - but Europe's finest have continued to fall short of even this modest standard. We will have to watch what happens here. Look for a volatile week ahead.