WTI oil prices have fallen roughly 25% since the end of April. Natural gas prices have fallen roughly 50% (and sometimes more) from their high last summer of $4.97/MMBtu. This has put a big dent in most oil and gas companies' profits. Berry Petroleum (BRY) is one of those.
Let's look at the picture for 2012 and beyond. We are facing what gives every appearance of becoming a severe recession in the EU. Essentially the euro is preventing many of the struggling EU member countries from monetizing their debts. It is preventing them from devaluing their currency to make their products cheaper and more appealing as exports. It is keeping the salaries, commercial real estate costs, and many other input costs (such as locally manufactured parts) of the strongest economies lower than they would be if the strong EU economies had their own currencies; and it is keeping the salaries, commercial real estate, and other input costs of the weakest EU countries workers higher than they would be if they had their own currencies. This gives the strong economies a competitive advantage within the eurozone and without.
U.S. automakers and other U.S. competitors to German manufacturing are being hurt by it too. Not only this, but the EU is not providing any central borrowing facility (euro bonds). Therefore the weaker countries have to borrow at much higher rates than the economically stronger countries. This is a further disadvantage. In fact, it has left several of the weaker economies open to bond attacks, which have led to their bond yields skyrocketing. This has left these countries with completely unmanageable budgets. Too much money in their budgets is going to pay the interest on their debt. The further deficits they incur lead to even further problems. Austerity won't fix that, although the Germans seem to like to pretend it will.
In sum, the problem will have no easy solution. The economics mean that severe changes to the system (or exits from the system) will be necessary to fix the current problems longer-term. Since most efforts to date have been to try to salvage the current system "as is", no real progress has been made in solving the problems. This effectively means the problems are getting worse and not better. It means the likelihood of a debt or banking meltdown that will affect all of Europe is rising rapidly.
The above situation dictates a European economic slowdown of severe proportions. This slowdown may well spread to the U.S., the BRICs, and all of the other emerging market nations. This means commodities and cyclical stocks are likely to fall and keep falling until this situation hits bottom. Any idiot can tell that this situation is nowhere near its bottom. This means we have a lot further to go down in commodity and cyclical stocks. One of the chief areas of this fall is energy and its related cyclical stocks.
With all of the above in mind, a look at Berry Petroleum shows that it has large exposure to oil price fluctuations. It produced 35.7 Mboe/d in 2011. It expects to produce 38.0 - 39.0 Mboe/d by the end of 2012. Approximately 70% of 2011 production was oil. As a ball park figure, I'll estimate that average production for FY2012 will be 38 Mboe/d. Oil is forecast to increase to 75% of total production in 2012. This means that approximately 28.5 Mbpd will be oil production. As of March 31, 2012 BRY had hedges on 21 Mbpd. This means 7.5 Mbpd are completely unhedged for 2012. BRY had only 15 Mbpd of oil hedged for 2013 as of March 31, 2012. Highly priced hedges for 2013 have recently become harder / more expensive to come by. Furthermore, virtually all of BRY's 2012 hedges are 3-way collars. This means protection against a fall kicks in at an average WTI price of $88.52 per barrel. However, once the WTI price falls below $70.86 per barrel, BRY starts to lose money again due to the lower option sold (in order to help make the cost of the hedging low or nil).
Raymond James recently came out with a very negative call on oil stocks on June 18, 2012. The firm says it continues to see downward pressure on oil into 2013. Its price target for 2013 is $65/barrel for WTI oil. Raymond James downgraded 24 oil & gas companies based on this new view on oil. BRY was among the companies downgraded by Raymond James. Guidance from the end of Q1 2012 is based on a $95/barrel WTI price. The WTI price has already fallen to about $80/barrel as of Friday June 22, 2012. It looks ready to fall further, given the slowing world economy. Goldman Sachs' recent call to short the S&P 500 down to 1285 is likely to help BRY's stock price fall too.
When you consider that world production (91.1 MMbpd) is currently about 1.2 million bpd higher than world consumption (89.9 MMbpd), an oil price fall seems even more likely. BRY's FY2013 EPS look in even worse shape with only about 15 Mbpd of oil hedged as of March 31, 2012. BRY had only 4 Mbpd of oil hedged as of March 31, 2012 for FY2014. Any new hedges seem likely to be at much lower prices. BRY consumes approximately 50,000 MMBtu/d (or about 8.33 Mboe/d) of natural gas in order to produce steam in California. It produces only slightly more natural gas than this. This makes BRY relatively immune to natural gas price fluctuations. Still, with 75% of its production being oil, BRY is very vulnerable to oil price decreases, especially if they turn out to be acute decreases. The 3-way collars BRY employs have the effect of making BRY 100% unhedged once the price of WTI falls below $70.86/barrel. Before that it is approximately 25% unhedged for 2012, and it is much more unhedged for subsequent years. This makes BRY very susceptible to a stock price fall.
The two year chart of BRY confirms the above analysis with technical direction.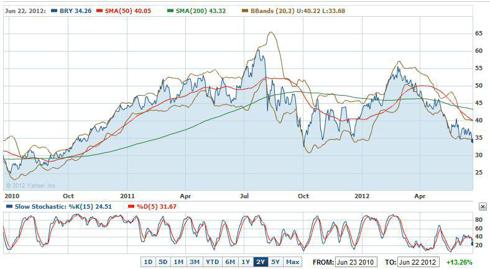 The slow stochastic shows BRY is near oversold levels. The main chart shows that BRY's price line has moved below its 200-day SMA (a sell signal). The chart shows that the 50-day SMA has recently passed through its 200-day SMA on its way down (a stronger sell signal). Given the fundamentals above, it seems reasonable to think that the price decline will continue. There is some support at approximately $32.60. There is further support at $30 and below. If you own the stock, you probably want to sell it for now. If you like the stock, you will almost certainly get a chance to buy it back at a lower price. If you are an aggressive trader, you probably want to short the stock. The exact timing of all of this is in question. Goldman Sachs has recently come out with a call to sell and/or short the S&P500. Arguing the other way for the near-term is that fund managers traditionally use the end of quarter / beginning of the quarter for window dressing. This often causes stocks to go up during this period. Of course, there is the possibility that those fund managers could get rid of their energy losers during that time. If you are worried by the above, you may consider waiting out this next week or so before entering a short position.
BRY had negative net income for FY2011 of -$414.7 million. This was due largely to nonrecurring expenses. However, its net income for Q1 2012, which did not have large nonrecurring expenses, was only +$33.9 million (on a GAAP basis); and that was before the price of WTI oil started to fall dramatically. That figure was only about 25% of the earnings from Q3 2011 or 33% of the earnings from Q2 2011. The Q1 2012 result shows a lot of weakness. With the added negative of the recent dramatic fall in the price of WTI oil, BRY might easily lose money in Q2 2012 (and beyond). This would have a negative impact on the stock price, since investors had been expecting a huge recovery in earnings this year.
BRY's market cap is only $1.85B. This puts it firmly in the category of a small cyclical stock that gets beat up badly in tough economic times. It has a Beta of 1.72, which means it will move down faster than the overall market. It has negative ROA and ROE values for the previous twelve months. It has a negative profit margin (TTM) of -14.70% and an negative operating margin of -12.95%. It has total debt (mrq) of $1.45B, which is substantial compared to its market cap ($1.85B). It has a short interest of 8.20% of the float. Both insiders and institutional holders have been selling the stock. It missed its EPS estimates for Q1 2012, and the outlook for Q2 looks very grim considering the recent dramatic fall in oil prices. The price/book ratio of 2.08 is not really bad, but it does not make one want to hold onto the stock based on its value alone. BRY could end up having to sell assets at fire sale prices to survive if the EU recession spreads around the globe.
Recent negative economic events include a Spanish 12 month note auction selling 12-month notes at a yield of 5.074%, which is more than 2% higher (200+ bps) than the price at the previous auction. The German ZEW Economic Sentiment missed at -16.9 versus an expected +4.0 and a previous +10.8. The European ZEW Economic Sentiment missed at -20.1 versus an expected -5.7 and a previous -2.4. Both of these are huge misses, and they show that even the relatively well off Germans are becoming increasingly pessimistic. If the Germans are pessimistic, you probably should be too.
In the U.S., the Initial Claims number missed slightly at 387K versus an expected 380K. The Fed cut its economic estimates for the U.S. economy for 2012 by -0.5%; and the Philadelphia Fed Manufacturing Index data missed badly at -16.6 versus an expected +1.3. The HSBC Chinese Flash PMI for June came in at 48.1, indicating more contraction than had been expected. These recent economic negatives make BRY a better short. Averaging in is a good strategy, especially considering the possibility of adverse directional play in the next week or so due to the fund managers' "window dressing" trading at the end and the beginning of quarters.
A few other oil and gas companies that have recently seen their 50-day SMA move below their 200-day SMA are: Denbury Resources (NYSE:DNR), Concho Resources (NYSE:CXO), and Husky Energy (OTCPK:HUSKF). You should do your own research if you think you may wish to short any of these.
Note: Some of the fundamental fiscal data about BRY came from Yahoo Finance.
Good luck trading.
Disclosure: I have no positions in any stocks mentioned, but may initiate a short position in BRY over the next 72 hours.