The E-Mini S&P 500 had the perfect storm of pessimism in the market with Goldman Sachs recommending short S&P 500 trades to their clients, dour data from the Euro Zone with China and a halting recovery here in the US.
Friday, bargain hunters came back in to buy after the slide creating a bounce or rebound in the E-Mini S&P 500. We had no major US reports due out. It seems that the lack of data is viewed more optimistically than the report days of late confirming "no news is good news". Trading was light with a tighter range than
Thursday, hence the inside day. Moody's Investor Services downgraded 15 banks 1-3 notches sending the banking stocks lower, but the news was shrugged off as expected and less tragic than originally thought. It raises the insurance rates and general cost of doing business for those banks.
Wednesday, Federal Chairman Ben Bernanke announced the extension of Operation Twist until the end of the year. The market was disappointed, hoping for a QE3. Operation Twist will now add a $267 billion swap of purchases in the long-term Treasuries and sales in the short-term Treasuries.The "fiscal cliff" that Fed Chairman Bernanke wanted to head off is still looming with the slack US growth and the global slowdowns. Expectations for growth in the US is between 1.9% and 2.4% lowered from April's 2.4% to 2.9%. Fed Chairman Bernanke did hedge himself with an added "the Fed is prepared to take additional steps if appropriate".
The focus next week will return to the Euro Zone as investors look for some stability and containment of the debt crisis out of the recent meetings. The Euro leaders of Germany, France, Italy and Spain decided on a $130 billion euro funding project to spur economic growth in Europe. The European Central Bank has modified regulations to allow institutions to use an expansive range of collateral to secure cash. The modification may increase liquidity and increase growth.
The Spanish bond yields dropped to 6.41% after hitting the recent non-sustainable levels over 7.00% earlier on. The next EU summit is scheduled for June 28th. The euro FX net short positioning according to the CFTC COT report decreased to 141,066 contracts from the previous 195,187 contracts. The euro FX may be due for a temporary bounce depending on further reports from the Euro Zone.
On the stock side: JP Morgan Chase and Co. (NYSE:JPM) was up 1.63 % to $36.09. Citigroup Inc. (NYSE:C) was up 0.07 % to $27.85. Bank of America (NYSE:BAC) was up 0.26 % to $7.84. Alcoa Inc. (NYSE:AA) was up 0.12 % to $8.56. Boeing Co. (NYSE:BA) was up 0.21 % to $71.52. Caterpillar Inc. (NYSE:CAT) was down 0.12 % to $84.88. General Electric Co. (NYSE:GE) was up 0.87 % to $19.70. Halliburton Co. (NYSE:HAL) was down 1.67% to $27.87. Hewlett Packard Co. (NYSE:HPQ) was up 0.52 % to $20.42. SPDR Select Sector Fund - Financial (NYSEARCA:XLF) was up 0.51 % to $14.28.
E- Mini S&P 500 Chart.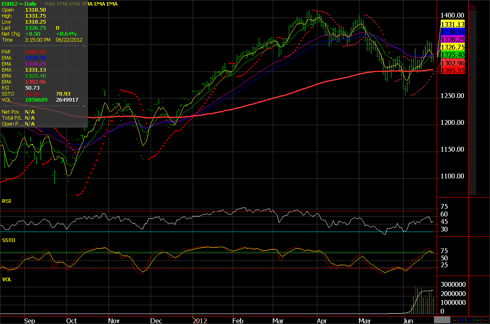 Monday, what to expect: We maintain a bullish bias unless the (September) E-Mini S&P 500 penetrates $1303.00. Monday, we anticipate an inside to higher day. Friday's range was $1331.75 - $1318.25. The market settled at $1326.75. Our comfort zone or point of control for this market is $1325.00. Our anticipated range for Monday's trading is $1335.50 - $1319.50.
Disclosure: I have no positions in any stocks mentioned, and no plans to initiate any positions within the next 72 hours.