The economic growth in India in these past few years has greatly increased demand for new infrastructure such as roads, power plants, railroads, seaports and airports. Until now there was no pure play in the US equity market. India Globalization Capital (NYSEMKT:IGC) was a blank check company that has now made playing this segment possible. On 3/10/2008 their proposed merger was approved by shareholders. This merger gives them a 63% equity interest in Sricon, a 77% equity interest in Techni Bharathi Limited, and a 24 megawatt wind energy farm.
Breaking down these new acquisitions:
Sricon is involved in the transportation of coal and ore mining waste, engineering and construction of steel and cement plants, engineering and building of sea port jetties, power plants, water supply systems, highways, bridges and tunnels. This company has a backlog of $195m and is qualified to bid on more contracts up to $116m and has around 1000 employees. Revenue of this subsidiary is projected to be $21 million in 2008 and $92.5 million in 2009. Net income is projected to be $2.8 million in 2008 and around $13 million in 2009.
Techni Bharathi Limited is involved in civil construction and structural engineering of roads, highways, bridges, tunnels. They also engineer and construct airport runways, railroads and dams. This company has a $47m backlog. Revenue of this subsidiary is projected to be $8.5 million in 2008 and $27.5 million in 2009 with a net estimate of $3.2 million for 2008 and $3.6 million in 2009.
The newly purchased wind farm will be generating 24 megawatts in 9-12 months and is expandable to 100 megawatts in the future.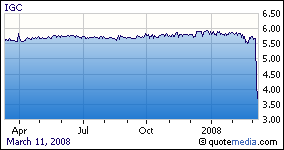 The joint entity will now have an increased ability to bid on larger contracts, reduce raw material cost with larger bulk purchases, and they will be able to take advantage of geographic sharing of equipment. The company is predicting a margin improvement from 3-5% to 13-16% in just two years. 3% will come from improvement from the reduction in raw material cost, 3% from greater productivity through purchases of capital equipment, 5% from reduction in interest costs and the rest from higher margin, recurring, work based on financial independence.
I think the largest unknown about this company is if it can deliver on the planned synergies. Because the experienced management will remain in tact in the two subsidiary companies, they retain the company's stability and are able to focus more on growing each business while taking advantage of synergistic benefits to improve each of their respective businesses.
With India expecting to spend $475 billion on infrastructure in the next 4-5 years, it is clear that the opportunity for growth in this area will be abundant in the future. The wind generation arm also expands the realm of growth possibilities into the obvious need for renewable, clean energy.
India Globalization Capital not only offers a way into the emerging growth story in India in an essential segment like infrastructure, it also provides what I feel is an attractive risk/reward proposition at this level and have a personal 2009 target of $8.00.
Disclosure: Long IGC