I read an article from March 1, 2008 by Yahoo Sports writer Kevin Iole that discussed the struggling International Fight League, Inc. (OTC:IFLI), a Mixed Martial Arts [MMA] sports league whose shares have tumbled over the past year from a high of $13.25 to currently $.085 per share. The article went on to discuss the broader market for MMA, led by the dominant player in the sector, the Ultimate Fighting Championship [UFC] and a couple of other smaller players that round out the industry.
UFC is owned by Zuffa, LLC, a company controlled by Frank and Lorenzo Fertitta who are also principals in the now private Station Casinos, Inc., and were recently ranked by Forbes Magazine amongst their 400 wealthiest billionaires. Zuffa has been consolidating the sector by acquiring other small leagues and fighter contracts, and is largely credited for cleaning up and legitimizing MMA as a professional sport.
Iole's article and interview with International Fight League President, Jay Larkin, gives the impression that while MMA is a very hot topic right now in the sports entertainment sector, it's not very profitable as evidenced by the IFLI stock chart. According to Larkin, "Of all these organizations, no one is making money but the UFC, and we don't know how much they're making," This bleak take on the industry's financial picture comes despite an ever growing interest and fan base in MMA.
Another billionaire, Mark Cuban, has become one of the sport's most vocal advocates, and his HDNet now airs HDNet Fights, a series of MMA contests featuring the International Fight League, Xtreme Fighting League, Maximum Fighting Championship, and Inside MMA- a wrap-up and analysis show focused on the sector. In addition to Cuban's interest in the sport, Viacom (NYSE:VIA) also airs regular UFC matchups on its Spike Network, and the IFL has also previously aired on Fox Sports Net (NASDAQ:NWS) and its struggling sister netlet, MyNetwork TV (NWS). Even CBS (NYSE:CBS) is jumping on the MMA bandwagon with scheduled airings of UFC and EliteXC matchups on its co-owned CBS and Showtime networks. Of the deal CBS struck with EliteXC parent ProElite, Inc. back in February, another Yahoo Sports writer, Dan Meltzer, writes "The announcement that CBS will broadcast live Elite XC shows on Saturday nights in prime time is potentially the biggest deal in the history of the sport in North America".
With all this fan attention to the sport of MMA, significant financial backing from billionaire entertainment moguls and major television network contracts in hand, it's puzzling as to why more of these companies (reportedly other than UFC) aren't raking the profits in. It may be that MMA as an industry appears too highly fragmented at this point, and outside of the diehard fan base is very hard to follow. Some of the leagues have used team approaches, while others are more traditional one-on-one contests. At this point, it looks as though the sport needs more than just money and attention, and instead needs a unifying vision for the future. It is quite reminiscent of another sector of the sports entertainment world- professional wrestling, from its early days, and it may be a huge opportunity for the man and the company who changed it from a group of highly fragmented regional players into a worldwide entertainment conglomerate. The man is Vincent K. McMahon, and the company is World Wrestling Entertainment, Inc. (NYSE:WWE).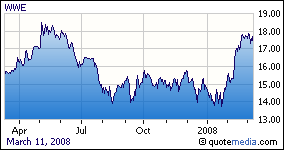 WWE was formed in 1982 by McMahon after acquiring his father's wrestling business and recasting it as a national and then worldwide entertainment company. McMahon used the power of cable television, also then in its infancy, to spread his content offerings far beyond his "region", a practice that was strictly taboo amongst wresting promoters at the time.
Along the way, he and his wife, WWE CEO Linda McMahon, proved to be master marketers, product licensors, and television negotiators. Today, the company not only dominates the live entertainment, broadcast rights and pay per view categories, it owns lucrative publishing, filmed entertainment, new media and licensing divisions. Where WWE has had trouble is growing outside of its core wrestling entertainment businesses into other sports and media products, such as its failed attempt with the XFL, the professional football league it co-owned with NBC (NYSE:GE) that played just one season before disbanding in 2001.
MMA could be exactly what WWE needs to expand its empire and use its marketing and licensing machine to its fullest capacity. WWE could also be exactly what MMA needs to vault itself to the next level and maximize profitability. There is no company in the sports entertainment realm that does a better job than WWE in developing stars, creating major live events and monetizing intellectual property. Where WWE stumbled with the XFL was that the football league was all sizzle and no steak, with the on field play extremely lacking, losing fan interest after the hype of the first few games. This is where MMA has the edge as no one could possibly deny the excitement and intensity that the sport of Mixed Martial Arts has to offer, and it has managed to continue to build and grow as a sport despite being underfunded throughout.
WWE's stock price has been doing much better of late, finally breaking out of the trading range it has seen for much of the past 4 years between $10-15 per share. At $17.60 as of the March 7th close, the stock held up extremely well despite some very negative publicity last summer, and has been climbing since the start of the year in otherwise volatile market conditions. In February 2007, the company appointed a new Chief Operating Officer, Michael Sileck, who had previously served as the company's CFO since 2005. Sileck is someone with whom I previously did some work in the television broadcasting sector, and is a long time, seasoned financial executive in the media and entertainment space who will no doubt keep WWE in prime operating condition as a company. With Sileck's focused day-to-day management of the businesses under Vince and Linda McMahon's vision and marketing talents, WWE is poised for significant growth going forward.
What WWE needs now is a major new product announcement that will transform it from being perennially a wrestling company into a diversified sports entertainment holding company. MMA looks to be exactly what WWE needs right now as the intensity and edginess of the sport are much more closely aligned with the WWE brand than anything else out there. It is a far better strategy than trying to take a more traditional sport such as football and add those elements.
WWE could look to acquire and consolidate existing fledgling MMA leagues such as the International Fight League, align itself directly with the establishment and most dominant player in UFC, or startup its own league using its know-how in live event and talent recruitment. Any way it chooses, it looks like a prime opportunity to grow the company while sticking to its core competencies in edgy, action oriented sports entertainment.
Disclosure: None
Disclaimer: This article reflects the individual views of Mr. Hannan and may not be attributed to any person, company or other entity with whom Mr. Hannan is affiliated.