Editor's Note: This article was originally published on June 25. It has been corrected to accurately reflect the Paragon Report's relationship with Independence Energy.
Resource exploration stocks are often the subject of stock scams, about which readers of my previous articles can testify. During the past 7 months I have exposed 2 oil companies, Legend Oil and Gas (OTCPK:LOGL) and American Liberty Petroleum (OTCPK:OREO) with $100+ million market capitalizations which have been the subject of "Pump and Dump" schemes in articles here, here, here, here and here. Since my original articles exposing these companies, their stocks have declined 90% and 73% in 7 months and 6 weeks, respectively.
As I've said in the past, when evaluating any junior resource company, and in fact any company, management's track record should be paramount. There are a number of strong indicators of fraud in the capital markets. Unfortunately, due to lack of enforcement from the SEC, one of the most frequent and reliable indicators of a Pump and Dump fraud is a management with a corporate history that includes involvement in companies that were previously the subject of Pump and Dump schemes. These schemes cost ordinary investors millions of dollars yet the perpetrators often go on to commit them again and again. Today's article is the first in a series on Independence Energy (IDNGD.OB) a $100+ million self-identified oil company, that doesn't actually produce any oil, and has a management with a history of involvement in promoted companies which experienced subsequent catastrophic decline in share price. This piece will focus on management's dubious background, current promotional activities surrounding IDNG's stock and some additional supporting evidence that IDNG is being used as a vehicle for a Pump and Dump scheme.
Company Background
Independence Energy Corp. came into its current incarnation as a result of a reverse merger with a listed shell company Oliver Creek Resources in 2008, as outlined in this 8-K. As I have highlighted in previous pieces reverse merger companies are often used as vehicles for fraud and the SEC has also warned investors about the risks of investing in reverse merger stocks like IDNG in a recent bulletin available here. According to its filings, IDNG was organized to explore natural resource properties, currently in The United States.
As of the most recent 10-Q, the company had 24.24 million shares outstanding and note 8 to the financial statements reveals that they issued another 122K of shares subsequently. Before June 21, 2012, the company had 24.36 million shares outstanding. At the end of the day on June 21, 2012, a 5-for-1 forward split was declared effective, so the share count will have increased 5-fold and the stock is temporarily trading under a new ticker (IDNGD.ob). Based on a June 22 closing price of $0.94 per share and the now 121.8 million shares outstanding, the company has a market capitalization of $114.5 million.
Meanwhile, the historical financials of the most recent 10-Q indicate that the company has never produced any revenue or oil from its properties and lists a mere $308K in assets. According to the most recent 10-K the only employee, officer and board director is Gregory C. Rotelli.
Multiple Paid Promoters are Pushing IDNG's Stock
Although IDNG, has spent very little on actual development work to-date, as can be seen by reviewing their most recent 10-Q, substantially larger sums have been spent by supposed third-parties to promote IDNG's stock.
The Paragon Report was one of the most recent to cover IDNG. Downloading the report on IDNG and reading the disclaimer reveals:
Paragon/PFL receives compensation from third party organizations for advertising services provided in the form of email newsletters. Paragon/PFL and its affiliates, officers, directors and agents have been compensated for featured company coverage and therefore information should not be construed as unbiased.
Paragon was not paid by IDNG, but this is clearly a company which has acted in the past as a paid tout for stocks and a review of their recently covered companies reveals that they also have covered other Pump and Dump schemes like American Liberty Petroleum (
OTCPK:OREO
), a company that I exposed here.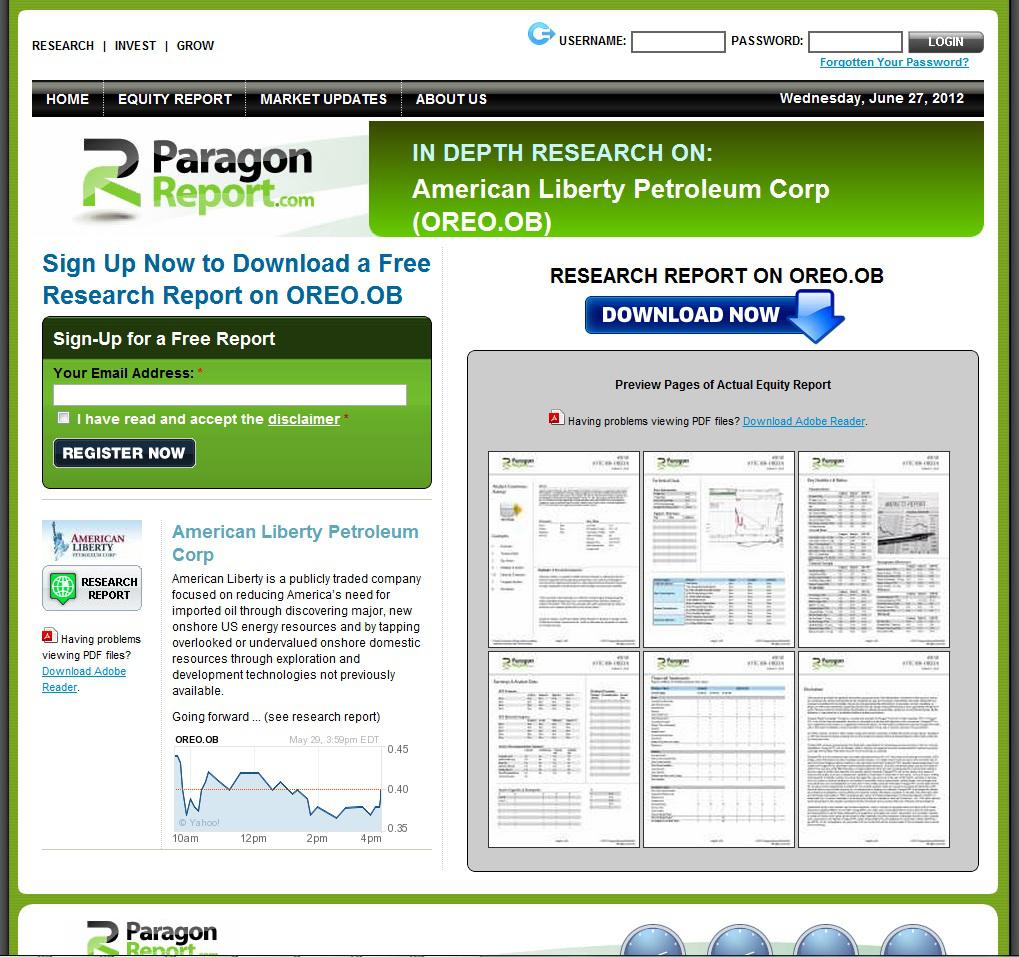 Also worthy of noting is that the Paragon Report is owned by Paragon Financial Limited who are also the owners of the Bedford Report, a paid tout service that promoted on behalf of Stevia First (
OTCQB:STVF
), another company that I exposed here and has subsequently fallen by 70%. Screenshots from a tout piece about STVF and their disclaimer linking the Bedford report to Paragon Financial Limited are provided for reference.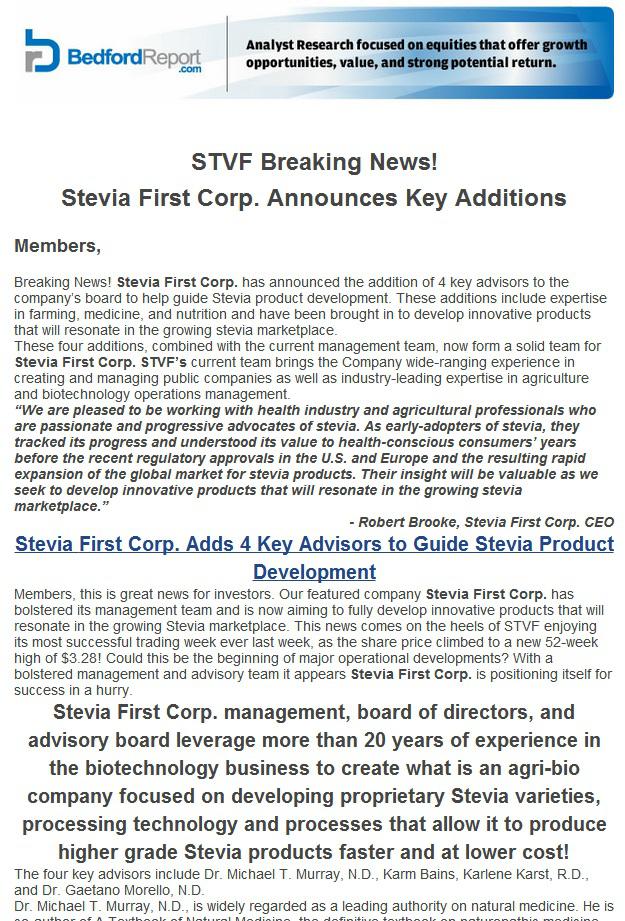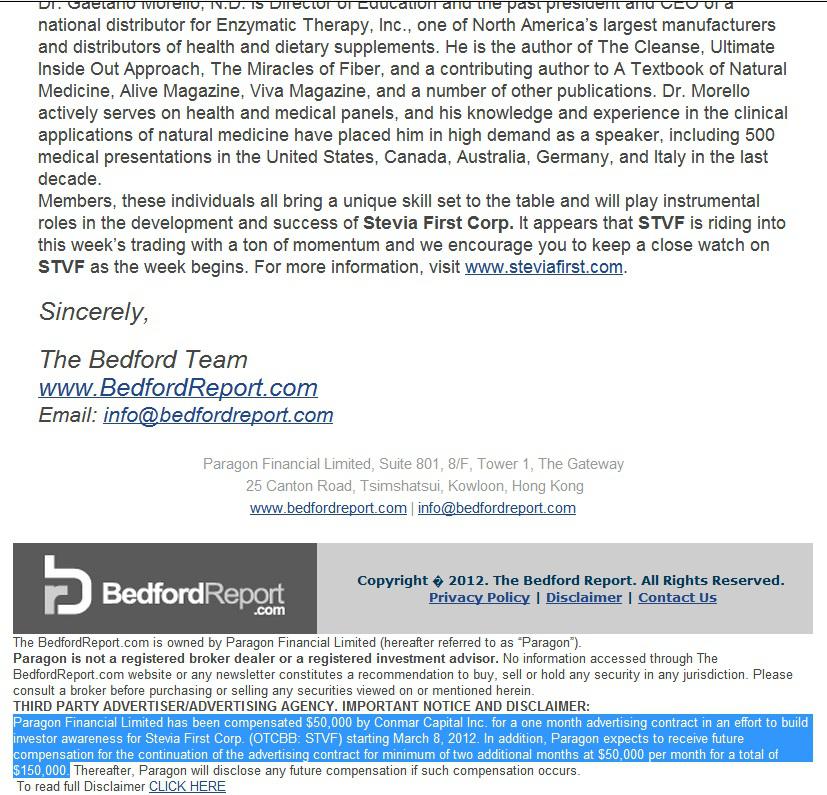 Based on Paragon Financial's connection to these previous Pump and Dump schemes, I view their press releases and coverage of IDNG with suspicion.
IDNG has also been the subject of a flurry of email touts from a paid promoter called the Global Equity Alert. These tout pieces are not available via Google searches and are sent to those on the mailing list of the Global Equity Alert, nonetheless I am attaching a screenshot of my mailbox to illustrate that the Global Equity Alert is releasing at least once daily email blasts promoting IDNG.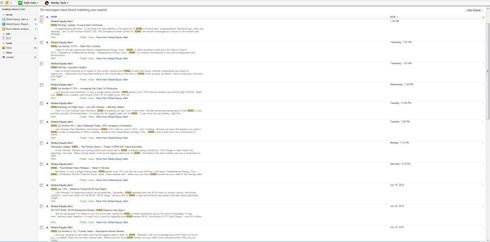 Since May 20th, this outfit has released 42 separate email touts on IDNG. This indicates a significant promotional budget for the paid pieces, as according to their disclaimer:
"GlobalEquityAlert.com expects to be paid $50,000.00 per alert by Woodman Trading LLC to perform promotional and advertising services."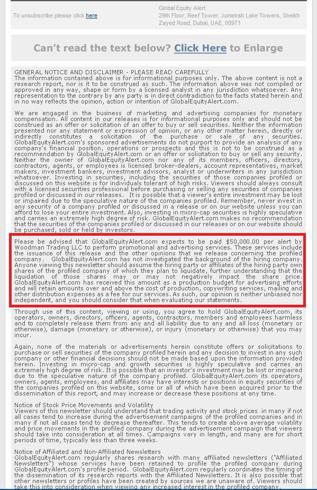 This suggests that at least $2.1 million dollars has been spent promoting IDNG's stock over the last 2 months. Any prospective or existing investors should be aware, the use of paid stock promotion is a strong indication of a "Pump and Dump" scheme, as outlined by the SEC here. Prospective or existing investors should also take note that IDNG isn't the first company managed by Gregory Rotelli that has been the subject of paid stock promotion campaigns.
Management Has Recent Involvement in at Least 2 Companies That Were Vehicles for Pump and Dump Schemes
The management biography section of IDNG's most recent 10-K, highlights the corporate history of IDNG's sole employee, officer and director, Gregory Rotelli:
"Mr. Rotelli has held leading positions in both technology startups as well as with established public companies…
Since March 2011, Mr. Rotelli has been an officer and director of Razor Resources Inc., a minerals exploration company traded on the OTC Bulletin Board. His responsibility as officer and director includes managing the day to day operations of the company.
Since May 2011, Mr. Rotelli has been the president of Rostock Ventures Corporation, a resource exploration and production company engaged in the exploration, acquisition and development of mineral properties in the United States and traded on the OTC Bulletin Board. His responsibility as president of the company includes managing the day to day operations of the company."
Examination of these 2 companies reveals disconcerting similarities to IDNG. What should be most troubling to IDNG shareholders is the almost total lack of assets and history of paid stock promotion.
As highlighted on page 37 of their 2011 10-K, Rotelli joined Razor Resources as an executive and director on March 4, 2011. Almost immediately thereafter, Razor Resources (OTCPK:RZOR) was touted in by paid stock promoters Wall Street Grand and also by notorious stock promoter Jonathan Lebed as evidenced here. For some interesting background reading, one can find more information about stock-shill prodigy Jonathan Lebed and his historical stock promotion activities here, here and here. One can also see examining their financial statements that the company was the subject of a reverse merger, has next to no tangible assets, no historical revenues and trades at two tenths of a penny.
According to their most recent 10-Q, Rostock Ventures also has next to no assets or ongoing business activities and was touted by paid stock promoters in the summer of 2011 after Rotelli joined the company. The company has a stock chart which is highly indicative of a pump and dump scheme that resulted in major losses of over 90% for shareholders in 2011. It appears as though concurrent with the IDNG promotion, the ROSV Pump and Dump may be either in the process of reactivation, or simply receiving sympathy attention.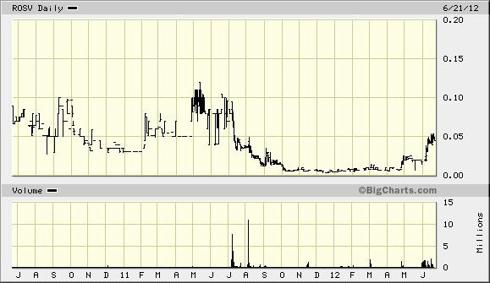 Due diligence suggests that IDNG's sole officer/director Gregory Rotelli's vaunted "start-up experience" appears to sugar coat his recent work experience which largely consists of management positions with promoted penny-stocks outfits possessing minimal assets.
A $100 Million Company Run Out of a $75 per Month "Virtual Office"
In its SEC filings, IDNG lists its corporate headquarters as 3020 Old Ranch Parkway, Suite 300, Seal Beach, CA, 90740. The address listed corresponds to a $75 per month virtual office owned by DaVinci Virtual Office Solutions as displayed here. The linked page lists the corporate address, while clicking through the green select button on the right reveals that this address corresponds to the exact address of IDNG's corporate headquarters: Seal Beach Business Center - 3020 Old Ranch Parkway, Suite 300. This indicates that despite the company's substantial valuation, it does not even operate a full-time office. This should be a major red flag to investors as corporate headquarters corresponding to virtual offices have been used in a number of past Pump and Dump schemes, some of which are highlighted here and here.
The Real Reason Behind the 5-for-1 Stock Split
At the end of the day on June 21, 2012, a 5-for-1 forward split was declared effective, and the stock is temporarily trade under a new ticker (IDNGD.OB) to reflect the fact that a stock dividend was recently declared. Before the split occurred, at almost $5 per share, shorting IDNG stock became a much more attractive proposition for short-sellers. Many brokers will force clients shorting stocks under $1 to put up significantly more margin per share than the value of the short position. Promoters of penny stocks always need to balance the illegitimacy and poor image of being a sub-$1.00 stock with the bulls-eye to short sellers that a high priced stock scam creates. In this case, it appears that the players behind IDNG have decided in favour of a lower priced stock.
In the press release regarding the stock split, Rotelli explains:
"We are very pleased to propose this forward stock split, because we believe it can have a positive impact on the relative liquidity of our shares, making the Company more attractive to a wider range of long-term small-cap company investors."
Splitting a stock to turn it into a penny-stock would be a ridiculous proposition for a serious company. If anything, it will limit the types of investors that would be able to finance or invest in the company as many funds have guidelines that bar them from investing in penny-stocks. It means that the stock will not be marginable, making it unattractive to hold long from another perspective as well.
Because it makes absolutely no sense from a business perspective and would only serve to limit the legitimate financing options available to IDNG, I view this split as a manipulative action. There is no reason for this stock split other than to make the stock less attractive to short. This type of action indicates that the management of the company is more interested in managing the short-term share price than creating value through real financing, exploration and development activity.
Conclusion
This piece has outlined dubious the corporate history of IDNG's sole officer/director Gregory Rotelli and his track record at the helm of 2 other defunct, promoted resource penny-stocks. I have also explored supporting evidence that IDNG is being used as a vehicle for a pump and dump scheme. The other stocks that I have exposed share many similar characteristics with IDNG, notably a lack of assets/business activities, questionable management history and paid stock promotion. My track record to-date is illustrated below:

My most recent piece focused on Great Wall Builders (OTCPK:GWBU), a company that is subject to a "Pump and Dump" scheme that experienced a 61% decline on June 21. This is typical of what can happen in such schemes and investors should take note and learn from such events. One never knows when exactly these stocks will collapse; it could be today, tomorrow, next week. But inevitably they do all crash as the masterminds dump their stock into the hands of unsuspecting investors who invest based off a tout-piece instead of proper due diligence. With this in mind, existing or prospective investors should be extremely cautious when approaching the shares of IDNG. After a substantial run of several hundred percent on the back of frenzied paid stock promotion, the company now appears positioned for a major decline.
The next piece in the series on IDNG will focus on the company's marginal assets/business activities, how Gregory Rotelli created millions of dollars on paper for himself, not through finding oil, but through a series of corporate transactions, and additional supporting evidence that IDNG is being used as a vehicle for a pump and dump scheme.
Disclosure: I am short IDNGD.OB.
Additional disclosure: I receive no compensation to write about any specific stock, sector or theme.