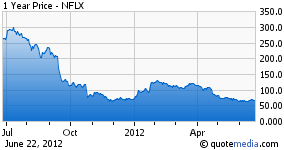 Netflix (NASDAQ:NFLX) shares are near a 52 week low of $60.70, trading at $67.86 at the close of trading on June 22. The company is coming off of a horrible year, where much of its profitability was wiped away and its shares, which were valued at over $300 at one time, came tumbling down. In this article, I evaluate where Netflix stands as a company over the next few years and provide insight on why it is a good stock to buy now.
The big drop in Netflix's value came from losing over 800 thousand subscribers due to its plans to separate its DVD Rental business and its streaming business. The split was called off after the horrible reaction, but the damage was done. Although 800 thousand subscribers does not sound like a lot when looking at its total subscriber base of about 24.5 million subscribers, it was enough to make the company's lofty growth expectations unreachable and it made a lot of bulls close their positions on the stock. Shares dropped from $300 to around $65 from early July to early December of 2011. After a nice recovery to over $120 in late January 2012, shares are back down.
What's good for Netflix is that the company is back on the right track. Netflix is expected to report earnings per share of $2.12 in 2013 and Netflix looks like it will be profitable in 2012 after many analysts believed it would be in the red.
Netflix's biggest competitor is Coinstar (NASDAQ:CSTR), which is the owner of RedBox in addition to several other automated kiosks, including the acquisition of Blockbuster Express. The company has announced plans to stream live content with help from Verizon (NYSE:VZ), starting at the end of 2012. The company has performed very well over the past year in comparison to Netflix due to strong earnings growth and its entry into several new projects, including a Seattle's Best coffee kiosk.
Netflix's largest upcoming addition is its streaming of original content. The company has ordered seasons of several shows that are expected to appear on Netflix in late 2012 or early 2013. This play essentially turns the company into an on-demand premium movie channel and will put it in competition with HBO, Starz, and Cinemax as well as the video rental industry that it has dominated. If the company can boast similar U.S. subscription rates to the aforementioned channels and continue to expand internationally, I believe that Netflix will achieve record profits.
From a valuation perspective. Netflix can go back to being a $90 stock within the next year. There is very little downside potential when shares trade in the $60-$70 range and if it can get its earnings per share back to where they were in 2011 ($4.26), the stock price will grow considerably. Right now, I put a Strong Buy recommendation on Netflix as I see the company's successful international growth and original content will create a lot of value going forward.
Disclosure: I have no positions in any stocks mentioned, but may initiate a long position in NFLX over the next 72 hours.