I wrote the part I of 2 China Stocks Trading Below Net Cash on June 4th in which I covered SkyPeople Fruit Juice (SPU) and China TechFaith Wireless (NASDAQ:CNTF). After this article China TechFaith announced on June 5th that it will showcase an expanded line-up of mobile phones and motion games at one of the largest telecommunication and IT shows in Asia, the CommunicAsia 2012 exhibition and conference in Singapore, June 19 to 22.
TechFaith plans to showcase a broad range of new Android smart phones, along with its existing range of WCDMA/GSM/EVDO models. The company will also feature its integrated 17Vee Internet motion gaming platform, with applications, software, hardware devices and services.
SkyPeople Fruit Juice announced on June 22th that the company and Absaroka Capital Management, LLC, a private investment management firm, had reached an out-of-court settlement of litigation in the U.S. District Court for the District of Wyoming.
1. Linktone (LTON) is a leading provider of interactive entertainment products and services to consumers in China. Linktone provides a diverse portfolio of wireless and online content and applications, with a particular focus on media, entertainment and communications. Through in-house development and alliances with international and local branded content partners, the company develops, aggregates and distributes innovative and engaging products for its growing user community.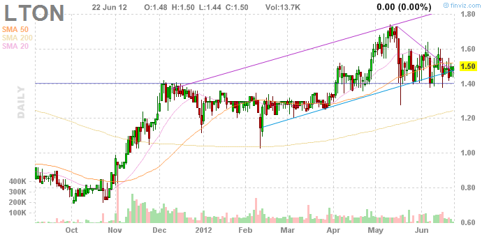 Background
Linktone commenced operations as a business division of Intrinsic China Technology Ltd., which was incorporated in the Cayman Islands in November 1999. Linktone was spun off from Intrinsic in April 2001. Incorporated in the Cayman Islands, Linktone Ltd. conducts the majority of business through its wholly owned subsidiary - Shanghai Linktone Consulting Co., Ltd., which has become one of China's leading wireless value-added service (VAS) providers. With a diverse services portfolio, strong partnerships with mobile operators and international media companies and rapid revenue and profit growth, Linktone has occupied a strong position as an innovative provider of wireless value-added services in China. Linktone is headquartered in Shanghai, China, and has regional offices in Guangzhou and Beijing and local offices in 25 other provinces.
Initial public offering
The company completed an initial public offering of American Depositary Shares (ADS) on the Nasdaq National Market in March 2004.
The IPO was priced at $14 per ADS. The company raised a total of $86 million in the initial public offering. The underwriter of the IPO was Credit Suisse (CS).
Market size and partners
The company provides entertainment-oriented VAS and content to mobile users over the 2G and 2.5G mobile telecommunications networks in China and Indonesia, as well as the 3G mobile telecommunications network in Indonesia. The company specializes in the development, aggregation, marketing and distribution of user wireless content and applications for access by China's 900 million and Indonesia's 210 million mobile phone users (as estimated at the end of 2011).
The company provides services primarily through three mobile network operators in China which are China Mobile (NYSE:CHL), China Unicom (NYSE:CHU) and China Telecom (NYSE:CHA) and nine mobile network operators in Indonesia which are Telkomsel, Indosat (IIT), PT XL Axiata Tbk, PT Telekomunikasi Indonesia Tbk, PT Bakrie Telecom, PT Hutchison CP Telecommunication, PT Sampoerna Telekomunikasi Indonesia, PT Natrindo Telepon Seluler and PT Mobile-8 Telecom.
Financials
Cash and cash equivalents and short-term investments available for sale totaled $108.4 million as of March 31, 2012, compared with $97.5 million as of December 31, 2011. The company has a $4.9 million short-term loan and a $0.4 million long-term loan. This creates net cash of $103.1 million. The company has 40.9 million ADSs outstanding which creates net cash of $2.52 per share.
GAAP net income in the first quarter of 2012 was $3.8 million, or $0.092 per diluted ADS, compared with GAAP net income of $0.1 million, or $0.002 per diluted ADS, in the fourth quarter of 2011 and GAAP net income of $0.9 million, or $0.021 per diluted ADS, in the first quarter of 2011. The company's first quarter 2012 net income included realized gains totaling $5.1 million related to the sale of 75 million shares of Global Mediacom for $12.3 million.
Share repurchase activity
Linktone purchased its ADSs on the open market from September 2011 to February 2012 under the company's previously announced buyback program. During the first quarter of 2012, the company purchased approximately 0.1 million ADSs at an average price of $1.30 per ADS. Through February 29, 2012, Linktone had purchased a total of 1.2 million ADSs at an average price of $1.29 per ADS.
Second quarter 2012 outlook
For the second quarter ending June 30, 2012, Linktone anticipates gross revenues to be in the range of $11.0 million to $14.0 million.
2. China Finance Online (JRJC) is the only Chinese web-based financial information/service company listed in a major US exchange. As the leading financial information and data provider in China, the company specializes in providing comprehensive, timely, professional financial contents and products to institutional and individual investors. China Finance Online is also actively expanding into other financial service areas through its fully owned subsidiaries.
The company will implement a strategic transition of its core business from providing premium subscription services to individual investors to developing fee-based securities investment advisory services with wealth management services to be added over time. Such strategic transition may adversely affect the company's performance in the short term and result in losses of profit during such transition period.
Initial Public Offering
China Finance Online's IPO was on October 15th 2004. The IPO was priced at $13. The company sold 6.2 million shares for a total proceeds of $80.6 million. JP Morgan (NYSE:JPM) was the underwriter of the initial public offering.
Financials
Net revenues were $53.0 million for the fiscal year ended December 31, 2011 compared with $59.7 million for the fiscal year ended December 31, 2010. China Finance Online will report first quarter results on June 27th.
Net loss attributable to China Finance Online was $19.3 million in 2011. Excluding non-cash share-based compensation expenses and non-cash impairment loss of cost method investment, goodwill and intangible assets, non-GAAP net income attributable to China Finance Online was $1.2 million with diluted non-GAAP net income per ADS of 5 cents.
As of December 31, 2011, total cash, cash equivalents and restricted cash were $94.5 million. The company has $19.2 million in short-term loans. This creates net cash of $75.4 million. The company has 22.5 million shares outstanding which creates net cash of $3.35 per share.
Business outlook
Cost reduction associated with the transition will help offset the loss in revenues and mitigate the loss of cash flow to a certain extent. The company plans to implement additional cost-cutting initiatives to increase efficiency and improve operational performance. Deferred revenues will continue to be realized until the expiration of outstanding premium individual subscriptions. The company intends to preserve its cash balance as ample cash is critical for ensuring the success of the strategic transition.
New businesses such as securities investment advisory and other wealth management services are still in the early stage of development. The company does not expect these areas to contribute material revenues any time soon. During this transition period, the company will no longer provide financial or operational guidance.
Conclusion
I recommend buying both Linktone and China Finance Online below their respective net cash levels. I expect Linktone to remain profitable in 2012 but China Finance Online will likely remain in the red in 2012. China Finance Online will report first quarter results on June 27th.