The gold bubble is about to burst, as investors and buyers rush out. Prices have been volatile, and gold hasn't soared thousands of dollars as many investors were expecting. Instead, gold is falling during the stock market crisis rather than rising. Gold is not acting as such a great "safe haven" as buyers had hoped. Investors are beginning to realize that gold is much riskier than they had thought.
The peak in gold was almost 10 months ago, and the market still hasn't decided on gold's fate. Investors are still confused about the future direction, and all are waiting anxiously as prices have drifted sideways for months. But it appears that the decisive move is coming within weeks! Selling has been heavy, key technical levels have been broken, important moving averages have been violated, and momentum is building to the downside. The upcoming drop could be severely sharp.
BROKEN TRENDS
Gold has broken the medium-term trend that has been in place since 2009. By dropping below $1600, gold has broken through both technical and psychological levels. With trend lines broken and key psychological support levels violated, selling pressure will build up and a big sell-off could ensue. Investors will be watching the $1500, $1400-1450, $1200, and $1000 support levels.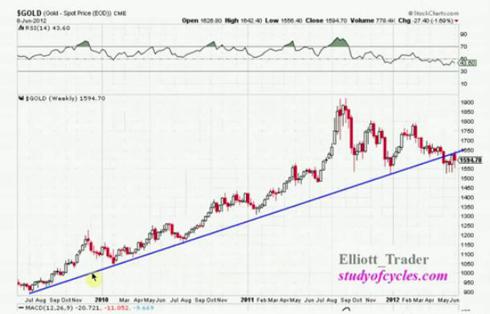 Source: Elliott Trader, StudyofCycles.com
VIOLATED MOVING AVERAGES
Gold has also broken below very significant moving averages - the 150, 200, and 300 Day Moving Averages. Usually, so long as price is above the moving averages, the momentum is positive and the trend is intact. But with a drop below the moving averages, prices have lost their support and now have room to fall as the trend is broken. Even worse, the moving averages above - which once served as support - are now acting as strong overhead resistance. With the 50-day MA crossing below the 200-day MA and the 150-day MA crossing below the 200-day MA, we now also have a confirmed "Death Cross" in moving averages, which bodes very poorly for gold.
GLD breaks below 150 & 200 Day Moving Averages: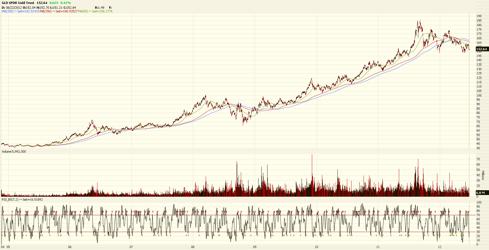 When gold broke below the 200-day Moving Average for the first time, on December 14, 2011, it was a huge event. Even those who didn't believe in technical analysis still paid attention, and many bulls got scared. BusinessInsider.com, which published the chart below, even called this "The Gold Chart That Everyone is Talking About."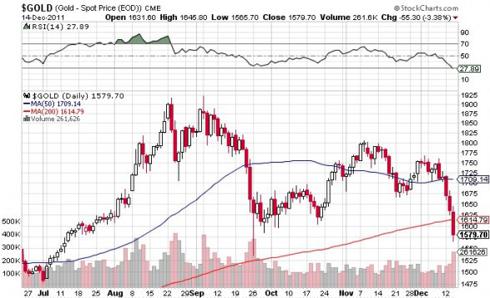 Prices ended up bouncing above the 200-day moving average again as a "last gasp" effort by the gold bulls. However, they have since fallen back below, and failure for a second time usually results in a fast drop.
To make matters worse, we have broken below what some considered to be the "ultimate proof" that gold would continue to rise. In December 2011, BusinessInsider pointed out the non-conventional 300-day Moving Average as the ultimate proof of gold's bull market. Supporting its claim with a chart that looks all the way back to when this gold bull market began in 1999-2001 (see chart below), BusinessInsider said "Forget the 200-Day Moving Average, Here's How You'll Know The Gold Bull Market Is Over." The 300-day Moving Average has in fact been very good support during the enormous bull market in gold, and was only broken significantly during the 2008 recession. BusinessInsider pointed out that the 300-day MA should really be our measuring stick for whether this gold bull market is still going strong. And up until that point, gold still looked good.
CHART OF THE DAY: Forget The 200-Day Moving Average, Here's How You'll Know The Gold Bull Market Is Over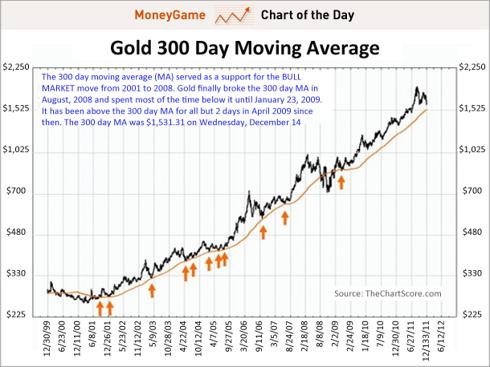 Well, I guess the bull market in gold is officially over! In May 2012, we decisively broke below the 300-day Moving Average. Now that we are below both the 200- and 300-day Moving Averages, momentum is strong to the downside. Even more, the two moving averages now act as overhead resistance.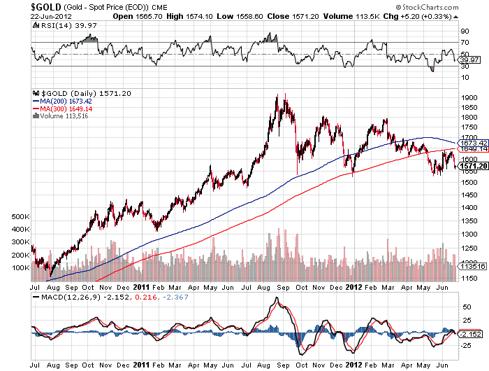 Adding trend lines and support/resistance over the past year, it is clear that gold (NYSEARCA:GLD) is in a downtrend and that we may be gaining more momentum to the downside, as we may have broken down from a wedge counter-trend rally that lasted from mid-May to June 20, 2012. If prices continue to drop, they will soon face the $150 level ($1500 in spot gold).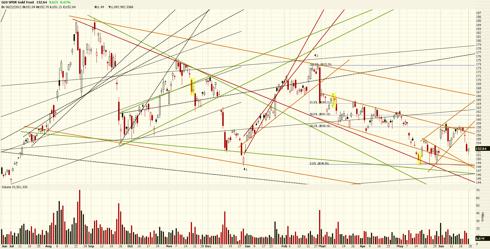 KEY TECHNICAL RESISTANCE LEVELS
There is plenty of resistance above, at previous highs, descending tend lines, and moving averages.
Key levels to watch (as of June 23, 2012):
50-day Moving Average - $1609.88
100-day Moving Average - $1654.79
150-day Moving Average - $1657.40
200-day Moving Average - $1673.42
300-day Moving Average - $1649.14
Psychological levels - $1600, $1700, $1800, $2000
With so much selling pressure above, it simply doesn't pay to buy gold at these levels - there is too much risk.
MINERS LAGGING GOLD
The gold miners, which led the way during the bull market in gold, are leading gold on its way down. While gold continued to much higher highs from late 2010 until its final peak in September 2011, the gold miners moved largely sideways that entire time. The miners have been performing very poorly in comparison with gold, and act as a very strong warning sign that gold is about to follow.
Looking at the "disconnect" between gold and the gold miners, we see that both have broken down through their supporting trend lines. The gold miners also appear to have formed a broadening top formation - an expanding "Megaphone."
Gold and gold mining stock prices have both recently seen nice bounces following oversold conditions, but have both failed at overhead resistance - the trend lines which used to be underlying support.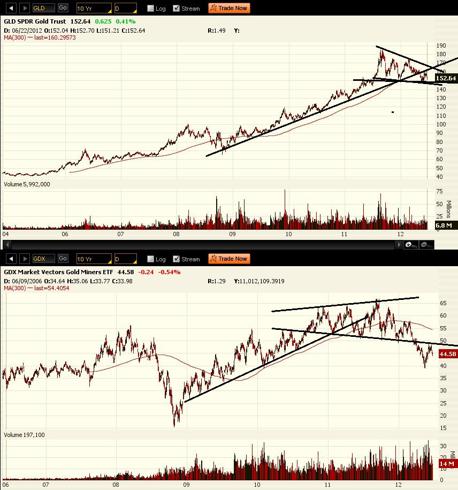 Look at how extreme pessimism got before the late-May bounce: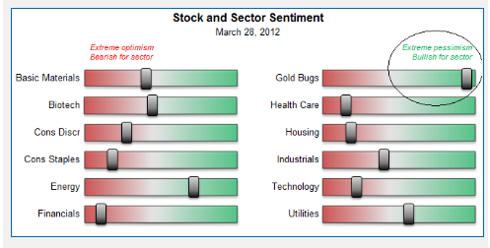 Sentimentrader.com
Normally, such extreme pessimism is a great investment opportunity. However, since gold has been in a soaring 12-year bull market, this extreme pessimism should be a sign that the bubble has popped and the trend is now broken. Extreme pessimism is now possible! And because it is possible, it is only the beginning of that extreme pessimism. Gold prices may bounce up a little, but they will ultimately come crashing back down.
WHY TO SHORT THE GOLD MINERS (NYSEARCA:GDX)
I have been recommending shorting the gold miners as my favorite way to profit from the collapse of the gold bubble. I have done so through put options, which help me maximize profit from the bearish call while also limiting my risk. Shorting the miners rather than gold is a better choice because the miners are leveraged to the gold price, have taken excess risk by not hedging their positions, and will take a bigger hit when the gold market slides.
Freeport McMoran (NYSE:FCX) is a top example of the tremendous rewards as well as massive risks of investing in a mining company. Mining companies see moves of hundreds of percent from bear market bottoms to bull market tops, as FCX rose from under $10 to nearly $60 (over 600%). However, during the same time (2008 bottom in gold to 2011 top), gold itself was up less than 200 percent, and copper was up less than 300 percent - great investments, but still heavily lagging mining companies.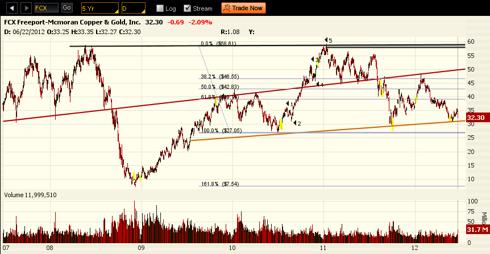 Gold and Copper Gain a Lot, But Still Lag Mining Companies:


However, while mining companies make great investments during increasing prices in gold and precious metals, they make terrible investments during bear markets. Because their profits and success so heavily rely on the underlying commodity prices, they take huge hits to their financials when prices fall. Just looking at FCX, we can see that while copper has dropped about one-third in price and gold has dropped 20 percent, the mining company's stock has dropped by 50 percent. We expect the drops in mining companies to be much more devastating than the underlying commodities - which will be extraordinarily devastating as it is. That's why our favorite way to short the gold bubble is by shorting the gold miners , and even doing it through put options to maximize returns.
CONCLUSION
Sentiment and public opinion has been growing more negative since the September 2011 peak. Because sentiment changed so rapidly from bull to bear, gold (and silver) were inevitably due for a bounce. The market does not collapse from 100% to 0% in a straight line - when stocks or commodities fall hard, they bounce back up a little as they take a break. Some investors buy in, thinking it is a perfect buying opportunity to buy for cheap. But they don't realize that the bounce is only a "last gasp" before the onset of the much bigger crash. Gold is possibly entering that phase, where prices collapse on investors and business owners. With many trend lines broken and technicals pointing to a downside in gold, fundamentals showing slowing demand for gold, deflationary pressures from slowing global economies, and investor behavior revealing an insane amount of enthusiasm and over speculation - gold is NOT the place to be right now. The profits to be made from gold are by betting on the downside, or at least protecting your long positions and physical inventory.
Disclosure: I am short GDX.