Banks rebound despite a downgrade
Moody's has been reviewing 17 financial institutions since February 2012 for a potential downgrade, primarily due of their activities in the volatile global capital markets. Four months later, 15 of the world's largest banks were finally downgraded amid a sigh of relief, as the rating cuts were not as bad for some banks as previously thought. The shares of 10 of those banks appreciated soon after the downgrade, largely due to the fact that the markets had already priced in the effect of a potential ratings cut. The Financial Select Sector ETF (NYSEARCA:XLF) traded downwards the day when Moody's presented a negative outlook for the U.S. Banking Sector on February 15. These ratings underscore that banks with pronounced exposure to capital markets for short-term funding are fragile. However, banks that are funded by their customer deposits and rely heavily on retail banking have an edge.
Moody's, who earlier signaled a three-grade cut for New York-based Morgan Stanley (NYSE:MS) and Zurich-based UBS AG (UBSN), reduced ratings by two notches instead. Morgan Stanley was downgraded to Baa1. Its shares were up by 1.3%. Nine other banks' ratings were cut by two levels, including Citigroup (NYSE:C) and JPMorgan (NYSE:JPM), whose share appreciated by 0.4% and 1.8% respectively. Despite getting the expected two-notch reduction in ratings, Goldman Sachs (NYSE:GS) was the only bank whose shares tumbled by 0.4%. Bank of America (NYSE:BAC) was slashed by one grade to Baa2. Its shares climbed by 0.6% the same day. These banks are considered to be affected by problems in risk management and have thinner buffers, and have a considerable exposure to capital markets. Last week we presented a bullish thesis on Citigroup, citing its renewed focus on cost reduction and its unparallel global footprint enabling it to capture the robust growth from low penetrated regions of emerging markets. Last week, we also analyzed how Goldman Sachs has lost its gold. Goldman Sachs, once considered to have the most talented human capital, is now marred with accusations that its own top executives are losing moral fiber. Also, the company is either shedding most of its talented workforce, or the workforce is leaving the bank on their own. These are the reasons why it has lost some of its share in the underwriting market. Standard & Poor's (S&P) May 2012 rating outlook for Goldman Sachs remains negative.
HSBC and the Royal Bank of Canada (NYSE:RBC) were among the banks that received the highest ratings by Moody's. They were considered safe heavens largely because they relied on the deposits from their retail customers for short-term financing. Their risk management has resulted in stable earnings. Earnings from other sources also act as a strong buffer for these banks. S&P's has a stable outlook for both HSBC and the Royal Bank of Canada.
Investors and analysts view that rating agencies validate what the markets have already priced in. The Citigroup, in a statement, said that Moody's approach is backward looking. An analyst at JPM Securities said, "We view the Moody's downgrade as another overhyped story of 2012. The corporate market thinks for itself and credit rating agencies are often lagging indicators."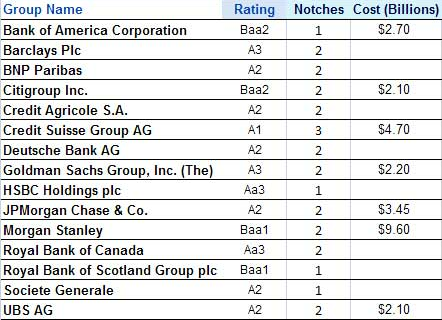 Even though the shares of these weaker banks have risen, going forward in the long term, these banks would experience an increase in the cost of doing business, like a hike in funding cost coupled with demand for additional collateral. BAC, C, GS, JPM and MS have reported additional collateral cost of $2.7b, $2.1b, $2.2b, $3.45b and $9.6b as a result of the downgrade. The outlook for the Banking Sector would become darker if the U.S. government increases regulations. In the wake of these and the continued weakening Chinese economy, along with the intensified Eurozone sovereign debt crisis, the Banking Sector is destined to face difficult times ahead.
Disclosure: I have no positions in any stocks mentioned, and no plans to initiate any positions within the next 72 hours.